Virat Kohli hits back at journalist after Test series loss
Virat Kohli hits back at journalist after Test series loss
Sep 12, 2018, 06:37 pm
2 min read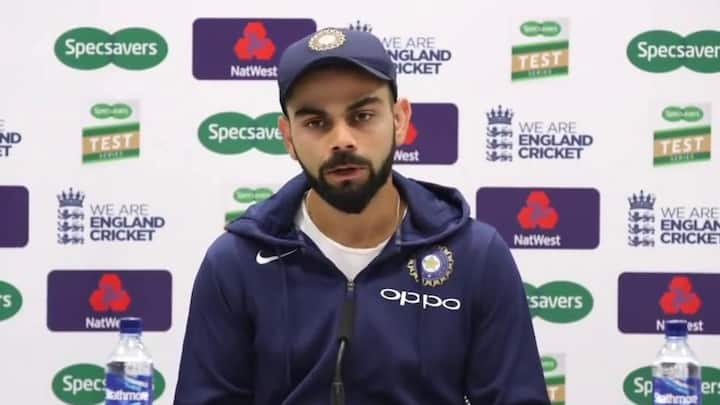 Indian skipper, Virat Kohli, was surely in an aggrieved mood when he appeared for the press conference post India's loss in the fifth Test of the England series. Kohli was asked by a journalist on his thoughts regarding the current Indian side being the best in the last 15 years. Visibly irked by the question, Kohli retorted back. Here are further details.
Details of the press conference
Kohli got visibly irritated when he was asked about his comments about this team being the best Test side; rather than answering the question directly, he asked the journalist his opinion. Further, when he was quizzed whether the team did think about winning the match during tea, Kohli answered in affirmative. He appreciated the brave performances put up by Pant and Rahul.
Head coach Ravi Shastri's comments had sparked off the speculations
India's head coach, Ravi Shastri, had earlier made the comment that, according to him, the current Test team is the best India have produced in last 15 years. However, former Indian captain Sourav Ganguly had retorted back saying generations cannot be compared as a lot of factors change as years go by. Kohli has finally provided us his view on the matter.
How has the Test side performed overseas under Virat Kohli?
The Indian cricket team have played a total of 40 Test matches under Virat Kohli's captaincy, winning 22 while losing and drawing 9 matches each. In 2017, Kohli's team had surpassed Dhoni's record of 6 overseas wins with his series triumph in Sri Lanka. Kohli is yet to surpass the overseas record (11 wins) held by Sourav Ganguly.
How did the series go and what comes next?
This is the first time in 26 years when the Indian side has lost 4 matches in a 5-match Test series. Earlier in 1992, India had lost 4-0 against Australia. The loss in the fifth Test is India's 6th loss in their last 8 Tests. Next, India will be playing in the Asia Cup with their first match against Hong Kong on September 18.