ATP punishes Nick Kyrgios with suspended 16-week ban: Details here
ATP punishes Nick Kyrgios with suspended 16-week ban: Details here
Sep 26, 2019, 04:52 pm
3 min read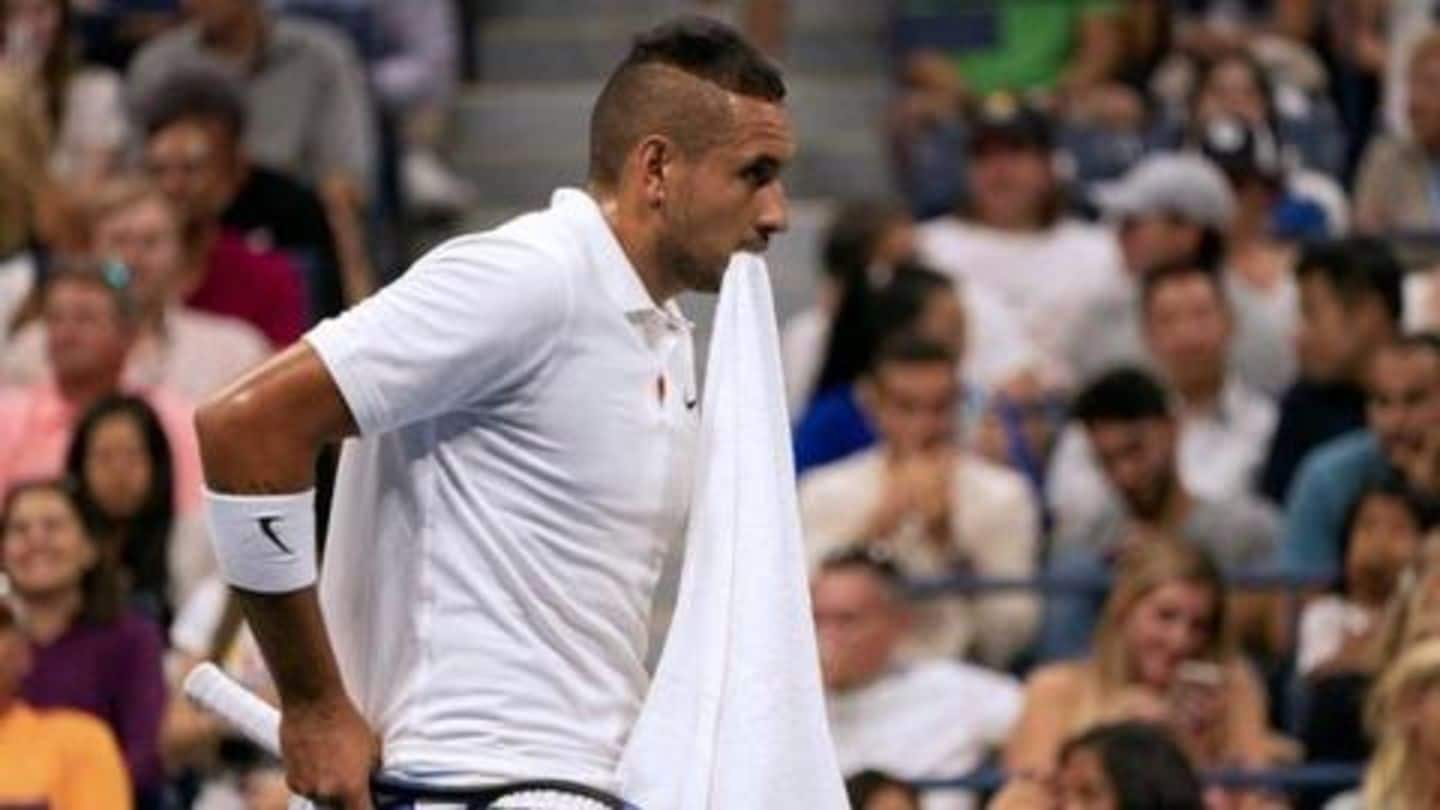 Tennis' bad boy Nick Kyrgios received a suspended 16-week ban from the ATP on Thursday. The Aussie international has also been placed under a six-month probationary period for his recent on-court behaviour. He has also been asked to pay an additional fine of $25,000 for 'aggravated behaviour'. Here are more details on the same.
"The suspension will be lifted at the end of the six-month probationary period if Kyrgios complies with several conditions mandated by tour organizers during this time", the ATP said in a statement.
Cincinnati Masters had seen Kyrgios lose his cool
The controversial tennis player swore and berated the match umpire, besides smashing two racquets in a loss against Karen Khachanov. Kyrgios lost from a winning position in a 6-7 (3), 7-6 (4), 6-2 affair. The Australian was in hot water for blasting the referee. He was later fined $113,000 for five separate offences. His pattern of behavior over last 12 months violated ATP's code.
What was Kyrgios up to in Cincinnati?
Kyrgios asked to go to the toilet and on his way, he broke a couple of racquets. At the end of the match, he also slammed umpire Fergus Murphy saying he is a 'fuc**** tool." It did not end there as Kyrgios also didn't shake the umpire's hand and he spit in his direction. Kyrgios threw shoes towards the crowd as well.
Kyrgios had said the ATP was corrupt during US Open
At the end of August 2019, Kyrgios was warned by umpire James Keothavong for his conduct during his US Open first-round match. When asked about his fine in Cincinnati, Kyrgios had claimed that the ATP was pretty corrupt. While Kyrgios' corrupt claims saw no further penalties getting applied, his outburst at Cincinnati put him on a knife's edge.
Kyrgios out of action due to collarbone injury
The Aussie tennis player has been given five working days to lodge an appeal. Kyrgios had earlier pulled out of next week's China Open because of a collarbone injury. "I'll be heading back to Australia to rest and recover. See you all soon," Kyrgios had tweeted. He could make a return before the end of the season.
Kyrgios is the king of controversies
Controversies on court became a recurring phenomenon with Kyrgios. In almost every tournament he plays, the Australian tennis player leaves the court after stirring a controversy. Prior to the Montreal Masters, he also threw a water bottle at the umpire's chair during the Washington Open. Kyrgios has been the king of controversies and it's fitting that the ATP took a stern decision.