Frank Lampard disgusted at racist abuse against Tammy Abraham
Frank Lampard disgusted at racist abuse against Tammy Abraham
Aug 17, 2019, 06:57 pm
3 min read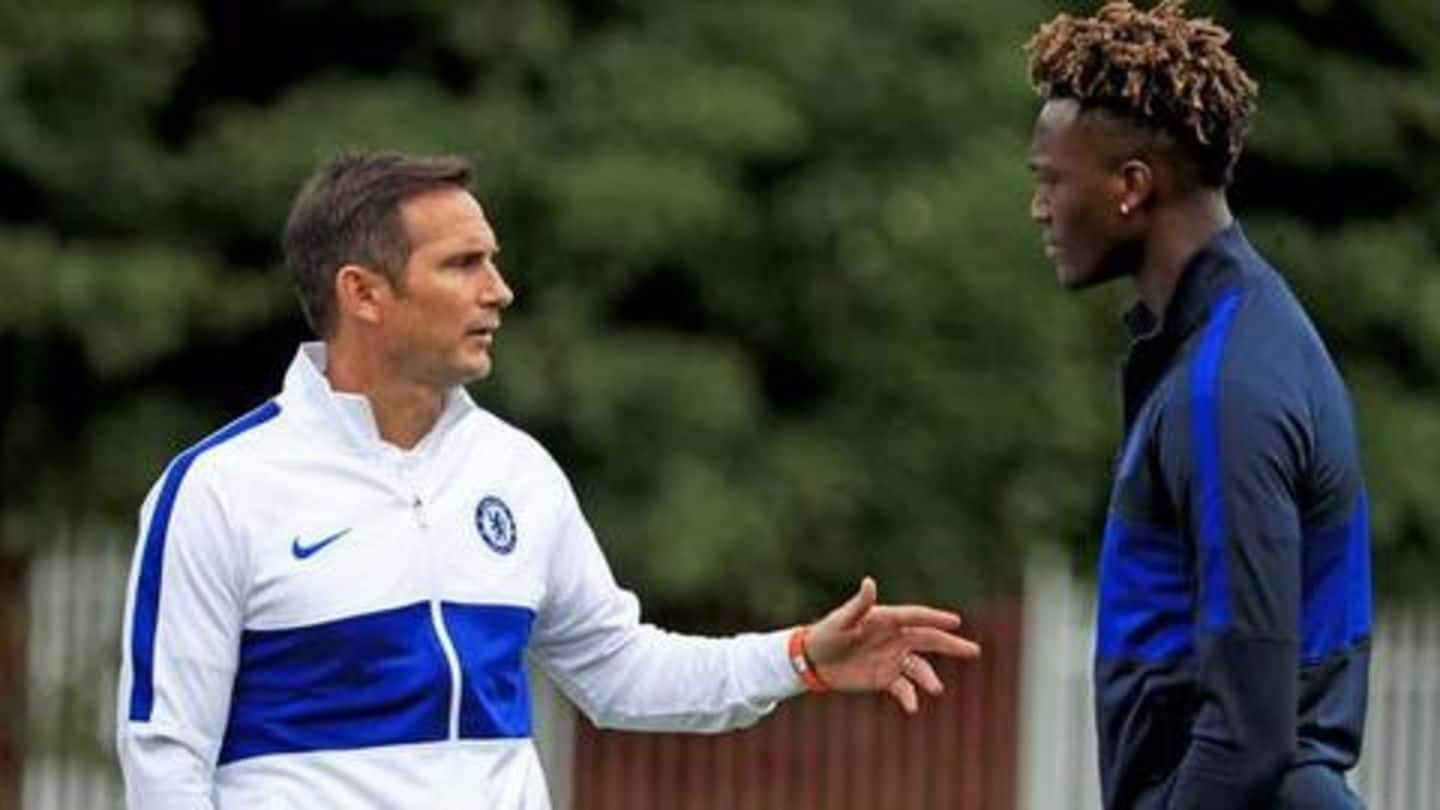 Chelsea endured a setback when they suffered a loss at the hands of rivals Liverpool in the UEFA Super Cup this week. It was second competitive loss for Frank Lampard since he took over Chelsea. In another incident, he was extremely disappointed at the racial abuse against Tammy Abraham. Notably, it was Abraham's saved penalty that handed Liverpool the win.
Liverpool pip Chelsea 5-4 in penalties for Super Cup title
As for the match, both the teams locked horns in an intense battle as they settled for a 2-2 tie after the extra time. For Liverpool, it was Sadio Mane, who scored both, while for Chelsea, it was Olivier Giroud and Jorginho, scoring the goals. Both had an intense penalty-shootout, only until the last shot, when Abraham's shot was saved by Adrian.
Lampard 'disgusted' over a Chelsea fan racially abusing Abraham
Lampard was furious over the 'so-called' Chelsea fan, who racially abused Abraham for missing out on scoring the final penalty. Lampard defended Abraham for taking the penalty since he wanted to step up for the club like a brave person. "Within hours somebody sitting behind a keyboard or a phone has said the most disgusting things possible," said Lampard, as reported by AFP.
"I don't know how these platforms are allowed"
"I don't know how these platforms are allowed, it's too easy to be done, something needs to be done as well as people obviously changing their mindsets completely," said Lampard, as he called for strict rules for such posts on social media.
Lampard labels racial abuse a 'setback' for the club itself
Lampard also added by saying that besides being angry for Abraham and the club, it was also a setback for the club, that does so much to work against discrimination. "I've spoken with Tammy and he is a strong character. I love his character. He's a confident boy on the pitch, he wants to do really well for this football club," added Lampard.
"He [Abraham] has an opportunity to do that this year"
"He has an opportunity to do that this year. He's a great young man. He's experienced something that's not right and it will be a test of that character that he shouldn't need, but he's got a great character," continued Lampard.
Lampard prepares for home glory against Leicester City
As Lampard looks for his opening competitive victory with Chelsea, his side would be up against Leicester City on Sunday. However, with the wound of a 0-4 drubbing, against Manchester United, still afresh, Lampard would need his side to pull up the socks. "We want to win at home, it's a big game for us in front of our home fans," he concluded.
Stricter rules should be in place for racial abuse
As far as racial abuse is concerned, it is not acceptable at all, and the authors firmly stands by Lampard and Abraham. He also feels that stricter rules should be placed on social media platforms regarding racist posts. Also, racism should be made illegal globally, while offenders, even via social media, should be prosecuted on valid grounds.