Neymar booked for attempting rainbow flick against Montpellier: Details here
Neymar booked for attempting rainbow flick against Montpellier: Details here
Feb 02, 2020, 07:00 pm
2 min read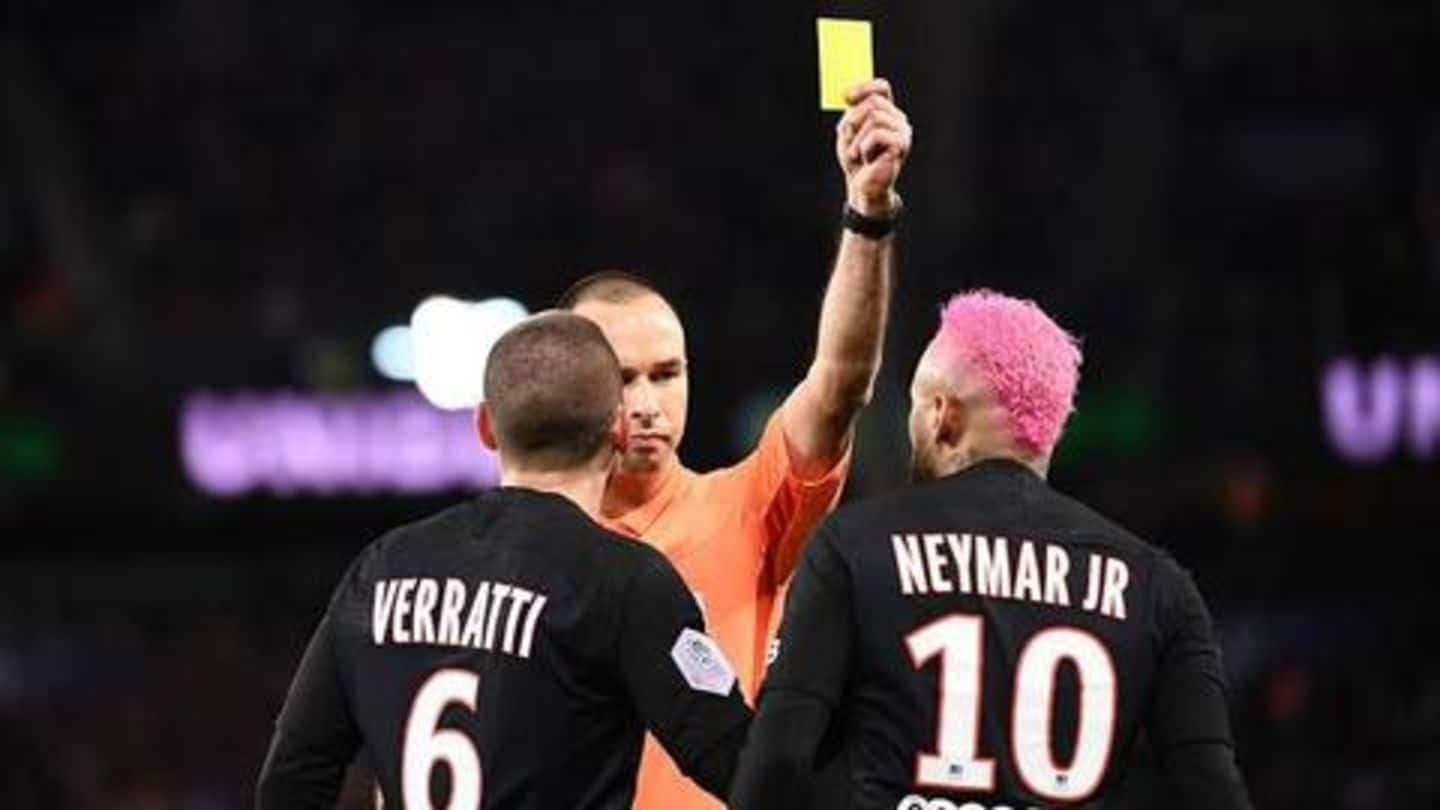 Football is a game of not just passing the ball and scoring goals, but also entertaining fans with charismatic gameplay and skills. Among plenty of skills with the ball, the rainbow flick is one of the unique ones players use to get past defenders. However, Paris Saint-Germain's (PSG's) Neymar was on Saturday booked for doing the same under controversial circumstances. Here is more.
Neymar was having fun with the ball
Speaking on the incident, after the opening goal, Montpellier were reduced to 10 men. Neymar tried to have fun as he looked to attempt a rainbow flick over a couple of defenders' heads. Furthermore, when he was fouled by a defender, he went on to humiliate him with numerous stopovers, by attempting fake shots.
Neymar gets yellow card for displaying proper football skills
Neymar furious with referee for showing him yellow card
Following the incidents, Neymar was shown a yellow card by the referee, for unsporting behavior. A furious Neymar was seen being animated while talking to his team-mate Marco Verratti, to which the latter asked him to be patient. "I play football and he shows me a yellow card! Tell him he can't give me a yellow. Be patient... My a**," he reportedly said so.
Neymar claims he was just playing football
How did the match pan out?
As far as the match is concerned, it started on a good note for the hosts, who were ahead in the eighth minute. Following a red card for the visitors in the 17th minute, a couple of goals more saw PSG lead 3-0 at half-time. After the break, PSG continued to dominate with two more goals, while Montpellier received another red card to close.
Was referee right at giving Neymar the yellow?
Analyzing the clip above, it is clear that Neymar was hardly doing anything wrong. Furthermore, the rainbow flick is a proper footballing skill and cannot at all be treated as unsporting behavior, as so does the fake shot. Thus, the author strongly disagrees with the referee's yellow card, as he feels that nowhere was Neymar at fault, and he was playing proper football.