Besides chess, Magnus Carlsen excels in another sport: Details here
Besides chess, Magnus Carlsen excels in another sport: Details here
Dec 09, 2019, 05:20 pm
2 min read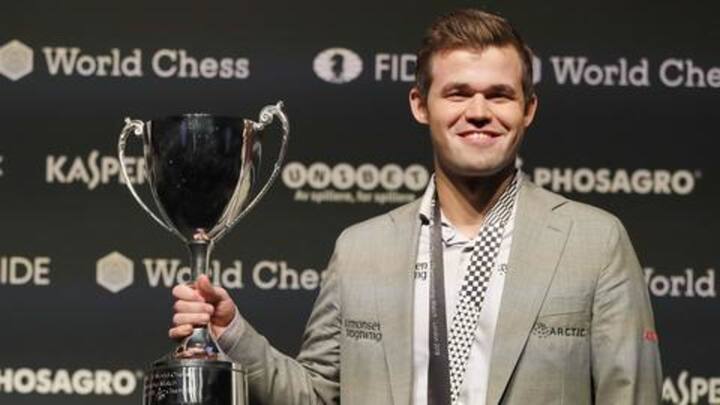 World chess champion Magnus Carlsen is undoubtedly one of the GOATs. As he continues to stamp his dominance with each passing year, he is also steadily becoming one of the best players in another field, which happens to be football. However, it is not regular football, but fantasy gaming. Carlsen is among top three in Fantasy Premier League. Here is more on this.
Carlsen's Kjell Ankedal is among top three in the FPL
Carlsen is a regular player of the Fantasy Premier League (FPL), where he has a team, which goes by the name of Kjell Ankedal. While his team was on the sixth spot prior to the start of the weekend, he rose to the third sport post the match-day. Manchester United's 2-1 shocking win over holders Manchester City, on Saturday, helped him in his rankings.
Tarjei Svensen praises Carlsen's FPL skills
Meanwhile, renowned chess journalist Tarjei Svensen has revealed that Carlsen spends hours watching football, and his performance in the FPL has remarkably improved. "His ability at fantasy league has been known for a couple of seasons now, but this season has been exceptional and he's had another good week. His rise up the charts is incredible," he was quoted as saying by The Guardian.
Svensen hails Carlsen's knowledge about English football
"He had a really good year for a while last season and then, he dropped a couple of hundred places at the end of the season, but he was still in the top 1,000. His level of knowledge about English football is amazing," Svensen added.
FPL is a fantasy game based on the English Premier League (EPL). The game is played online, which involves creating a fantasy team by the user, where she can buy players according to the points she collects. The points depend upon the performance of players for their respective clubs. The winner at the end of the season receives a cash prize.
Some records held by Carlsen in chess
As for some records held by Carlsen in chess: He eclipsed Ding Liren's record of having the longest unbeaten streak of more than 100 games. He recorded the longest unbeaten run (12 games) against Fabiano Caruana during the 2018 World Championship. He is the youngest player to surpass 2600 Elo rating (15 years and 32 days) and 2700 Elo (16 years and 213 days).