Carlsen defeats Caruana in tie-breakers to retain World Chess Championship
Carlsen defeats Caruana in tie-breakers to retain World Chess Championship
Nov 29, 2018, 02:04 pm
2 min read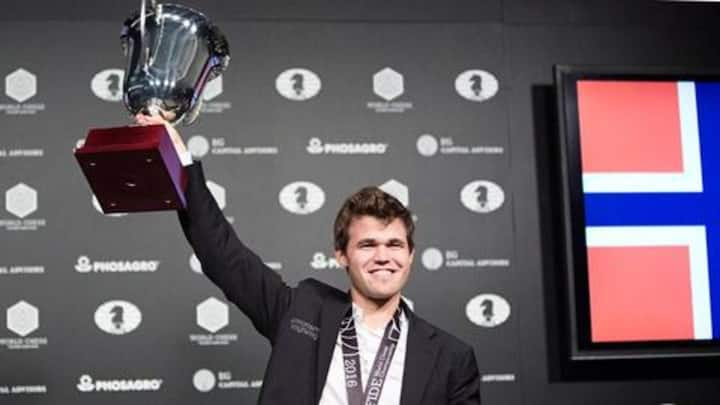 Norwegian grandmaster Magnus Carlsen, who has been the undisputed king of chess since winning the World Championship from Vishwanathan Anand, managed to retain his position on top after beating American grandmaster Fabiano Caruana in tie-breakers. The 12 rounds of classical chess all ended in draws, as Caruana played into Carlsen's trap by going to tie-breakers, which is played in the rapid format. Details follow.
Certain chess purists angry about classical matches ending in draws
The thing about classical rounds is that players get long periods of time to think about their next moves, and thus easily find a way to avoid difficult situations in such a format. All of the 12 matches between Carlsen and Caruana ending in draws seems to have upset certain chess purists, with American grandmaster Robert Hess saying, "R.I.P. classical chess". Even legends like Garry Kasparov and Vladimir Kramnik were irked by the result.
Caruana was really close to Carlsen statistically
Caruana is the first American since Bobby Fischer in 1972 to win the Candidates Tournament and face the world champion for the highest prize in chess. If we consider Elo ratings, he was just three points behind Carlsen going into the Championship. The Dutch grandmaster Anish Giri has regarded Caruana as the "best-prepared opponent ever", and rightly so, considering his calm, calculating precision in the matches.
Carlsen strategically took the game to tie-breakers
Carlsen is probably the best rapid chess player after current rapid chess' world champion Vishy Anand. And when he dragged the affairs into tie-breakers, even though he had a clear advantage in the 12th game, commentators like Gary Kasparov presumed that he had "lost his nerve". However, Carlsen dismantled Caruana in all three matches of the rapid round to secure his win.
Comments from the champion and challenger after the proceedings
"I felt like I had a really good day at work today. Everything kind of went perfectly," said Carlsen. Whereas, Caruana, who would be disappointed with himself after putting up a brave fight throughout the classical rounds, said, "It wasn't a good day for me and Magnus played very well. I had a very bad start, unfortunately, especially the second game."
How much prize money do they take home?
While the winner Carlsen will be pocketing the sum of €550,000, the challenger Fabiano Caruana received €450,000 as prize money.