'Headline-chasing coward': Michael Clarke slams sports broadcaster
'Headline-chasing coward': Michael Clarke slams sports broadcaster
Nov 29, 2018, 01:24 pm
3 min read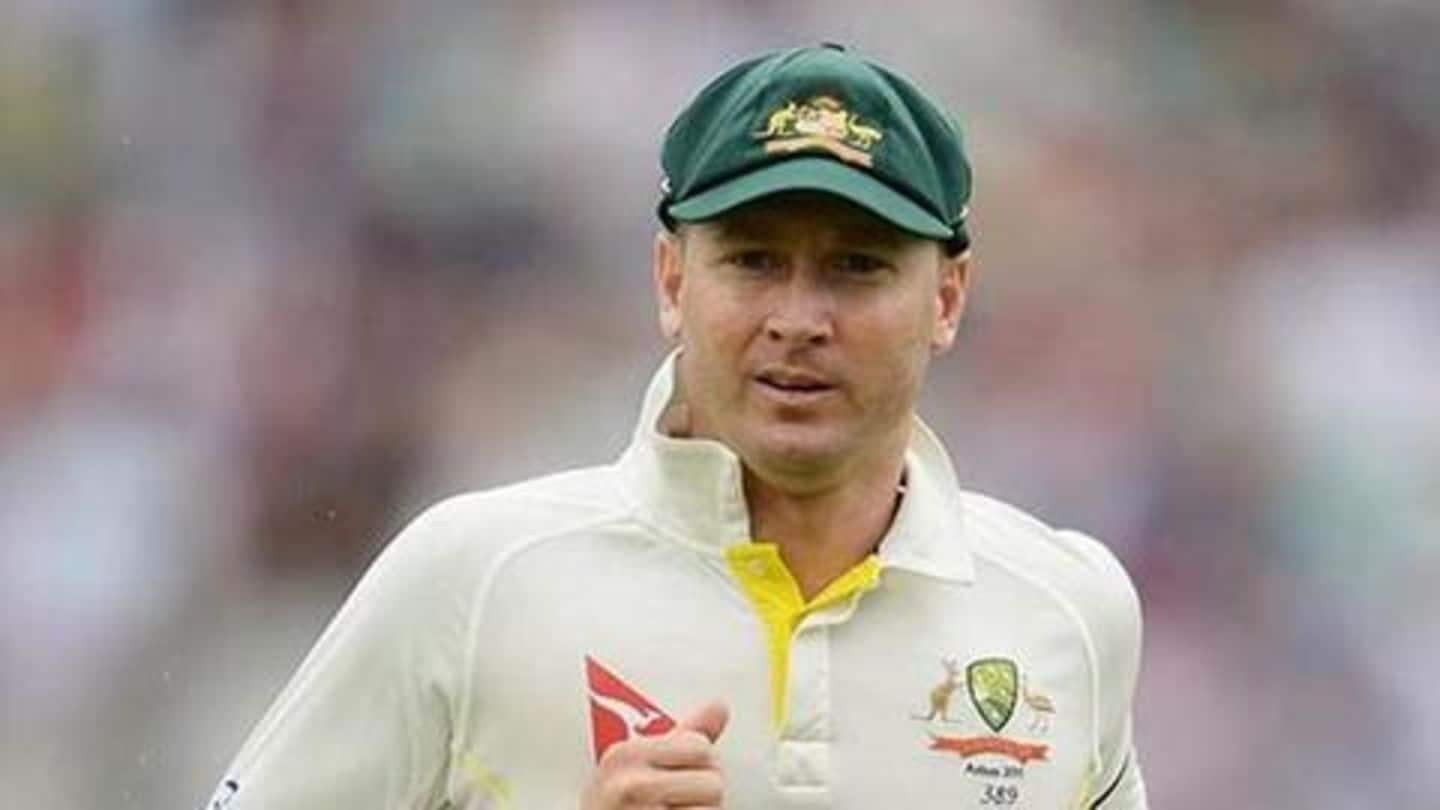 Former Australian cricket team captain, Michael Clarke, lashed out at Melbourne-based sports broadcaster and writer, Gerard Whateley, for suggesting that it was the cricketer who helped create a culture of win-at-all-costs inside the Australian dressing room. The controversy gained impetus post Clarke's comments on Wednesday, when he claimed that Australia won't win if they just focus on improving the image post the ball-tampering scandal.
Clarke had suggested that Aussies should play tough cricket
Clarke had stated, on Wednesday, that Aussies need to stop worrying about being liked. They should rather focus on playing tough cricket and earn the respect of opponents. "Australian cricket, I think, needs to stop worrying about being liked and start worrying about being respected. Play tough Australian cricket. Whether we like it or not, that's in our blood," he said in an interview.
His comments didn't go well with certain sections
Clarke's long-time rival and former Aussie cricketer, Simon Katich, blasted him. He said the Australia were caught 'blatantly cheating' and that the behaviour played a big part in it. Current Aussie skipper, Tim Paine, also weighed in to state that the side's friendly attitude is not so much about being liked. And then came the comment from Whateley, which rubbed Clarke the wrong way.
What did Whateley say about Clarke?
Whateley said that Clarke's interpretation of the current situation is appalling. He also added, Clarke's comment is the greatest piece of nonsense. "That he would continue to rely on the line - the fiction his and subsequent teams used to excuse all manner of boorish behaviour - might be the single greatest piece of nonsense over the past nine months," he said.
Whateley is a headline-chasing coward: Clarke
According to the AFP, Clarke hit back at the broadcaster and called him a headline-chasing coward. "For Gerard Whateley to insinuate that I am responsible for the ball-tampering issue makes him nothing more than a headline-chasing coward," Clarke stated. The former Aussie star also called him delusional and ill-informed regarding the context of the game.
'Delirious, ill-informed', Clarke lashes out
"If you think that the current number 1 team in the world in cricket puts being liked as of higher importance than being respected and playing to win inside the rules of our game than you're as delirious as you are ill-informed," said Clarke.
Aussie coach Langer had vowed to put smiles back
Aussie coach Justin Langer, who had replaced Darren Lehmann, came in and vowed to change the win-at-all-costs culture that defined Australia. He said the same, earlier this month, ahead of the series against Proteas. "What we can do is we can prepare well, we can play good cricket, and be entertaining and put on a good show so Australians can start smiling a bit."
Aussies were rocked by the infamous ball-tampering scandal
Former Australian captain Steve Smith and vice-captain David Warner were handed a 12-month ban, while opener Cameron Bancroft was banned for 9 months. The ban was awarded for their involvement in the ball-tampering scandal which happened during the Test series in South Africa, earlier this year, in March. They were barred from playing domestic Sheffield Shield and Big Bash Twenty20 competition besides international cricket.