Valtteri Bottas wins the Australian Grand Prix
Valtteri Bottas wins the Australian Grand Prix
Mar 17, 2019, 01:16 pm
2 min read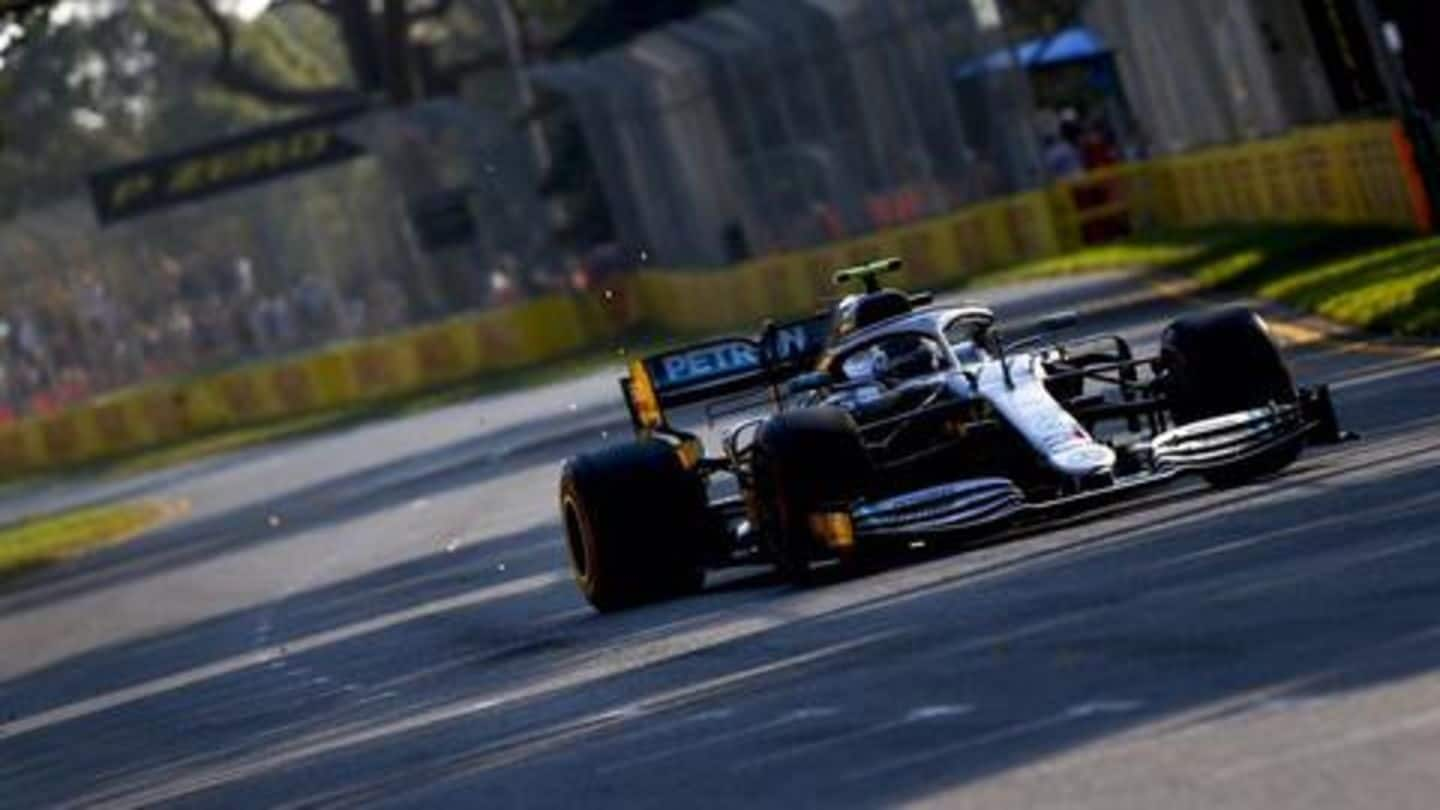 Mercedes driver Valtteri Bottas zoomed to victory at the season-opening Australian Grand Prix. He overtook world champion and team-mate Lewis Hamilton, who finished second on the day. Bottas took the lead at the start itself and then snatched the new bonus point for the fastest lap. Max Verstappen of Red Bull finished third ahead of the two Ferraris. Here's more.
Bottas pips Hamilton in a dominating race in Melbourne
Hamilton, who didn't have a strong start despite snatching pole position on Saturday, was left far behind. He had to concentrate on fending off Verstappen for second place. Hamilton also tried hard to set the fastest lap and win the bonus point, but Bottas was too good on Sunday. Earlier, Verstappen passed Sebastian Vettel to cap off a bad day for Ferrari.
Bottas signals his intent right from the start
Bottas' display showed that he is ready to come off from Hamilton's shadow at Mercedes. Hamilton, who took 11 victories and the title in 2018, was way off pace as compared to the Finn. Bottas signalled his intent to take the fight to Hamilton.
Ferrari start off on a dismal note
Vettel challenged arch-rival Hamilton at the start of the race but then surrendered the momentum to fall back. He barely held onto fourth place ahead of new team-mate Charles Leclerc. Meanewhile, Leclerc made many mistakes at the start of the race and even almost collided with his team-mate at Turn One. "Why are we so slow?" Vettel had asked his team in between.
Top ten finishers at the Australian GP
Here's how the drivers stood. 1) Valtteri Bottas, Mercedes 2) Lewis Hamilton, Mercedes, +20.886 3) Max Verstappen, Red Bull, +22.520 4) Sebastian Vettel, Ferrari, +57.109 5) Charles Leclerc, Ferrari, +58.230 6) Kevin Magnussen, Haas, +87.156 7) Nico Hulkenberg, Renault, +1 lap 8) Kimi Raikkonen, Alfa Romeo, +1 lap 9) Lance Stroll, Racing Point, +1 lap 10) Daniil Kvyat, Toro Rosso, +1 lap
Ferrari off the pace and numbers
The bonus point sees Bottas lead the show with a tally of 26. Hamilton (18) and Verstappen (15) followed suit. Ferrari drivers earned a collective 22 points and are 22 behind Mercedes (44).
Hamilton impressed with sensational Bottas