Novak Djokovic talks about Rafael Nadal's French Open chances
Novak Djokovic talks about Rafael Nadal's French Open chances
May 13, 2019, 08:30 pm
3 min read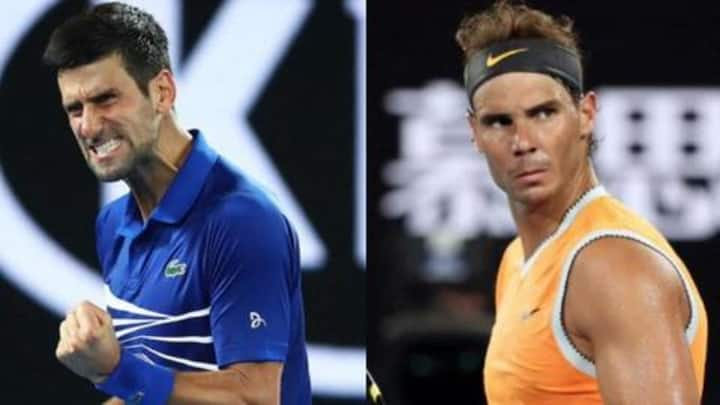 With just two weeks to go for the French Open, the biggest discussion among fans is as to if 11-time winner Rafael Nadal is the favorite to defend his title. Notably, Nadal has not been in the best of form this season. Meanwhile, world number one Novak Djokovic has opened up on Nadal's chances, post his Madrid Open win on Sunday.
Djokovic crowned champion at Madrid Open, Nadal ousted in semis
Djokovic has been enjoying the form of his life since he made a comeback. During the clay season, Djokovic was initially shaky, but has peaked at the right time. He won the Madrid Open, two weeks prior to Roland Garros. Nadal, on the other hand, was ousted in the semis once again, while he is yet to win a tournament on clay this season.
Djokovic optimistic about his and Nadal's French Open chances
"It's a very long way to that and I understand you want to visualize that and discuss that. But, you know, it's a lot of things can happen. I mean, we can both lose before finals," said Djokovic on their chances of clashing in Paris.
Djokovic hopes to be at best for possible Nadal showdown
In the possibility of him clashing with Nadal in the French Open, Djokovic said that if the match indeed happens, it would be in the final. "If it happens, I hope that we will both be at our best because then that would make the match-up as it is supposed to be, you know, finals of Grand Slams," quoted Djokovic.
Nadal always presents an ultimate challenge on clay
Djokovic further said that Nadal's records in Paris are commendable, asides stating that he is always the ultimate challenger while playing on clay. "He has lost, what, like three times in his entire career in Paris? Two, okay. That says enough about his quality and the kind of a challenge that he is, you know, facing in Paris," asserted Djokovic.
Djokovic favorite, but Nadal cannot be ruled out
Going by the current form, Djokovic is the hot favorite to clinch his the French Open title this year. However, as he said, it is always difficult to play Nadal on clay, especially at Roland Garros. Although Nadal might be in poor form, the author feels he could still win against the best players, even on his worst day.
Djokovic and Nadal eye Rome success prior to French Open
As far as their next venture goes, both Djokovic and Nadal would shift their focus to Rome Open, starting this week. Nadal would once again be the center of attraction, as he is the defending champion, while Djokovic too moves in as a favorite. Least to say, if Nadal fails to shine here, his chances of defending his crown in Paris will look bleak.