Roman Reigns relinquishes Universal Championship as leukemia resurfaces
Roman Reigns relinquishes Universal Championship as leukemia resurfaces
Oct 23, 2018, 01:51 pm
2 min read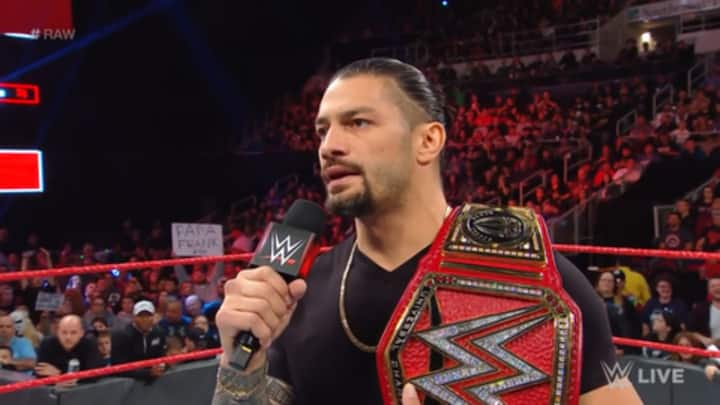 Monday Night Raw was stunned to silence when Roman Reigns came out and announced it live on television that he will be relinquishing his Universal Championship. Reigns has revealed that he has been fighting the dreaded disease leukemia for 11 years and it has now come back to haunt him. Before he returns to the squared-circle again, here's a look at his career.
Excerpts from Roman's heartfelt speech
During his announcement on Raw, Reigns said, "Because the leukemia is back I cannot fulfill my role, I can't be that fighting champion and I'm going to have to relinquish my Universal Championship." He also told fans that this was not a retirement speech as he is confident he will defeat leukemia and come back in the ring.
Reigns belongs to the famous Anoa'i wrestling family
Reigns hails from the legendary Anoa'i family, which has produced iconic wrestling figures over the years. His cousins include Umaga, Rikishi, Yokozuna, and The Rock. After starting his career as a professional player for the Canadian Football League side Edmonton Eskimos, Reigns retired to pursue the profession his family is famous for, and immediately signed for WWE. Rest, as they say, is history!
The Shield became a dominant force under his leadership
The Shield were always a mighty force. They emerged from the crowds and bashed up anyone and everyone to announce their arrival. Each member was a gifted wrestler and The Shield quickly became one of the most popular groups on the roster. Roman Reigns, Seth Rollins, and Dean Ambrose captured the imagination of an audience dissuaded by the PG-era, who loved their hardcore methods.
The numerous achievements of Roman Reigns
Reigns is the only second person ever to beat The Undertaker at WrestleMania, with Brock Lesnar being the one who broke the streak. Reigns is a three-time WWE World Heavyweight Champion and a one-time Universal Champion. He has also won the United States, Intercontinental, and Tag-team Champions once each. Roman Reigns also headlined the last four WrestleManias (31-34).
Hulk Hogan praying for good health of Roman Reigns
.@WWERomanReigns The power of the Big Dog is in the heart. The hulkamaniacs, the #wweuniverse and I stand with you. We pray for you and we'll all be waiting for you to hurry back in good health. Gods got you. Only Love HH

— Hulk Hogan (@HulkHogan) October 23, 2018
Canadian Football League supporting the ex-star
The Hitman encourages Reigns to fight on