AUSvsSL: Dimuth Karunaratne stretchered off after being struck on neck
AUSvsSL: Dimuth Karunaratne stretchered off after being struck on neck
Feb 02, 2019, 04:01 pm
2 min read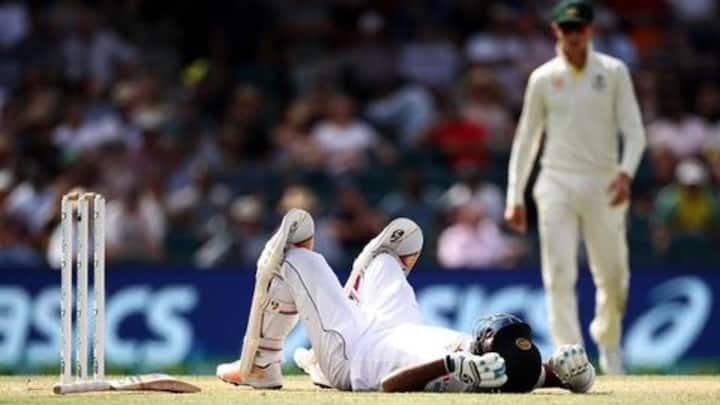 Sri Lankan batsman Dimuth Karunaratne was struck on the neck by a Pat Cummins delivery in the second match at Canberra. As a result, the player had to be stretchered off. He was retired hurt at 46 as Sri Lanka ended the day with scoreboard reading 123/3. Despite wearing a protective shield, the nasty delivery hit him and he collapsed on to the ground.
A rising ball clocked at 142 kph hit Karunaratne
Karunaratne was batting on 46 when the rising ball (clocked at 142 kph) hit him. The ball glanced off his shoulder and onto his helmet, which was close to the neck area. The batsman slumped to the ground after dropping his bat as Australian cricketers ran to assist. The medics team sprinted onto the ground and called for more help.
Ball seemed to have struck on the helmet's rear protection
Karunaratne was taken off the field on a golf buggy. According to a report in cricket.com.au, Karunaratne was seen speaking and moving his hands while the medi-cab arrived on the field. A report in ESPN stated that Karunaratne's helmet had rear attachments to shield his neck, but the ball struck the same which forced him to collapse backwards as he laid still.
Update from Canberra: "Dimuth complained of pain in neck and tingling to his hands following being struck in the back of the neck, decision then made to transport him to hospital where he is currently being assessed. Updates will be provided when more is known."

— cricket.com.au (@cricketcomau) February 2, 2019
Sri Lanka's injury concerns pile up
Karunaratne is the fifth Sri Lanka player who has suffered an injury on this brief tour. Earlier, four fast bowlers had injured themselves and were sent back home. He shared an opening stand of 82 with partner Lahiru Thirimanne.
Death of Phil Hughes in 2014 still sends shivers
Helmets of batsmen in modern day have been upgraded to provide more safety. On November 27, 2014, Australian cricketer Phil Hughes was struck on the neck by a short-pitched delivery, while he was batting in a domestic match in Sydney. After collapsing at the stadium, Hughes was treated on the field before being rushed to the hospital. He passed away eight days later.
Australia well on top at Canberra
Australia declared at 534/5 after Kurtis Patterson (114*) and Tim Paine (45*) added valuable runs on second two of the ongoing Test. In reply, Lankans are 123/3 at stumps. Mitchell Starc, Cummins and Nathan Lyon took one wicket each.