A look at the T20I records held by Rohit Sharma
A look at the T20I records held by Rohit Sharma
Aug 09, 2019, 11:50 pm
3 min read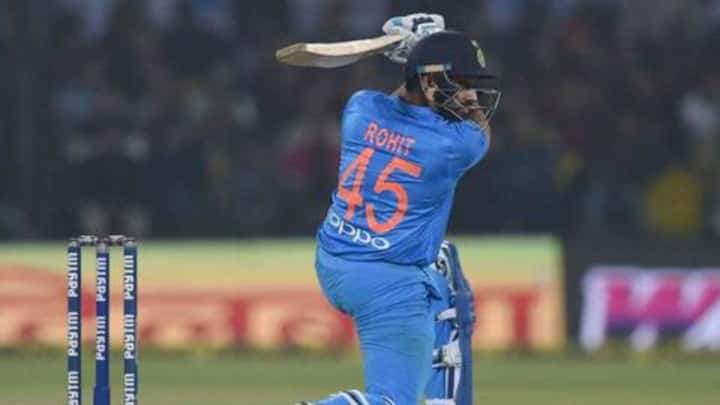 Rohit Sharma is considered one of the most prime cricketers, especially in the limited-overs format. While he has a number of world records in the ODIs, he has quite a few in the T20I circuit as well. The just-concluded T20I series against the Windies too saw him scripting a couple of fresh records, as we take a look at some of his T20I records.
Joint-most 50 plus scores
Rohit was on fire in the second T20I against Windies in Florida, where he played a splendid knock of a 51-ball 67. In the process, he has scored the most number of T20I half-centuries, of 21, and shares the record with skipper Virat Kohli. However, Kohli is the fastest to it, having done so in 65 innings, while Rohit took 88 innings.
While he has a half-century record to his name, he also has one in terms of a century. Back in 2017, when Rohit Sharma was is prolific form, he smashed a world record of scoring the fastest T20I century, which came off just 35 balls. However, he shares the record with South Africa's David Miller, who too did the same the very same year.
The format of T20 is such while a batsman can score freely, he is prone to get dismissed quite quickly. Thus, there have been a limited number of centuries in this format. However, Rohit holds the record of most number of T20I centuries. To date, he has four centuries in the format and is among the three Indians to score a T20I ton.
The format of T20 is all about the big hits, especially the sixes. Furthermore, Rohit has the perfect record considering this. He holds the record of most sixes in T20Is, having hit 107 sixes in the format already. As a result of his knock in the second T20I, he has now gone past Universe Boss Chris Gayle, who held the record with 105 sixes.
The most dominant man in the format
T20 is all about scoring runs. The more one scores, the more he rises to the top of the format. On the same note, the record for most runs scored in the T20Is is with Rohit himself. Having played 96 matches to date, he has scored 2,422 runs at an average of 32.72. He is followed by his team-mate Kohli in the second spot.