China bans footballers from displaying tattoos
China bans footballers from displaying tattoos
Mar 27, 2018, 07:37 pm
2 min read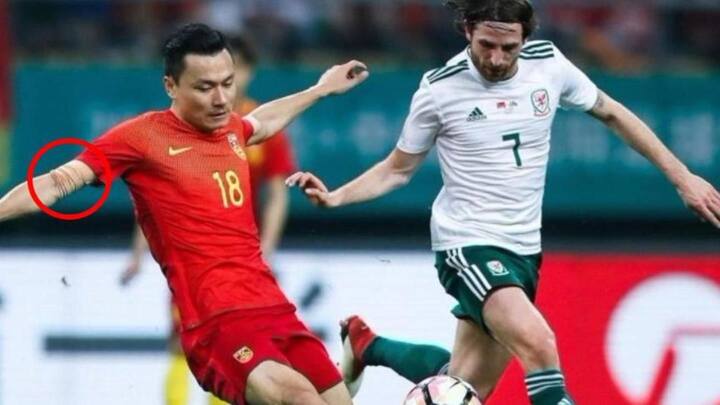 In order to promote 'socialist values', China has reportedly come down strongly on its country's footballers. As a result, many Chinese players were spotted wearing long sleeves and skin-colored athletic tape to cover their tattoos. Chinese faced a humiliating 0-6 loss at the hands of Wales last week and 1-4 defeat to Czech Republic on Monday in the 2018 China Cup.
An official ruling from CFA is imminent
Chinese Football Association (CFA) is expected to issue 'detailed measures' on tattoos soon. This would affect football across all levels, from the national team to Chinese Super League to youth football. In the match against Czech Republic, China's Cai Huikang and Wei Shihao masked their tattoos while playing. China's U-23 side were also instructed against exposing tattoos in their recent match against Syria.
This is what the CFA had to say
"China promotes cultural confidence among nationalities and core socialist values, so as the national team, it has a responsibility to provide healthy football culture for society and work as an example in this respect," a senior CFA official said on the tattoo ban.
Moral values crackdown in China
In the recent years, China has taken it upon itself to morally police its society which includes prohibiting "kissing at university campuses" and even banning "trendy haircuts at schools". The tattoo ban is another such step. Footballers are not the only entertainers under the scanner. Musicians and performers with tattoos have also been reportedly banned from TV. It may also extend to other sports.
What next? Perms? Dans mock CFA
Angry after the humiliating losses in the recently concluded China Cup, football fans across the country took to social media to express their displeasure with CFA's tattoo diktat. A Weibo (China's Twitter equivalent) user poked fun at the governing body and said, "CFA finally found the problem of Chinese football! The next step should be control on perms, smoking, and haircuts."