5 WWE matches that were difficult to watch for fans
5 WWE matches that were difficult to watch for fans
Aug 28, 2018, 06:18 pm
3 min read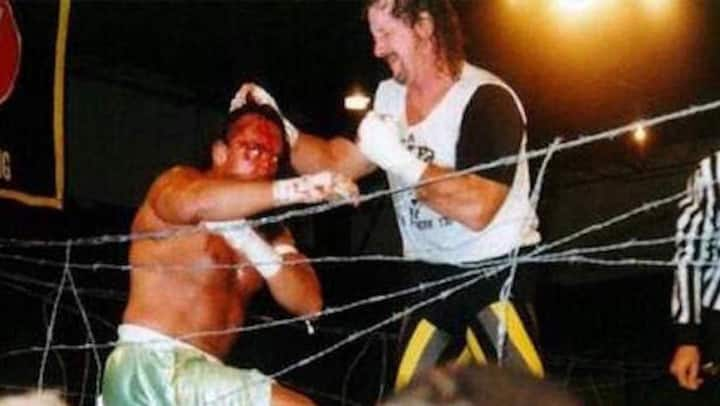 WWE matches are more often than not entertaining. But, in the last decade, the WWE had started hosting gruesomely violent matches. From barbed wires to thumbtacks, nothing remained beyond the limit. As a result, we saw blood poured all across the mat as well as broken bodies. Here we present to you 5 of the most hardcore matches in WWE history.
Kurt Angle and Shane McMahon square off
Angle was involved in a 2001 King of The Ring match with Shane McMahon. This can surely be called one of the most hardcore matches ever. Three times, Angle suplexed McMahon against a real glass and eventually broke it. Notably, the glass was not even a part of the set. Both men bled profusely as the match carried on, and was won by Angle.
John Cena and JBL battle for the WWE title
Judgement Day 2005 saw a gory battle between John Cena and JBL, with the match being so bloody that many faint-hearted souls would have left halfway. It was an "I Quit" match, a stipulation where a person wins only when he can force his opponent to say "I quit". After JBL's brutal chair shots, Cena busted open and bled all over the canvas.
Eddie Guerrero and JBL take part in a brutal encounter
The Judgement Day 2004 saw Eddie Guerrero and JBL contesting in a WWE Championship match. Both men beat each other to the extremes, with a shot by JBL cut opening an artery in Guerrero's head. This led to the canvas taking on a crimson color. Guerrero suffered severe blood-less but lost the match after he hit JBL with a championship belt.
Randy Orton established his prowess in this match
Randy Orton, in Backlash 2004, went up against Cactus Jack in a match that involved barbed wires and thumbtacks. Both men cruelly used the sharp wires on each other. The moment where Foley reversed an Orton RKO and dropped him on a pile of thumbtacks has become iconic. Orton still stood up, in excruciating pain, with the pins stuck all over his body.
Cactus Jack and The Game, sadistic individuals against each other
With the WWE title on the line, Cactus Jack and Triple H entered a street fight which shall be remembered as the most gruesome ever. Weapons from steel chairs to television monitors were used as the two men went to the limits to finish off each other. Jack brought out thumbtacks, but Triple H ended up giving him a pedigree over them.