Five iconic WWE feuds of all time
Five iconic WWE feuds of all time
Aug 11, 2018, 03:50 pm
3 min read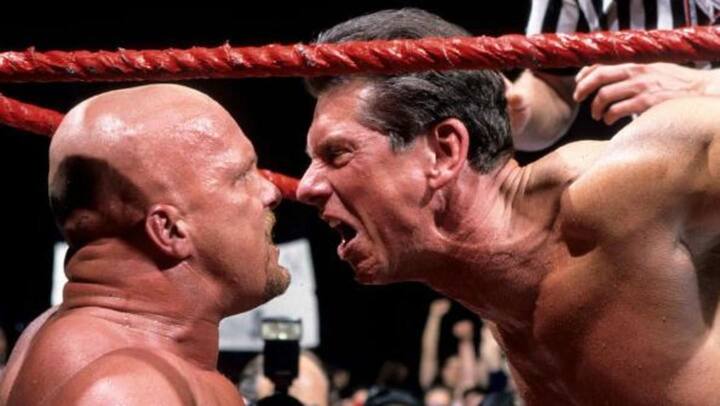 WWE storylines have always been fuelled by feuds which have seen wrestlers developing rivalries amongst each other, and sometimes with the management. Rivalries, if properly sold, can garner a huge audience base and help in boosting the industry. Some WWE rivalries have reached epic proportions and created legends of their own. Here are 5 of the greatest WWE feuds.
When the Brothers of Destruction collided
One of the most intense rivalries started when a 7-foot masked monster called Kane ripped apart the steel door of the cage in the first ever 'Hell in A Cell' match to face his brother, The Undertaker. What followed were some epic encounters, the first of which was at WrestleMania XIV. The brothers even took part in the first ever Inferno match.
The Rock and Stone Cold were the centres of the Attitude Era, with both wrestlers fighting for the top spot. Both were equally competent in the ring and on the mic as they ended up headlining WrestleMania twice. This rivalry has reached such an epic status that it has been considered the benchmark against which all subsequent encounters have been measured.
Hulkamania stopped in its tracks by a giant
This feud is like no other in the history of WWE. Hulk Hogan and Andre The Giant attracted around 94,000 fans under the same roof to witness their clash. Both considered legends of the business, met first at WrestleMania III where Hogan famously bodyslammed the French giant. Two other matches followed, one of which Andre won, and the second match saw them getting double-disqualified.
A rivalry both on and off the camera
This rivalry spilled out in real life along with being a popular crowd-puller of its time. Two great performers in the ring, Shawn Michaels and Bret Hart fought some 5-star matches. It culminated at the 1997 Survivor Series, where Michaels and McMahon sided to steal Hart's WWE Championship title wrongfully. Now known as the 'Montreal Screwjob', this was surely one of the ugliest feuds.
The feud which boosted WWE's popularity through the roofs
The anti-authority rebel vs the evil and megalomaniac owner was the storyline that won WWE the Monday Night wars. It brought them global viewership, and expanded the industry. Stone Cold and Vince McMahon were both insanely good with the microphone and theatrics and together took their rivalry to levels previously thought unachievable. They presented a storyline which might just be the best ever.