Kohli is the worst reviewer in the world: Michael Vaughan
Kohli is the worst reviewer in the world: Michael Vaughan
Sep 10, 2018, 02:08 pm
2 min read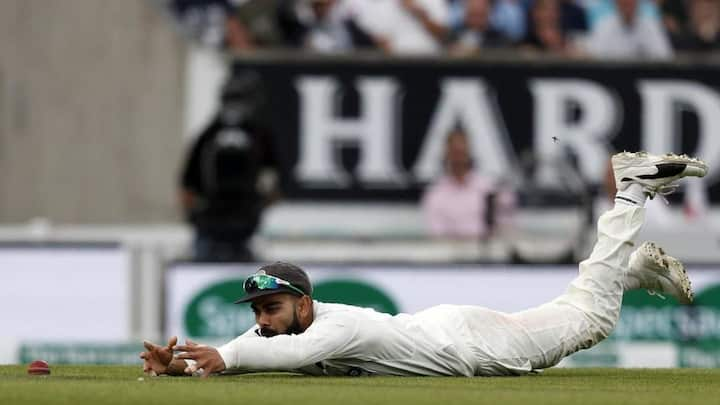 Virat Kohli's tryst with the Decision Review System (DRS) hasn't bore much success in Tests. On Sunday, the 29-year-old Indian skipper decided to call for two reviews in the ongoing 5th Test against England at the Oval, and interestingly both flopped. This, in turn, saw former England skipper Michael Vaughan take a dig at Kohli. Here's more on the same.
Kohli is the best and the worst
DRS in Test cricket a crucial aspect for skippers
Vaughan is, no doubt, an admirer of Virat the batsman. The Indian skipper has defined himself as the best in business in both Tests and ODIs. But there are crucial moments in a Test match as far as DRS is concerned. In the ongoing series, both England and India haven't been shrewd about the system. Kohli, in particular, has been a let down.
The instances when Kohli decided to review
The two instances came when Ravindra Jadeja struck both openers Keaton Jennings and Alastair Cook on the pads in quick succession. Kohli decided to take the review and unfortunately, in both cases, the Hawk Eye suggested that the ball's impact was well outside the off stump and it missed the wickets. India wasted both the chances on a crucial day.
Dhoni's presence is being missed in Tests
It looks like Kohli is definitely missing Dhoni's presence in the Indian Test squad. Back in 2017, Kohli praised the veteran wicket-keeper for being a vital cog when it comes to calling for DRS. MS has a lot of success in ODIs with the DRS. It looks like Kohli goes for a review while he needs wickets rather than based on the true impact.