A look at the top moments in Brock Lesnar's career
A look at the top moments in Brock Lesnar's career
Dec 01, 2019, 07:36 pm
2 min read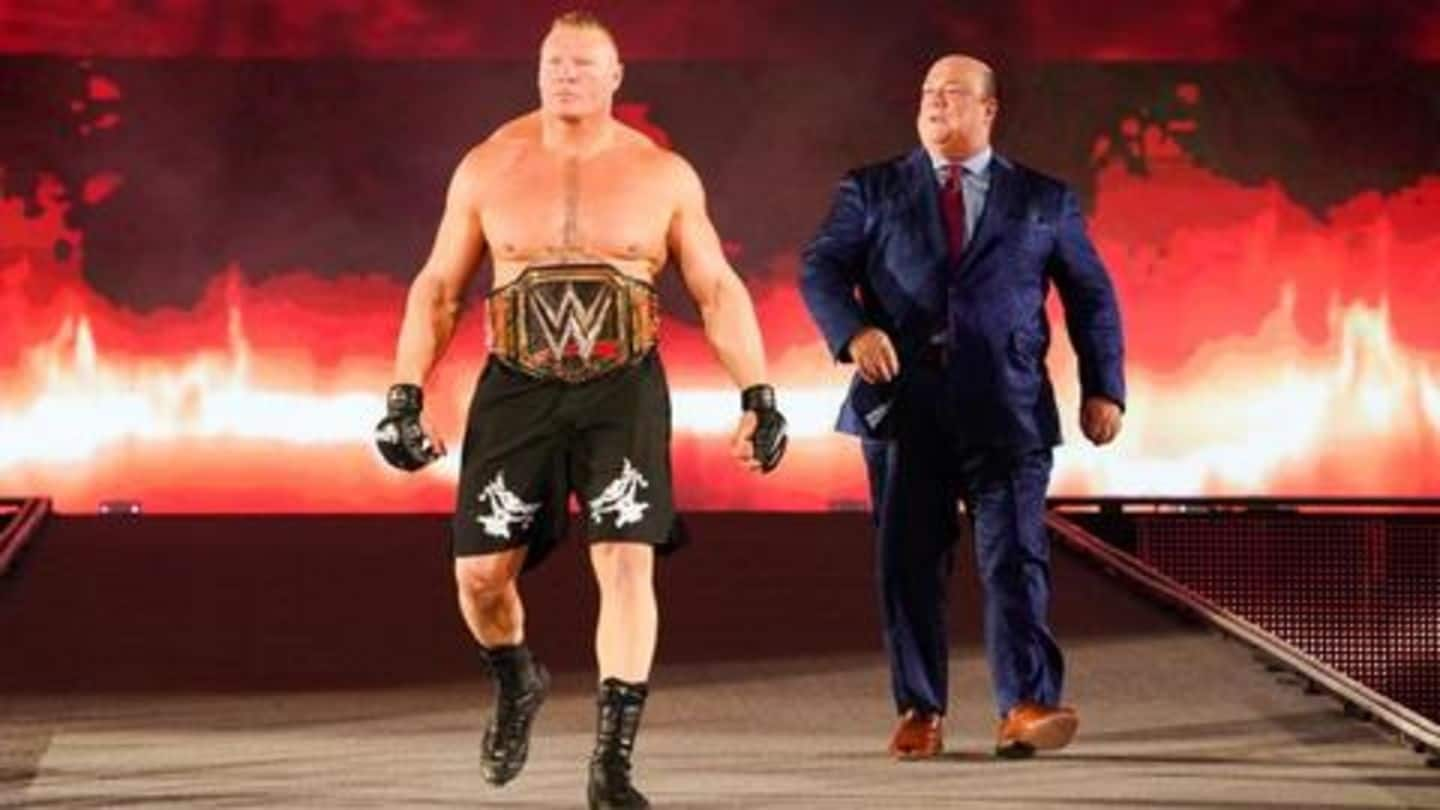 Brock Lesnar is undoubtedly one of the greatest professional athletes in history. From pro-wrestling to mixed martial arts, Lesnar has found unmatched success everywhere and continues to soar high, especially in the former. While he is currently enjoying his eighth World Championship reign in WWE, we take a look at some of his top career moments.
Destroying the ring using Big Show as a weapon
In case one remembers, during the initial days of his career in WWE, Lesnar had a notable feud with Big Show. One of the unique and memorable moments of the feud was during a match on SmackDown, Lesnar suplexed Show from the top rope onto the ring. To everyone's shock, the ring imploded, displaying the raw power of Lesnar, as fans went crazy.
Winning the UFC Heavyweight Championship
Following his initial stint in WWE, Lesnar tried his luck as an MMA superstar and joined UFC. After his opening two matches, he challenged Randy Couture for the UFC Heavyweight Championship. While he was an underdog in the match, he brushed aside the tag and won the match within four minutes via TKO (punches), as Lesnar became a new powerhouse in MMA.
Returns to WWE, feuds with John Cena
When Lesnar made his WWE return in 2012 on Raw, it was one of the biggest surprises of the decade as no one had ever expected so. Furthermore, what made it even more enchanting to watch was Lesnar going after John Cena, who was at the peak of his career. As he feuded with Cena, he destroyed the latter, while it boosted Raw's ratings.
Ending Undertaker's WrestleMania unbeaten streak
Following his return to WWE, Lesnar was on a warpath with every big star. However, his most important feud came when he was challenged by The Undertaker at WrestleMania 30. With the world expecting Undertaker to beat Lesnar fair and square, the latter pulled off a miracle, as he ended the streak, leaving fans shell-shocked. He proved once again that he is extraordinary talent.
Holding the Universal Championship for a year
Following the second brand split in 2016, a new World Championship in the form of the Universal Championship was introduced on Raw. While he was the fourth guy to win the championship, he held on to the title for a record 503 days. As the title gained relevance under him, he became the face of WWE.