UEFA Champions League: Reliving the best finals of all time
UEFA Champions League: Reliving the best finals of all time
Jun 01, 2019, 03:35 pm
3 min read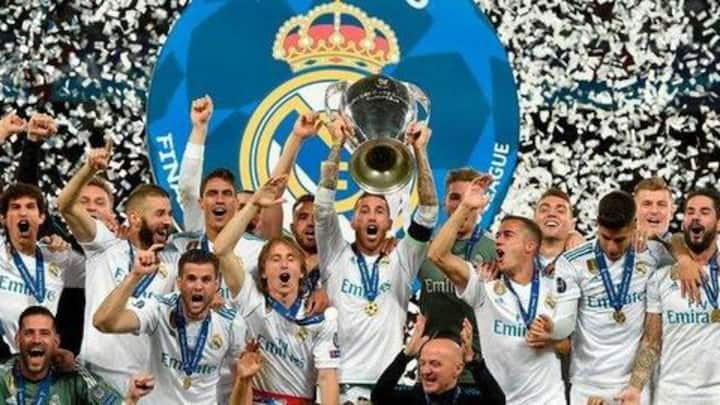 The 64th UEFA Champions League final is all set to be played on Saturday between Liverpool and Tottenham Hotspur. The match is set to be a thriller as Liverpool are no strangers to this stage of the competition, while Spurs would give it all in their first-ever final. Before we witness this high-octane clash, let us relive the best UCL finals of all time.
2013-14: Real Madrid rout city rivals Atletico Madrid
This remains one of the most thrilling finals, even though the scoreline tells us a different story. Atletico got the opener thanks to Diego Godin in the 36th minute and dominated the possession. However, in the 93rd minute, Madrid's Sergio Ramos equalised. As the match went into the extra-time, Atletico players were visibly tired, while Real won the match 4-1.
2010-11: Barcelona's superiority triumphs Manchester United
While Manchester United had won UCL before, they were facing Barcelona for the first time in the final. Further, it was Barcelona's best team, and even Sir Alex Ferguson admitted it. Wayne Rooney, who was at his best for United back then, scored the opener in the 34th minute, only to be cut out by strikes from Pedro, Lionel Messi and David Villa.
2011-12: The Blues script history
Chelsea were rattled by poor domestic performance, but they shockingly made it to the final in the 2011-12 season, under the guidance of manager Roberto Di Matteo. Moreover, they put up a tough fight against German giants Bayern Munich and edged past them 4-3 on penalties, following 1-1 deadlock. Despite having finished sixth in the EPL, they qualified for the Champions League next season.
1998-99: United's incredible strength downs Munich
United have not had much UCL success. While their first success came in 1967-68, they were in the hunt for their second during the 1998-99 season, against the German powerhouse Munich. United were trailing 0-1, and it was in the 91st minute when Teddy Sheringham grabbed the equalizer, while super-sub Ole Gunnar Solskjaer's incredible goal in the extra-time left Munich devastated.
2004-05: Liverpool's greatest win in the best final
Arguably, the best final was played in the 2004-05 season when Liverpool took on AC Milan for their fifth title. It was an all-out thriller as three goals from either side could not break the deadlock. The extra time saw Liverpool's Jerzy Dudek pull of twin spectacular saves against Andriy Shevchenko, along with a few in penalties, as they triumphed 3-2.