WWE: Instances when fans invaded the action live on air
WWE: Instances when fans invaded the action live on air
Sep 13, 2019, 01:48 pm
3 min read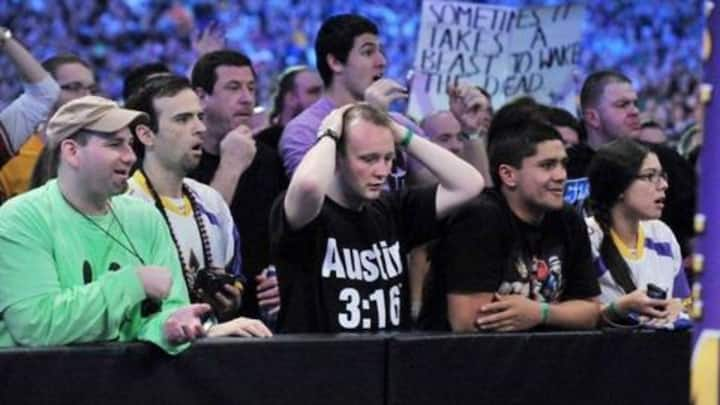 WWE produces the best form of pro-wrestling through its in-ring action. It draws millions of fans into the arena, as they enjoy watching their favorite superstars. However, some fans get so thrilled that they break the security protocol to enter the no-invasion zone. On the same note, we take a look at some of the instances when fans invaded live on air.
Triple H saves Linda McMahon from a fan
Now, this happened during the early 2000s, when Vince McMahon's wife Linda entered the arena during Raw, as Triple H and Stephanie were in the ramp. All of a sudden, Hunter tackled a fan, who had got onto the ramp, probably to confront Linda. Following Hunter's tackle, security immediately intervened and took the guy out, as Linda stared for a moment before continuing.
Fan wanted to make WrestleMania 23 main event a triple-threat!
In 2007, the WrestleMania 23 main event saw John Cena taking on Shawn Michaels for the WWE Championship. However, just when the match was about to begin, a fan jumped into the ring and removed his shirt, signifying that he wanted to fight. The referee was quick to tackle him, as the security took the guy out of the arena. Was he wanting triple-threat?
Eddie Guerrero punches a fan
In May 2002 on Raw, Eddie Guerrero was defending his Intercontinental Championship against Rob Van Dam in a ladder match. At one point, when Guerrero was climbing the ladder, a fan rushed into the ring and tumbled the ladder. Guerrero was quick enough to get out of the harm's way, as he went on to punch the fan before security took the guy out.
Triple H beats up a fan trying to attack
During a house show in the 1990s, Triple H was facing a babyface Stone Cold Steve Austin. Post Austin's win, a fan ran into the ring and tackled him. Meanwhile, Hunter immediately rushed in to slam the guy onto the mat and brutally punched him, while the referee too joined in to kick the guy. Security, later, handled him.
Fan tries to take out an old Bret Hart
The recent edition of the WWE Hall of Fame induction ceremony in 2019 saw another sneak attack from a fan. He wanted to attack 61-year-old Bret Hart. As he was accepting the induction of the Hart Foundation, a fan rushed onto the ring and pushed Bret, along with his niece Natalya. Thankfully, he was quickly taken out by the security personnel.