How the US-Iran conflict began: A brief history
How the US-Iran conflict began: A brief history
Written by
Siddhant Pandey
Jan 08, 2020, 06:46 pm
5 min read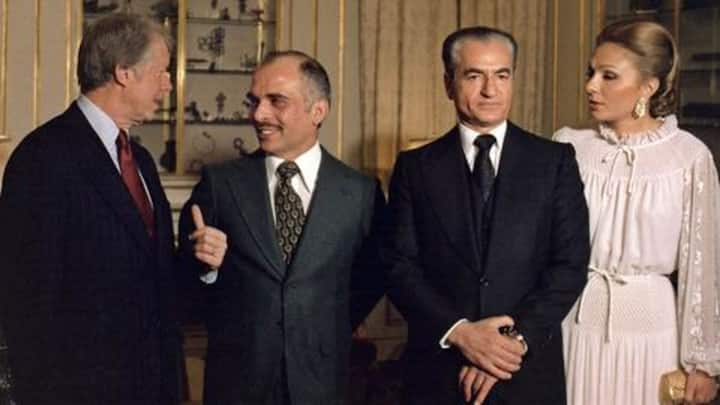 Over the past few days, tensions have heightened between the United States and Iran. Since the US assassinated Iran's top military commander, General Qassem Soleimani, Iran has designated all US forces "terrorists" and launched 15 missiles at Iraqi military bases housing US forces, allegedly killing 80 of them. With both sides threatening further escalation, let's revisit the history of the US-Iran conflict.
US helped overthrow Iran's PM in 1953
The origin of the conflict between the US and Iran dates back to 1953 when America helped overthrow a democratically-elected Iranian Prime Minister. The US, in concert with British intelligence agencies, staged a coup d'etat to unseat the secular Iran PM Mohammad Mossadeq, who wanted to nationalize the Iranian oil industry. A monarch, Mohammad Reza Pahlavi, was then left in-charge as the Shah (emperor).
1979 Iranian Revolution overthrows US-backed Shah
The Pahlavi regime brought aggressive modernization and Westernization of Iran in what is called the White Revolution—marked by rapid social, economic and political reforms. However, Mossadeq's ouster and the swift reform contributed to widespread protests from the secular left and religious right. A movement to eliminate the Western—particularly American—influence on Iran advanced and sparked the 1979 revolution, which witnessed the Shah's removal in January.
Ayatollah Khomeini installed as Iran's Supreme Leader
Pehlavi's removal made way for Islamic cleric Ayatollah Khomeini's installation as the Supreme ruler of Iran. Notably, Khomeini had been exiled under Pehlavi's regime for criticizing the White Revolution and returned only after the Shah's removal. Khomeini declared Iran an Islamic republic in April 1979.
Iranians hold Americans hostage for 444 days at US Embassy
In November 1979, Iranians stormed the US Embassy in Tehran, taking Americans hostage for 444 days. This led to the US and Iran cutting diplomatic relations in 1980. In January 1981, 52 hostages were freed and six other Americans, who escaped the embassy, were smuggled out of Iran by a team posing as filmmakers. These events were dramatized in the 2012 Hollywood film Argo.
1980s: What followed the Iranian Revolution
In October 1983, Iran killed 241 US service personnel by bombing a Marine compound in Beirut, Lebanon. Three-and-a-half months later, the US withdrew all troops from Lebanon. In 1983, the French and US Embassies in Kuwait were bombed by Iran. Iraqi militia leader Abu Mahdi al-Muhandis—who was killed in the recent US airstrike with Soleimani—was convicted in the attack.
Sentenced to death in Kuwait, al-Muhandis elected to Iraq's Parliament
Al-Muhandis was sentenced to death in Kuwait for the bombings. He had also planned the 1985 assassination attempt against Kuwait's emir. However, he fled Kuwait before trial. In 2007, he was found to be sitting in Iraq's Parliament as Jamal Jafaar Mohammed (al-Muhandis's birth name).
In 1988, US bombed Iranian passenger plane, killing 290
In 1988, a US warship shot down an Iranian passenger plane—Iran Air Flight 655—killing all 290 on-board. The US said the Airbus A300 was mistaken for an F-14 fighter jet. After Solemaini helped the US exact revenge on 9/11, in 2002, US President George Bush clubbed Iran in the "axis of evil" along with Iraq and North Korea, worsening their relations further.
Conflict intensified after Iran's 'secret' nuclear program
After an Iranian opposition group revealed that Iran was developing nuclear facilities in 2002, the US accused it of running a clandestine nuclear program. Iran was engaged with P5+1 (China, France, Russia, the United Kingdom, and the United States; plus Germany) in intermittent nuclear negotiations for about a decade. Meanwhile, the United Nations, the US, and the European Union imposed sanctions on Iran.
2015: US, other countries, struck nuclear deal with Iran
In 2015, Iran and P5+1 struck a deal wherein, Iran would shift its nuclear program from weapons production towards peaceful commercial use for 10 years. In exchange, energy, trade, technology and financial sanctions imposed on Iran by the US and UN Security Council would be lifted. In 2018, however, the Trump administration abandoned the deal, while Iran, France, Britain, and Germany continued their arrangement.
After abandoning nuclear deal, US reimposed sanctions on Iran
Later in 2018, the Trump administration reimposed sanctions targeting Iran's energy, financial, shipping and shipbuilding industries. In 2019, the US ended exemptions on sanctions against countries buying oil from Iran, thereby forcing its main customers to stop buying its oil and hurting its economy. The same year, the US also designated Iran's Islamic Revolutionary Guard Corps (IRGC) as a terrorist outfit.
US-Iran conflict turned Persian Gulf into battlefield
In June, six oil tankers were attacked in the Persian Gulf and the Gulf of Oman. The US blamed Iran, however, Iran denied responsibility. The same month, Iran shot down a US surveillance drone for violating its airspace, however, the US claimed it was in international territory. In July, a US Navy vessel downed an Iranian drone in the Strait of Hormuz "in defense."
Iran reportedly executed 17 citizens for being US spies
Iran also seized a British-owned oil tanker near the Strait of Hormuz in July. The same month, it also arrested 17 Iranians for spying for America. Some reports said they were executed. Meanwhile, Iran started withdrawing itself from key commitments under the 2015 nuclear pact.
US, Iran exchanged blows shortly before Soleimani's assassination
A rocket attack blamed on Iran-backed militia Kata'ib Hezbollah killed a US contractor in December 2019 and injured several US troops in Iraq's Kirkuk. US airstrikes then struck Hezbollah brigades in Iraq and Syria, which killed 25 people. This triggered an attack on the US Embassy in Baghdad. The US then killed Soleimani and al-Muhandis in an airstrike outside Baghdad airport.
Iran now refuses to follow any nuclear restrictions
Since Soleimani's killing, Iran has vowed to take "revenge" on "US acts of terrorism." The nation has also refused to abide by any nuclear restrictions for enrichment, the level of enrichment, the stock of enriched material, or research and development imposed, under the 2015 pact.