Convicted for homosexuality, Alan Turing to feature on £50 note
Convicted for homosexuality, Alan Turing to feature on £50 note
Written by
Siddhant Pandey
Jul 17, 2019, 08:07 pm
3 min read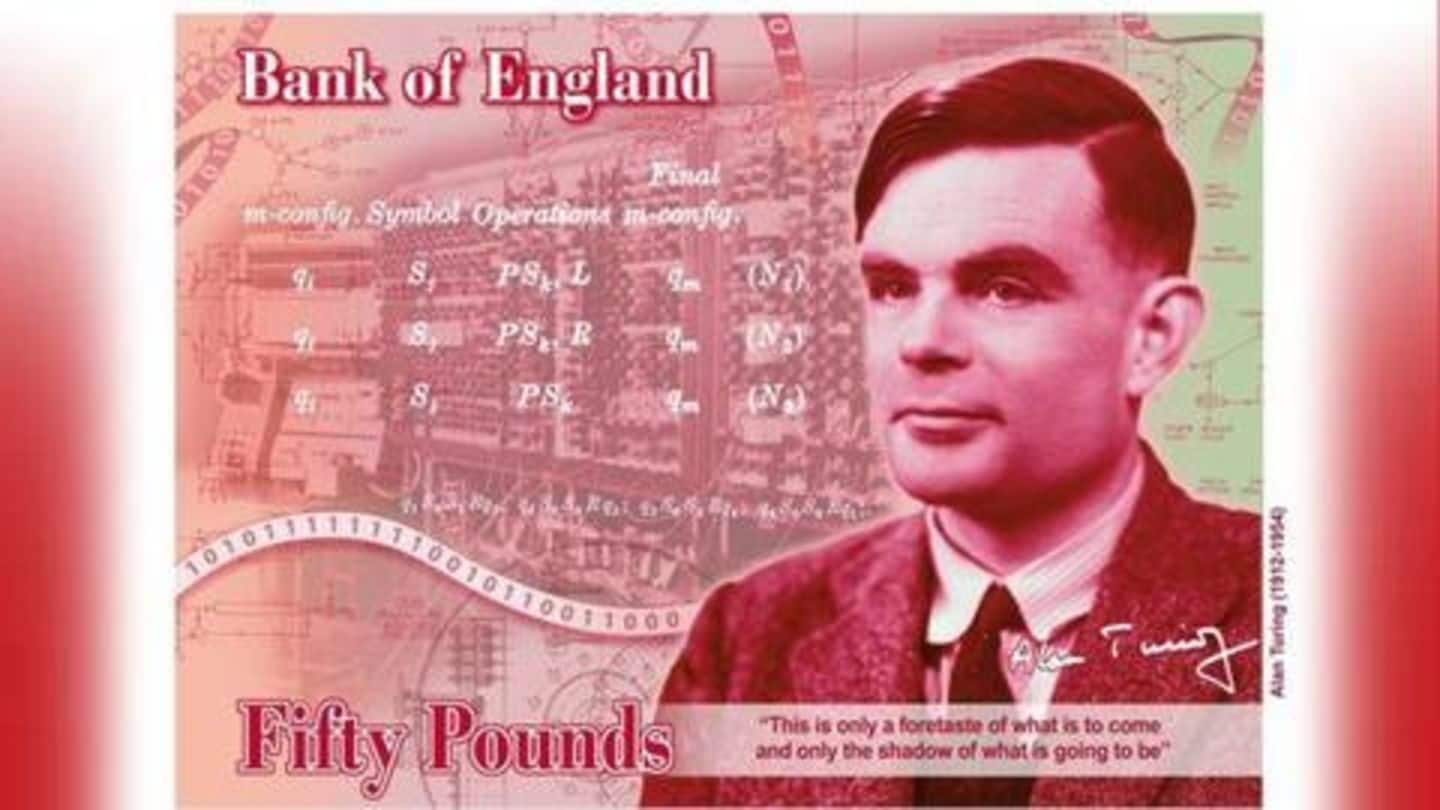 Famed British mathematician and computer scientist Alan Turing, who helped save millions of lives as a World War II codebreaker, is the new face of the Bank of England's £50 note. Turing was previously disgraced for his homosexuality, then a criminal offense in Britain, and was chemically castrated. Only in 2013 did Turing receive a posthumous pardon, around 60 years after his alleged suicide.
Turing's contributions far-ranging and path-breaking: Bank of England Governor
The announcement was made by Bank of England Governor Mark Carney, who said, "Alan Turing was an outstanding mathematician whose work has had an enormous impact on how we live today." Carney said Turing's contributions as a computer scientist and a war hero were "far-ranging and path-breaking" adding that he "is a giant on whose shoulders so many now stand."
New £50 to enter circulation by 2021 end
Further, speaking at the announcement at the Science and Industry Museum in Manchester, Carney also said that the new £50 banknotes will enter circulation by the end of 2021, replacing the current notes, which feature steam engine pioneers James Watt and Matthew Boulton. Interestingly, the £50 banknote is often described as the "currency of corrupt elites," however, 344 million £50 banknotes remain in circulation.
Turing picked from 989 candidates
To note, the Bank had earlier sought suggestions for scientists whose portrait to feature on the banknotes. They received 2,27,299 nominations for 989 eligible scientists which were shortlisted to 12, including, Mary Anning, Paul Dirac, Rosalind Franklin, William Herschel and Caroline Herschel, Dorothy Hodgkin, Ada Lovelace and Charles Babbage, Stephen Hawking, James Clerk Maxwell, Srinivasa Ramanujan, Ernest Rutherford, Frederick Sanger, and Alan Turing.
MPs, campaigners raise concerns of choosing a white scientist
Although many have welcomed the move to mark Turing's achievements, MPs and campaigners have raised concerns that choosing a white scientist sends a "damaging message that ethnic minorities are invisible." Carney responded by saying that the Bank celebrates "all aspects of diversity," but "to not represent the scale of scientific achievement in this country would be a mistake."
Apart from Queen, Jane Austen the only woman on banknotes
Apart from representing ethnic minorities, the banknotes also faced flak for lack of representation of other genders. Other than the Queen herself, Jane Austen, featured on the £10 note, is the only woman whose image is seen among the four banknotes.
Here's how Turing's contributions helped end WWII
Coming to Turing, in World War II, he contributed by cracking intercepted coded messages, helping the Allied forces defeat the Nazis. Without Turing breaking the German Naval U-boat Enigma cipher, the war is estimated to have lasted for 2-3 more years, instead of ending in 1945. Hence, Turing's codebreaking skills are said to have saved 14 to 21 million lives.
Turing convicted for homosexuality in 1952; died two years later
Despite being hailed as a war hero, Turing was charged for "gross indecency" in 1952 for his homosexuality. He was chemically castrated (his libido was reduced by taking hormonal injections) which led to "feminization" of his body. On June 7, 1954, he died due to cyanide poisoning in an apparent suicide, however, many argue that his death may have been an accident.
Turing was pardoned posthumously in 2013
In 2009, then Prime Minister issued an unequivocal apology to Turing for his conviction after receiving a petition. Later, another petition emerged demanding a British government pardon posthumously, which, after a long struggle, was granted by Queen Elizabeth II in 2003.