Canadian PM Justin Trudeau, family reach India on first official-visit
Canadian PM Justin Trudeau, family reach India on first official-visit
Feb 18, 2018, 02:57 pm
3 min read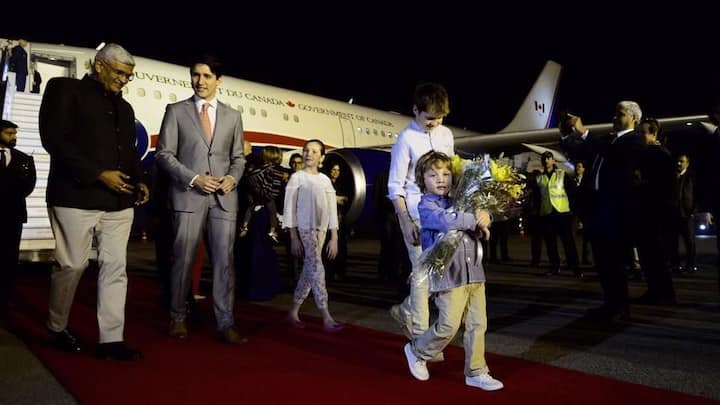 Canadian PM Justin Trudeau has arrived in India for a week-long visit along with family. Minister of State for Agriculture Gajendra Singh Shekhawat received Trudeau. Trudeau's first India visit is aimed at boosting Indo-Canadian business ties and strengthening the "deep connection" between people of the two countries. He will meet PM Modi on 23 February before returning to Canada on 25 February. Here's more.
PM Trudeau's "busy" week-long India visit
Wheels up for India and a busy visit, focused on creating good jobs and strengthening the deep connection between the people of our two countries. 🇨🇦🇮🇳 pic.twitter.com/Jg6UmL9y4S

— Justin Trudeau (@JustinTrudeau) February 16, 2018
Trudeau to hold talks with Modi, meet business leaders
PM Modi, who visited Canada in 2015, and Trudeau would hold talks on wide-ranging issues including defense and counter-terror cooperation on 25 February after a formal ceremony on 23 February. During his week-long official visit, the Canadian PM is also expected to meet business leaders in Mumbai and visit Indian monuments like Agra's Taj Mahal, Amritsar's Golden Temple, and New Delhi's Jama Masjid.
PM Trudeau and family visit Taj Mahal
Justin Trudeau has reached Agra earlier today to visit the 17th century monument, Taj Mahal, in Uttar Pradesh's Agra. He left for Agra from New Delhi at 9:00 am and was accompanied by his wife Sophie Gregoire Trudeau and children Xavier, Ella-Grace, and Hadrien. The Canadian PM has visited the centuries-old Mughal monument and will return to Delhi by 3:30 pm.
Trudeau, Modi to discuss various topics including civil nuclear cooperation
Canadian PM Justin Trudeau's official India visit is aimed at expanding the overall ties between India and his country. He and his Indian counterpart, Narendra Modi, are likely to focus on areas such as security, defense, counter-terrorism, space, energy, education, trade and investments, and climate change. Both the countries are also expected to enhance cooperation in the civil nuclear sector.
Canadian cabinet ministers also visiting India
Along with Trudeau, members of his cabinet, including Canada's Foreign Minister Chrystia Freeland, Science and Economic Development Minister Navdeep Bains, Defense Minister Harjit Singh Sajjan, Science and Sports Minister Kirsty Duncan, and Infrastructure Minister Amarjeet Sohi are also visiting India. The Indo-Canadian ties have been steadily on the rise. India is Canada's second-largest source of immigrants. Canada has 1.4mn people of Indian origin.
India, Canada support free trade, opposing President Trump
At Davos forum in Jan'18, PM Modi and Trudeau defended free trade, opposing protectionism in the global economy as US President Trump imposed tariffs on imports. Last year, the Indo-Canadian two-way merchandise trade amounted to $8.4bn split between imports and exports from India. Canada imports pearls, organic chemicals, pharmaceutical products, textiles, motorcycles and exports vegetables, paper, fertilizers, wood-pulp, iron/steel and precious stones to India.