129 Indian 'students' arrested in US 'pay-to-stay' visa scam
129 Indian 'students' arrested in US 'pay-to-stay' visa scam
Feb 02, 2019, 12:04 pm
3 min read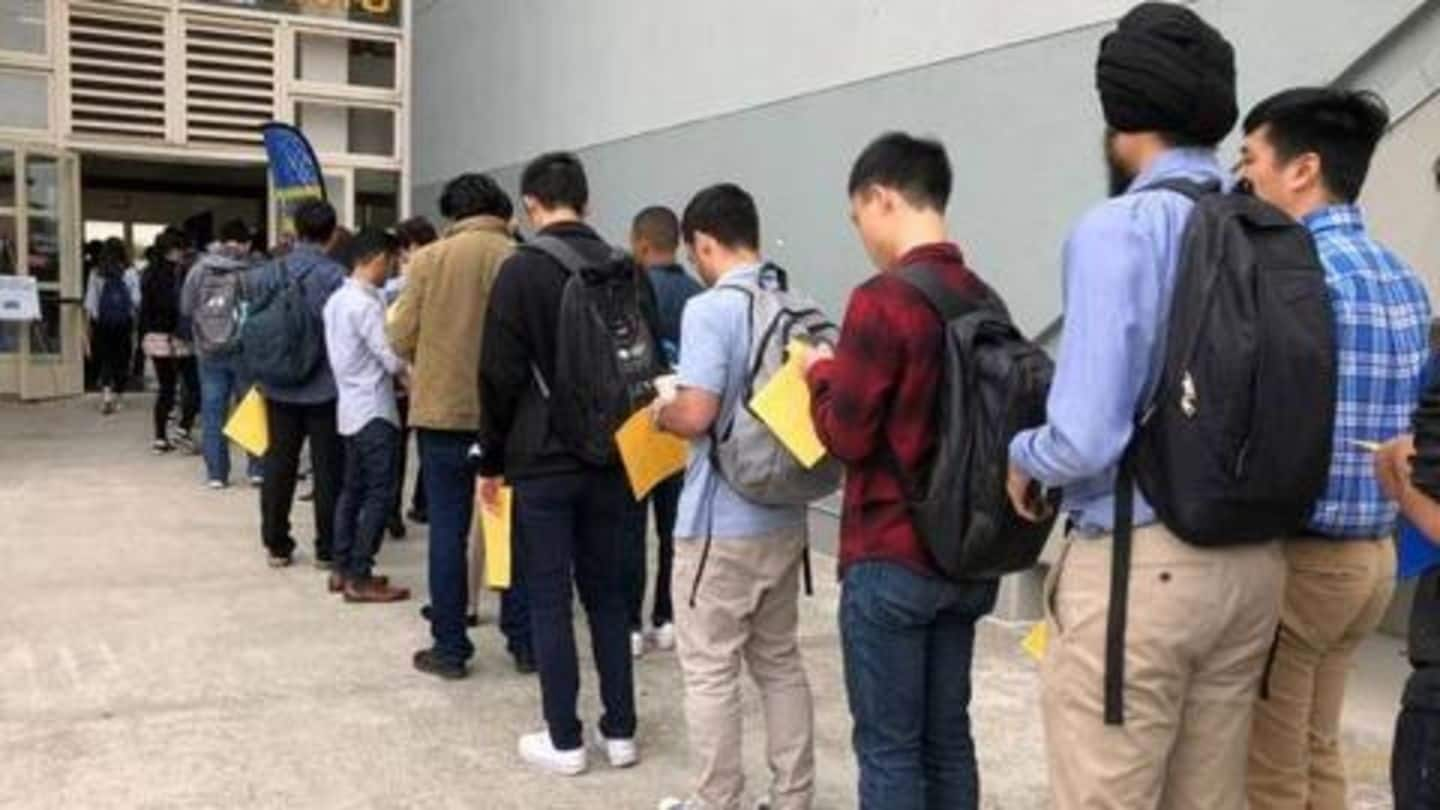 The US authorities have arrested 129 Indian 'students' for enrolling themselves in a fake university to extend their stay in the country. Interestingly, enrolling in the university would allow the 'students' to maintain their F-1 visa status and obtain work permits. The immigration fraud was exposed by the Department of Homeland Security (DHS), whose officials posed as owners of the university. Here's more.
Backstory: Students took admission in fake university to extend stay
As part of 'pay-to-stay' scam, the foreign 'students' reportedly took admission in a fake university to maintain their student visa status, knowingly. The students enrolled themselves in the fake Farmington University in Greater Detroit area. Spokesperson of Immigration and Customs Enforcement (ICE), Khaalid H Walls, said 130 students were arrested on Wednesday. Out of them, 129 were Indians.
Earlier, eight student recruiters were arrested
The ICE's crackdown started with the arrest of eight student recruiters, all Indians or Indo-Americans, who allegedly helped unqualified 'students' to stay in the US with fake documents. They were accused of committing visa fraud. After the recruiters were nabbed, officials launched a nationwide exercise arresting students from New Jersey, Atlanta, Houston, Michigan, California, Louisiana, and North Carolina.
Officials believe 'students' knew of fraud, attorneys claim otherwise
The prosecutors claimed 'students' were party to the fraud. They argued the varsity didn't conduct any classes and yet they took admission in it. All they wanted to do was extend their student visa and get a work permit. However, attorneys who spoke to the students or their family members said they were innocent. Instead, they were the victims of fraud.
Immigration attorney defends 'students'
Ravi Mannam, an immigration attorney in Atlanta, said the fake university "hooked these students by promising them credits for their previous master's programmes". Further, it allowed the students to work while being enrolled. So, the 'students' might have assumed it was an authorized university and the work program was under the Curricular Practical Training (CPT). He added it isn't unusual.
It is possible to study remotely, another attorney says
Mannam also said many students had come to the US to get admission in some other course. But after the program lost accreditation, they got enrolled at the University of Farmington. Michael Sofo, another attorney, agreed. He said many universities offered courses that focused on practical training which doesn't require coming to the campus. "Programs like this exist and they are legal," Sofo said.
MEA acts swiftly, launches helpline numbers
The series of events has raised concerns in India. MEA spokesperson Raveesh Kumar said the ministry was aware of the incident and has contacted consulates in the US to gain more information. It is their top priority. The Indian embassy in the US launched 24X7 hotline numbers which will be manned by several people, officials said. The numbers are 202-322-1190 and 202-340-2590.
You can call on these numbers for assistance