'Kithana acha he Modi', tweets Australian PM; picture goes viral
'Kithana acha he Modi', tweets Australian PM; picture goes viral
Jun 29, 2019, 11:53 am
2 min read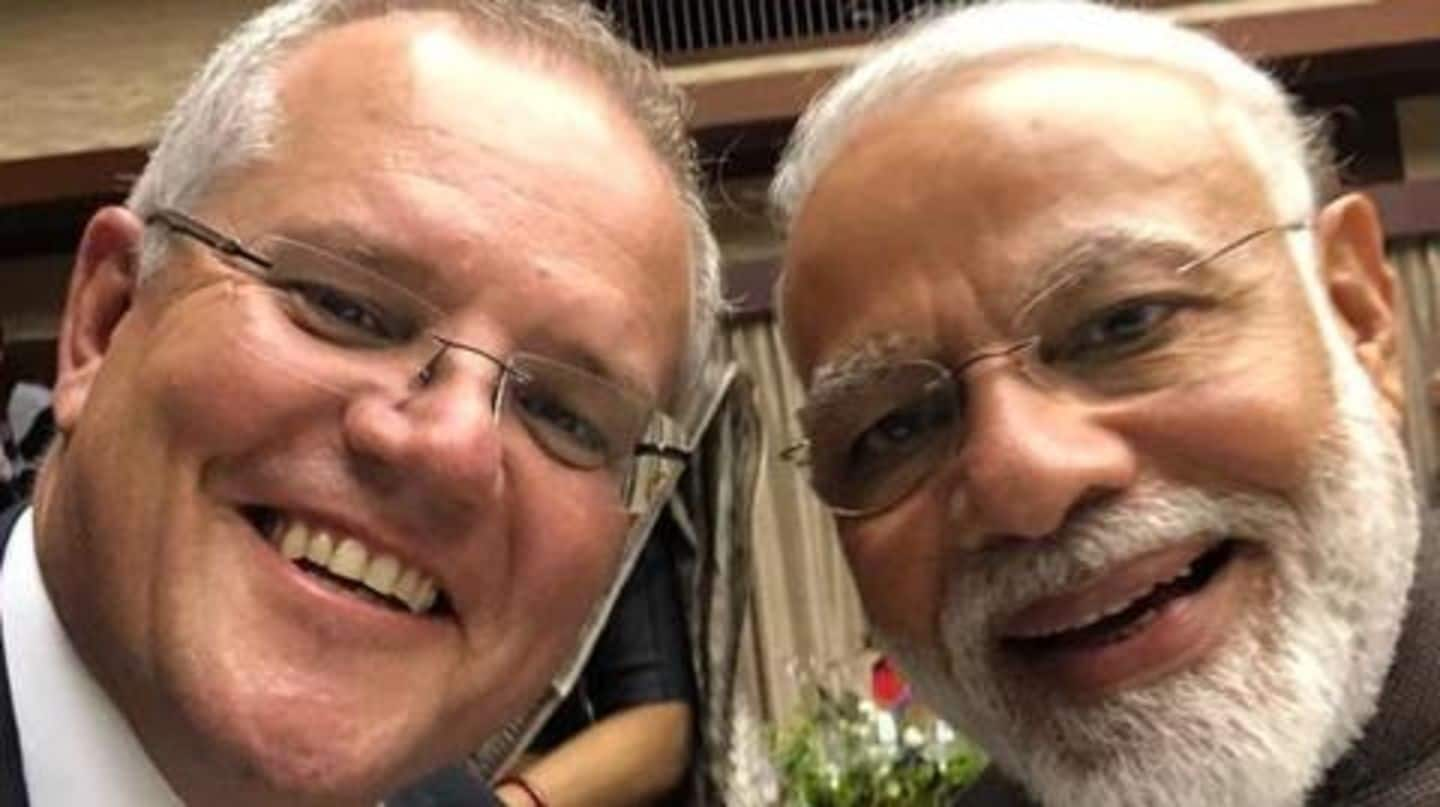 At the two-day G20 Summit in Japan, global leaders displayed their friendship towards each other. As the leaders came under one roof to discuss pressing issues, they also held separate meetings with one another. One such meeting happened between Australian PM Scott Morrison and his Indian counterpart Narendra Modi, and it has got everyone talking. Wondering why? Let's tell you.
Morrison and Modi's smiles spoke volumes about their friendship
In what shows the deep camaraderie between Morrison and Modi, the former took to Twitter to share a selfie with the BJP leader. Morrison wrote, "Kithana acha he Modi" which translates to "How good Modi is". Both the leaders flashed wide smiles in the picture. Subsequently, Modi replied, "Mate, I'm stoked about the energy of our bilateral relationship! @ScottMorrisonMP."
PM Modi was greeted warmly by world leaders
The G20 Summit marked PM Modi's first mega-event after he led BJP to a historic mandate in 2019 general elections. He had a packed schedule, spoke on important matters, but what was worth noting was his demeanor around leaders of the world's most powerful economies. All leaders greeted PM Modi like an old friend, hugged him, exchanged laughs, and showered congratulations.
World leaders or friends? It's really hard to tell
PM Modi kicked-off G20 Summit by meeting the host country's PM, Shinzo Abe, and US President Donald Trump. At the second of its kind Japan-America-India summit, he fist-bumped Abe and Trump. Though the talks didn't last long, India said they were productive. PM Modi was also seen sitting next to Trump at Abe's dinner, and the two laughed heartily.
Pictures speak louder than words
From terrorism to trade, PM Modi discussed varied issues
Good times, aside, PM Modi also worked towards cementing India's global position. He told leaders of BRICS (Brazil, Russia, India, China, and South Africa) countries that everyone should collectively take steps to combat terrorism. He batted for a favorable environment for global trade and also underlined that strengthening multilateral institutions as well as maintaining peace was important for everyone.
PM Modi told world leaders climate change is a concern
"Rapidly changing technologies such as digitization and climate change are concerns not just for us, but also for future generations. Development is in the right direction when it reduces inequality and contributes to empowerment," PM Modi said at the Summit.