Indian comedian dies on stage; audience mistook it for performance
Indian comedian dies on stage; audience mistook it for performance
Written by
Siddhant Pandey
Jul 21, 2019, 02:50 pm
2 min read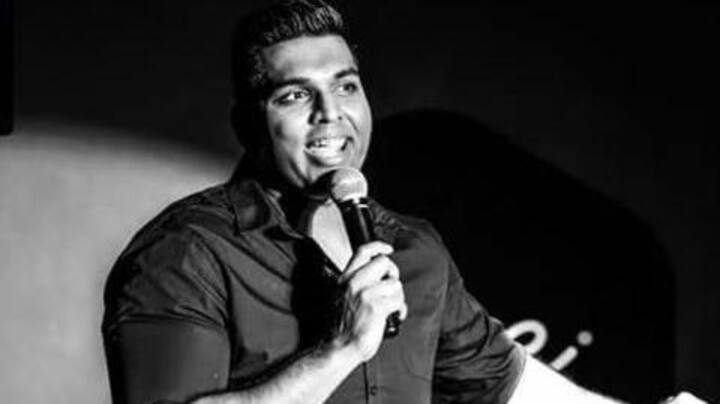 In a tragic incident, a 36-year-old Indian stand-up comedian died on stage while performing his set in Dubai, United Arab Emirates. Manjunath Naidu, who hailed from Chennai, was performing his routine when he reportedly started complaining about anxiety and collapsed on stage. Initially, the audience thought it was all part of the act. He suffered a cardiac arrest and died. Here's more.
Naidu died at Clavichord, Signature Hotel, Dubai, on Friday
According to Gulf News, the incident took place when Naidu was performing at the Clavichord, Signature Hotel, Dubai. About 15 minutes into his routine, he complained of anxiety and collapsed. When he didn't get back up for minutes, other comics and hotel staff administered CPR. He was rushed to the Al Zahra Hospital Barsha, where he was injected with adrenaline, however, he passed away.
We noticed a dip in his energy, says fellow comedian
Meanwhile, fellow comedian Salman Z Qureshi, who considered Naidu a brother, told Gulf News, "I had already performed my set and was watching Manju, who was probably 15 minutes into his act before we noticed a dip in his energy." When Naidu collapsed, Qureshi said he, too, initially thought it was part of the act. "I still can't believe it's happened," he added.
Naidu had been performing in Dubai for 5 years
Notably, Naidu had been popular in the UAE circuit, having performed stand-up for about five years, Gulf News reported. He was lovingly nicknamed 'Mango' by his peers, whom he considered his family. In his last performance, he performed in front of 80 people and seemed to be in "high spirits." "Manju did suffer from post-performance stress but nothing serious," he added.
Naidu planned to marry soon; fiancé, friends only family
Naidu reportedly lost his parents at a young age. He was planning to marry soon and his fiancé and friends were his family in Dubai, Qureshi said. His last rites are to be performed on Monday.
'May his memory always spark a smile for everyone'
"He was too young to go," Rashmi Kotriwala, The Junction community theater founder, wrote on Facebook. "May his family gather strength in the memories he left behind. May his memory always spark a smile for everyone who knew him." Dubai-based comedian Imah Dumagay stated, "You make us laugh effortlessly. We have nothing but good things to say about you. You did live right, brother!"