Einstein's letter on god and religion auctioned for nearly $3mn
Einstein's letter on god and religion auctioned for nearly $3mn
Dec 05, 2018, 02:53 pm
3 min read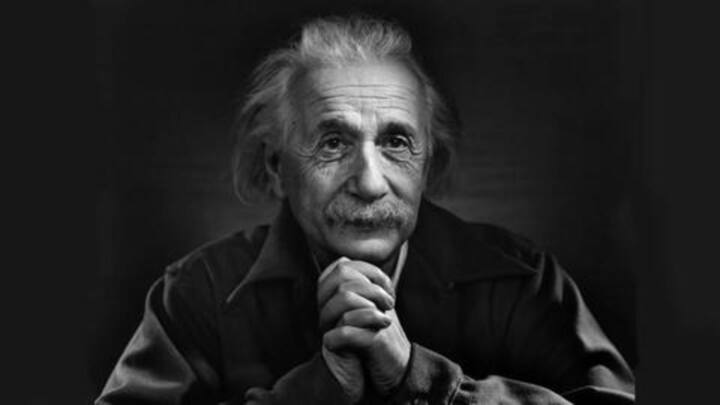 A handwritten letter by revered physicist Albert Einstein grappling with the concept of god and religion has shattered expectations at a Christie's auction, selling for a whopping $2.9mn. The 'God Letter' as it is called, was penned by the physicist a year before he died, and is considered to be an iconic piece of literature in the science vs religion debate. Here's more.
What Christie's had to say about the letter
"This remarkably candid, private letter was written a year before Einstein's death and remains the most fully articulated expression of his religious and philosophical views," read a statement by Christie's.
The letter, written in 1954, is an immortal document
Einstein had written the letter on January 3, 1954, as a response to a book, Choose Life: The Biblical Call to Revolt, by German philosopher Eric Gutkind. Gutkind had gifted Einstein a copy of the book, which the physicist read at the behest of Dutch mathematician and philosopher L. E. J. Brouwer. The physicist's response to Gutkind subsequently became an immortal document.
What Einstein's views about god were
Written in German, Einstein's response highlighted his own views on god and religion. "The word God is for me nothing but the expression and product of human weakness, the Bible a collection of venerable but still primitive legends," the physicist had written. "No interpretation, no matter how subtle, can [for me] change anything about this," Einstein had further asserted.
Einstein did not believe in religion or religious supremacy
Commenting on the idea of religion, and on supremacy of one religion over another, Einstein had said, "For me the unadulterated Jewish religion is, like all other religions, an incarnation of primitive superstition." "And the Jewish people to whom I gladly belong...still for me does not have any different kind of dignity from all other peoples," the physicist had expounded.
Yet, Einstein wasn't an out-and-out atheist either
Rather, Einstein's views on god were more in tune with 17th century philosopher Baruch Spinoza. The physicist had strongly identified with Spinoza's views from an early age, and believed not in an anthropomorphic, interventionist god, but in an inexplicable power responsible for the orderliness of the cosmos. Einstein's deist 'god' did not have form, and neither did it intervene in human lives and activity.
Einstein's advice has fetched millions earlier also
Given the weight the letter carries, Christie's had expected the letter to sell for something between $1mn-$1.5mn. However, the selling price of the letter was almost double the auction house's expectations. Notably, this isn't the first time Einstein's advice has fetched millions - in 2017, a note containing Einstein's advice on happy living sold for $1.56mn in Jerusalem.