English-teacher corrects grammatical errors in Trump's letter, sends it back
English-teacher corrects grammatical errors in Trump's letter, sends it back
May 29, 2018, 12:07 am
2 min read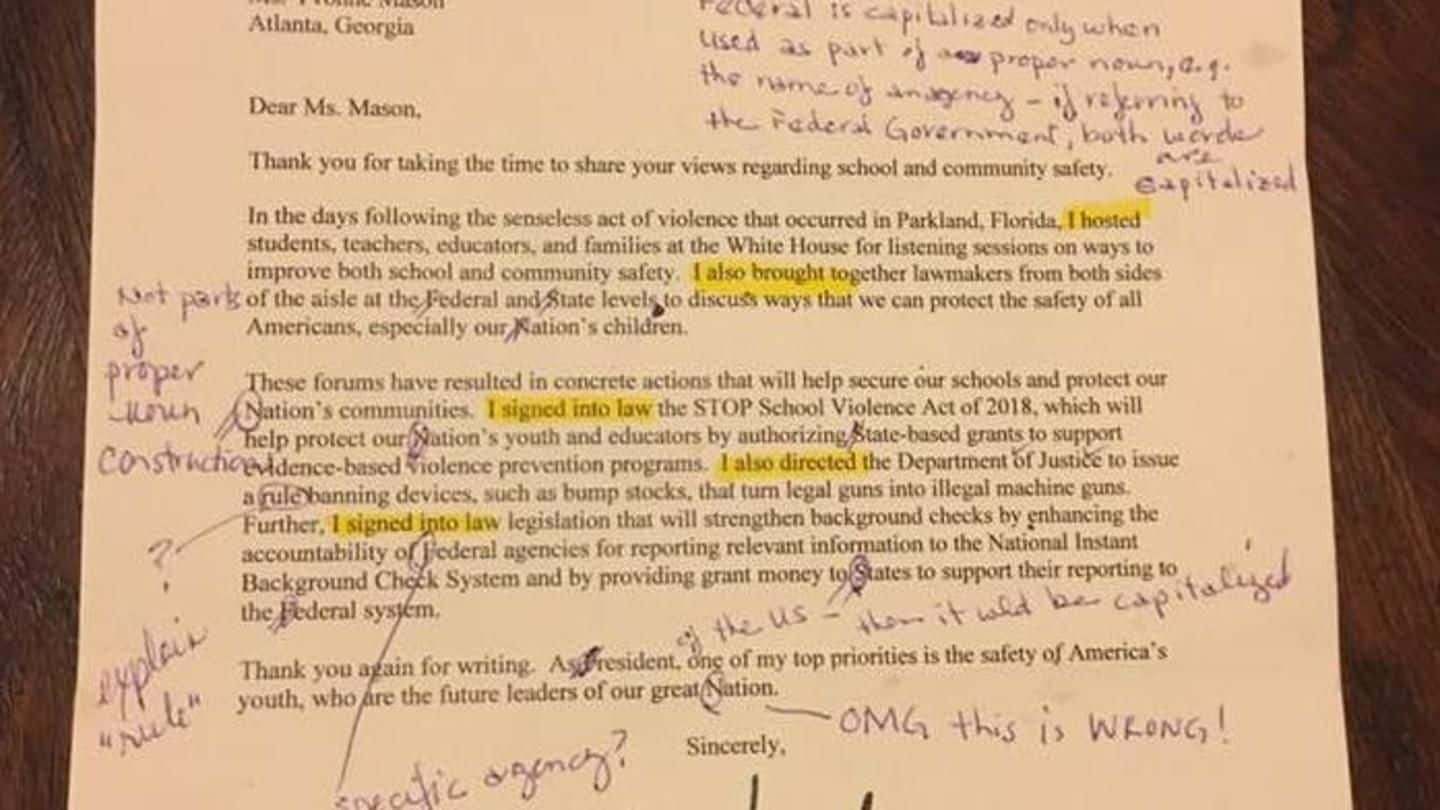 When you get a letter from the highest office in the United States of America, you expect it to be error-free. Retired teacher Yvonne Mason also wanted the same. But when she received a letter from the White House signed by President Donald Trump, the mistakes annoyed her. So, Mason, who has 17 years of teaching experience, highlighted them and sent it back.
"OMG! This is WRONG!," writes Mason on the document
On the top of document she received, Mason wrote, "Have y'all tried grammar and style check?" At another place where the capitalization of letters was unnecessary, she wrote, "OMG this is WRONG!" "If it had been written in middle school, I'd give it a C or C-plus. If it had been written in high school, I'd give it a D," Mason told a daily.
Mason wanted Trump to meet families of victims
Mason got a reply from White House after she sent a letter to POTUS begging him to meet the families of victims of Parkland school shooting. Mason said the letter was 'stylistically appalling'. Her Facebook post caught a lot of attention. But, no one knows if Trump actually wrote it. A recent report also suggested White House staffers are responsible for the President's tweets.
Do White House staffers deliberately write error-filled tweets?
A Boston Globe report of this year concluded Trump's tweets aren't composed by him. The West Wing employees employed a syntax to mimic Trump's style. This report explained the overuse of exclamation marks and capitalized words, in Trump's tweets. Mason also complained of incorrect capitalization at 11 places in the letter, which hints staffers may have drafted it too.