South Sudan's warring leaders meet for first time since 2016
South Sudan's warring leaders meet for first time since 2016
Jun 21, 2018, 11:16 am
2 min read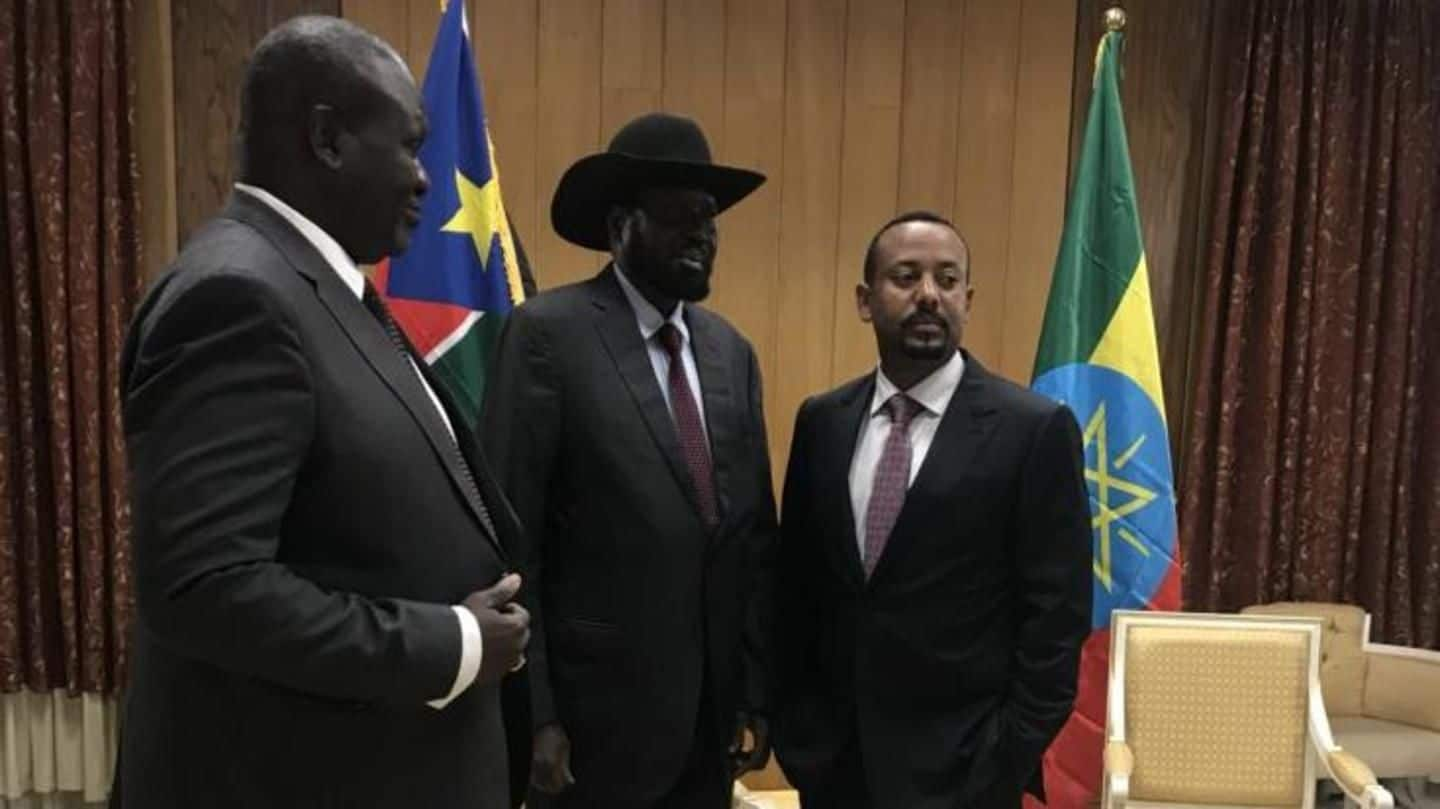 South Sudan President Salva Kirr met opposition leader Riek Machar on Thursday in Addis Ababa for the first time in almost two years amid efforts to end a five-year civil war. Ethiopia invited them for talks as pressure grows to end a conflict that has killed tens of thousands of people and created Africa's largest refugee crisis since the 1994 Rwanda genocide.
Machar fled South Sudan in July 2016
The discussions between the two leaders are expected to continue tomorrow. A Kiir spokesman said, "Anything that brings peace in South Sudan is wanted." Machar fled South Sudan after new fighting erupted in capital Juba in July 2016, ending a brief attempt at peace in which he returned to his role as Kiir's deputy. He was later put under house arrest in South Africa.
Meeting between the leaders was mediated by East African regional-bloc
The meeting, attended by Ethiopian PM Abiy Ahmed, was mediated by the East African regional bloc that has led several rounds of failed peace talks. The Intergovernmental Authority on Development last month called for a Kiir-Machar meeting ahead of an African Union summit on July 1 in Mauritania, saying it would inform a "final decision" on Machar's participation in the peace process.
UN Security Council threatened arms embargo on South Sudan
Earlier, UN Security Council adopted a resolution that threatens an arms embargo on South Sudan and sanctions against six people, including the country's defense chief, if fighting doesn't stop and a political-agreement reached. Secretary-General Antonio Guterres will submit a report to the Council by June 30. Regional bloc IGAD also threatened to submit "punitive measures" against violators of December's failed ceasefire in South Sudan.