Flooding fears surge as Carolina rivers rise; Wilmington cut off
Flooding fears surge as Carolina rivers rise; Wilmington cut off
Sep 17, 2018, 11:13 am
3 min read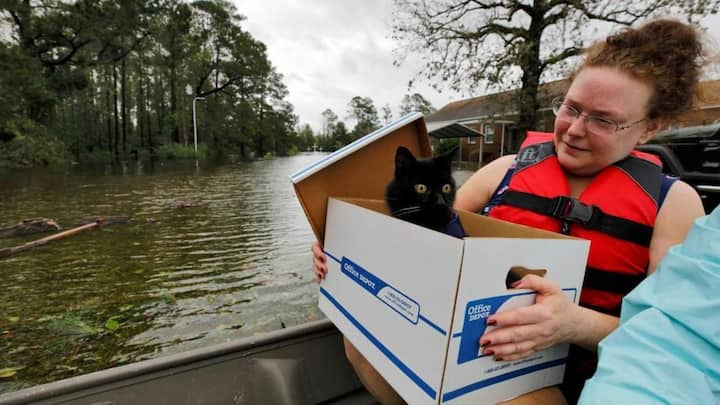 Catastrophic flooding from Florence spread across the US's Carolinas, with roads to Wilmington cut off by the epic deluge and muddy river water swamping entire neighborhoods kilometers inland. "The risk to life is rising with the angry waters," Governor Roy Cooper declared as the death toll climbed to 17. The storm continued to crawl westward, dumping over 75cm of rain in spots since Friday.
Tens of thousands people were evacuated
Tens of thousands were ordered evacuated from communities along the state's steadily rising rivers with the Cape Fear, Little River, Lumber, Waccamaw, and Pee Dee rivers all projected to burst their banks. In Wilmington, with roads leading in and out of the city underwater and streams still swelling upward, residents waited for hours outside stores and restaurants for basic necessities like water.
Food, water to be flown to Carolina, says Woody White
Woody White, Chairman of Board of Commissioners of New Hanover County, said officials were planning for food and water to be flown into the coastal city of nearly 120,000 people. "Our roads are flooded," he said. "There is no access to Wilmington." About 115km away from the coast, residents near Lumber river stepped from their homes directly into boats floating in their front yards.
Officials focused on rescuing people: Brock Long
Downgraded overnight to a tropical depression, Florence was still massive. But with radar showing parts of the storm over six Southeastern states and flood worries spreading into Southern Virginia and West Virginia, North and South Carolina were still in the bulls-eye. The Head of the Federal Emergency Management Agency, Brock Long, said officials were focused on finding people and rescuing them.
Regulators were monitoring threat from poultry farms
As rivers swelled, state regulators were monitoring the threat from gigantic hog and poultry farms located in low-lying, flood-prone areas. Industrial-scale farms contain vast pits of animal feces and urine that can pose a significant pollution threat if they are breached by floodwaters. In past hurricanes, flooding at dozens of farms also left hundreds of thousands of dead hogs, chickens bobbing in floodwaters.
13,500 military personnel were deployed for relief operations
The Defense Department said about 13,500 military personnel had been assigned to help relief efforts. Authorities ordered the immediate evacuation of up to 7,500 people living within a 1.6km of a stretch of the Cape Fear River and the Little River, about 160km from the North Carolina coast. The evacuation zone included part of the city of Fayetteville, with a population of 200,000.
Swansboro witnessed nearly 85cm of rain
In Swansboro, North Carolina, nearly 85 centimeters of rain had fallen by yesterday afternoon and 20 other places in North Carolina had at least 20 inches, according to the National Weather Service. Another 30 sites in North and Carolina had at least 25 centimeters.