France: New statue commemorates role of Indian soldiers in WWI
France: New statue commemorates role of Indian soldiers in WWI
Nov 11, 2018, 07:25 pm
3 min read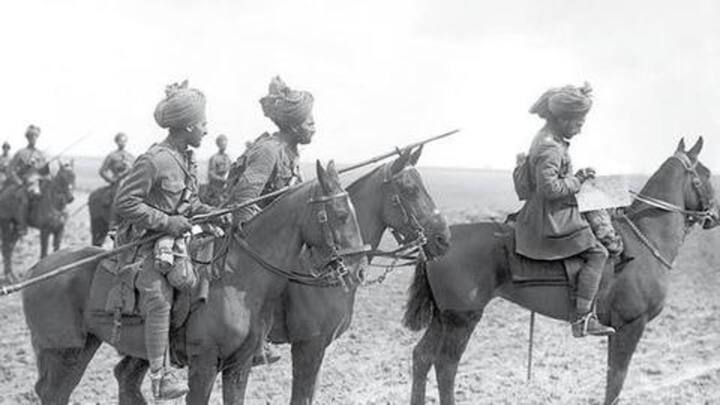 A new statue commemorating the role of Indian soldiers in World War I was unveiled in the town of Laventie in France today to mark Armistice Day when the war ended in 1918. The seven-foot bronze statue is the first of 57 similar commemorative sculptures planned by the Inter-Faith Shaheedi Commemoration Association (IFSC) to be unveiled near cemeteries around France where soldiers were buried.
This site was chosen for a special reason. Here's why
The site in France's Laventie was chosen after the remains of two soldiers were identified as belonging to the 39th Royal Garhwal Rifles and reburied with military honors last year. The statue was unveiled at a spot allocated by the Mayor of Laventie, Jean-Philippe Boonaert, adjacent to a 12th-century church, St Vaast, in the French town.
Indian soldiers went undocumented as they came under British Empire
The unveiling sets the ball rolling for a series of events planned by IFSC to honor the memory of thousands of Indian soldiers, who largely went undocumented as the forces at the time tended to be British Empire soldiers or soldiers of Indian princely states.
IFSC President says soldiers' efforts need to be portrayed globally
"The First World War is a relatively unnoticed event... This colossal effort in the most difficult circumstance is not entirely forgotten nor actively remembered and needs to be portrayed in the correct perspective globally and in India," said IFSC President, Ramesh Chander Vohra. Vohra has written a book titled 'Unsung Indian Heroes of World War I', which is set to be released next year.
IFSC working on another Indian war memorial in France
IFSC has also commenced work to establish a 12-tonne brass statue adjacent to the Indian war memorial at Neuve Chapelle in Richebourg, France. The memorial commemorates over 4,700 soldiers and laborers from British India who lost their lives on the Western Front during World War-I and have no known graves. A spot has been allocated by the local French authorities for this large sculpture.
UK, Europe witnessing commemorative events to mark Indian soldiers' contribution
A series of commemorative events have been taking place across UK and Europe in recent weeks to mark the contribution of Indian soldiers in the war effort. This included a special event at Westminster Abbey in London earlier this week attended by Prince Harry, who witnessed a wreath of marigolds shaped in the symbol 'Om' laid in honor of Indian soldiers.
LSE celebrates launch of commemorative Khadi poppy on Armistice Day
A special event organized by the South Asia Center of the London School of Economics celebrated the launch of the commemorative Khadi poppy to mark the centenary of the end of the war. "The hand-woven fabric synonymous with India's independence movement is a highly appropriate gesture to recognize the outsized contribution of Indian soldiers," said Lord Jitesh Gadhia, the Indian-origin peer behind the initiative.