Doomsday Clock remains at two minutes to apocalypse
Doomsday Clock remains at two minutes to apocalypse
Written by
Shiladitya Ray
Jan 27, 2019, 04:39 pm
3 min read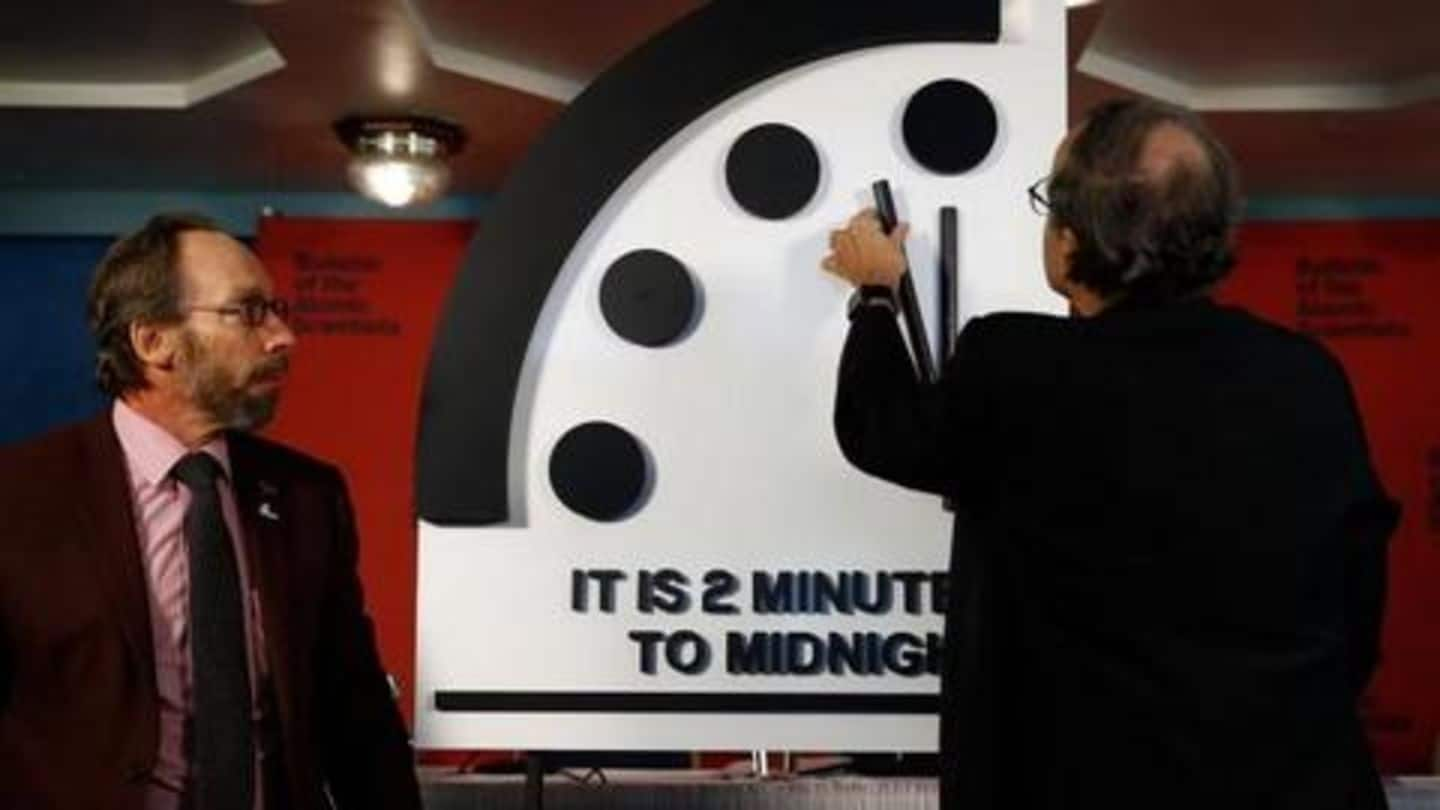 The Doomsday Clock, an allegorical timepiece designed to illustrate how close humanity is to an apocalyptic event, will remain at two minutes to midnight in 2019, the Bulletin of the Atomic Scientists (BAS) recently declared. In 2018, the clock had been moved to two minutes to midnight - the closest humanity has come to doomsday according to the clock. Here are the details.
Two minutes to midnight: The hands that threaten doom
While announcing its decision to keep the clock hands unchanged from 2018, BAS warned that humanity was "normalizing a very dangerous world". 2019 now marks the third year that the clock hands have indicated two minutes to midnight. Prior to 2018, the only time the clock read two minutes to midnight was in 1953, when the nuclear arms race between the US and the Soviet Union had heated up.
The clock should serve as a warning to leaders, citizens
"Though unchanged from 2018, this setting should be taken not as a sign of stability but as a stark warning to leaders and citizens around the world. This new abnormal is simply too volatile and too dangerous to accept," said BAS CEO and President Rachel Bronson.
Why humanity is teetering on the brink of doom
BAS said that nuclear weapons and climate change, coupled with the propagation of fake news, was the reason that humanity was so close to doomsday. The group explained that the risks from nuclear weapons and climate change was being "exacerbated" by the "increased use of information warfare to undermine democracy around the world".
Particular issues that BAS pointed out
While BAS acknowledged an improvement in US-North Korea relations, it criticized US President Donald Trump's move to pull out of the Iran Nuclear deal. It also pointed out global increases in carbon emissions through 2017 and 2018, and lambasted the US' decision to pull out of the 2015 Paris Climate Accord, emphasizing that carbon emissions needed to be reduced to zero "well before the end of the century".
This 'new, abnormal reality' must be combated
"The longer world leaders and citizens carelessly inhabit this new and abnormal reality, the more likely the world is to experience catastrophe of historic proportions," warned BAS.
A brief history of the Doomsday Clock
For those unaware, the Doomsday Clock was created by, and is maintained by BAS, that comprises eminent scientists, including several Nobel laureates. The clock's original setting in 1947 was seven minutes to midnight and since then, the clock hands have been changed 23 times. In 1991, the clock was set to a whopping 17 minutes to midnight - the farthest humanity has been from doom.