Kashmir dispute can't be solved bilaterally: Imran after meeting Trump
Kashmir dispute can't be solved bilaterally: Imran after meeting Trump
Jul 23, 2019, 11:56 am
3 min read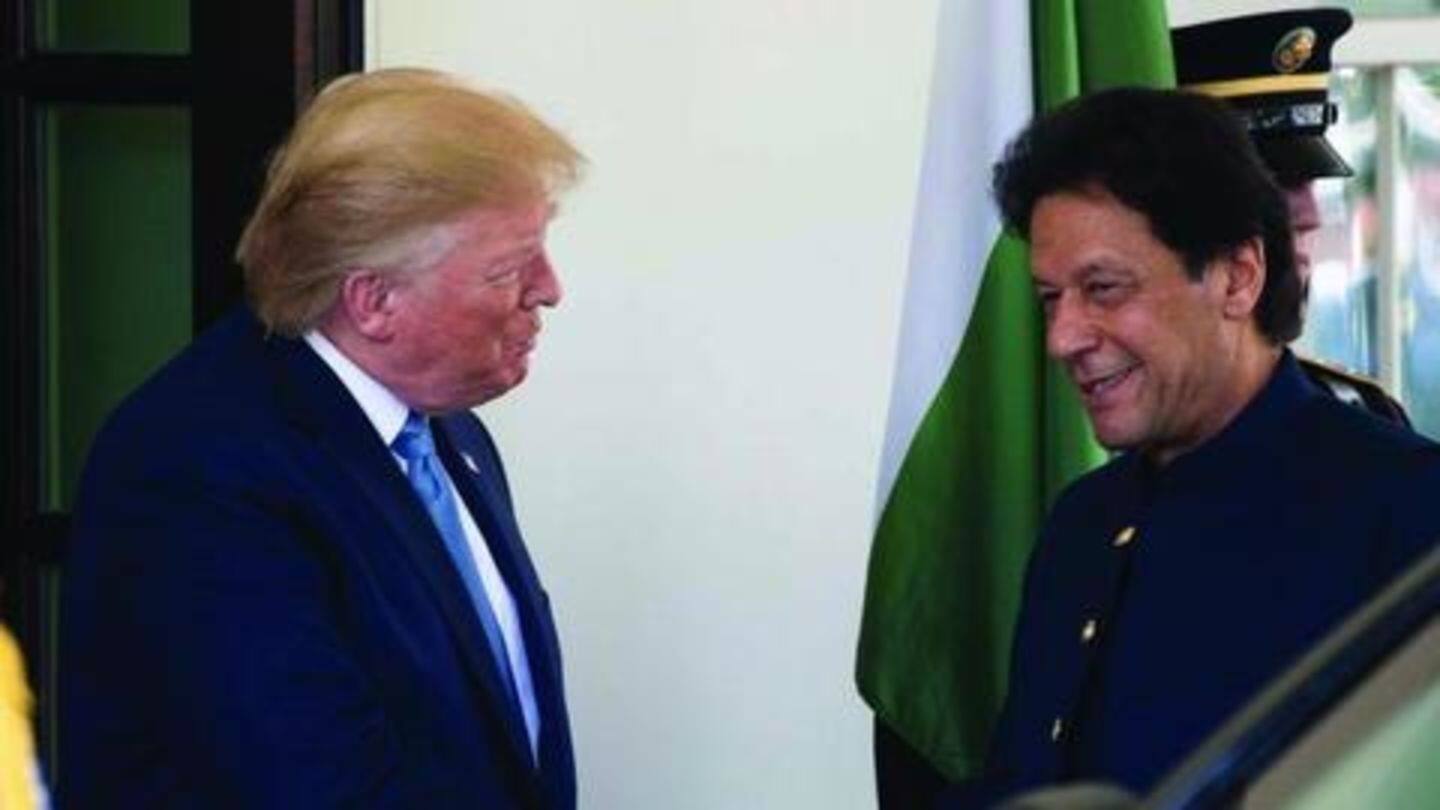 After India denied seeking mediation help from US President Donald Trump to resolve the Kashmir issue, Pakistan's Prime Minister Imran Khan said the matter can't be solved "bilaterally". Khan, who is on a three-day trip to the States, his first after being elected, told Fox News that since India and Pakistan are "poles apart", the problem requires mediation. Here's more on what he said.
Background: Trump offered help. The thing is India didn't ask
Addressing media with Khan, Trump made an astonishing claim. He said he met Prime Minister Narendra Modi a couple of weeks ago, and the BJP leader asked him to turn "mediator". When media reports carried this statement, the Ministry of External Affairs quickly responded. Saying India is against mediation by a third party, spokesperson Raveesh Kumar added Pakistan needs to stop its home-grown terrorism.
All outstanding issues will be solved bilaterally
...that all outstanding issues with Pakistan are discussed only bilaterally. Any engagement with Pakistan would require an end to cross border terrorism. The Shimla Agreement the Lahore Declaration provide the basis to resolve all issues between India Pakistan bilaterally.2/2

— Raveesh Kumar (@MEAIndia) July 22, 2019
Swiping right on Trump's idea, Khan said bilateral talks impossible
While India vehemently dismissed Trump's statement, he found a fan in Khan. Welcoming Trump's offer, the cricketer-turned-politician said, "Bilaterally there will never be (a resolution of Kashmir dispute)". He added Trump can play a "big role". Notably, when Trump suggested the idea, Khan exclaimed that he "would have the prayers of over a billion people" if he can step up and resolve the matter.
India should come on the table: Khan
"There was one point when there were General Musharraf and Vajpayee when we did get close to the resolution of the Kashmiri issue. But since then we are poles apart and I really feel that India should come on the table," Khan added.
Pakistan ready to give up nuclear weapons, but conditions applied
When the news anchor read out India's response to Trump's statement, Khan said, "We are talking about 1.3 billion people on this earth. Imagine the dividends of peace if somehow that issue could be resolved." On another question, Khan said Pakistan would give up nuclear weapons if India did. He said a nuclear war between both neighbors would mean self-destruction.
Khan said Kashmir stopped India-Pakistan to behave like civilized neighbors
Batting for mediation, Khan said there were tensions on the border in February. To recall, relationships between both nuclear-armed neighbors deteriorated after Pulwama attack. He said this is why he asked Trump, and the most powerful country, the US, for mediation. "The only reason for 70 years that we have not been able to live like civilized neighbors is because of Kashmir," he added.
Calling Trump's statement embarrassing, Congressman apologized to Indian Ambassador
Interestingly, many in the US also disliked Trump's idea. Hours after he made stunning claim, Congressman Brad Sherman said, "I just apologized to Indian Ambassador Harsh Shringla for Trump's amateurish and embarrassing mistake." "Everyone knows PM Modi would never suggest such a thing. Trump's statement is amateurish and delusional," Sherman, who chairs the House Foreign Affairs Sub-Committee on Asia, the Pacific and Non-Proliferation, tweeted.
Meanwhile, in RS, External Affairs Minister Jaishankar rubbished Trump's statement
External Affairs Minister S Jaishankar in Rajya Sabha on 'the statement of US President Donald Trump that Prime Minister Narendra Modi had asked him to mediate in Kashmir issue: I would like to categorically assure the House that no such request has been made by PM Modi. pic.twitter.com/9krqsjM7sX

— ANI (@ANI) July 23, 2019