CNN sues Trump, others for banning WH correspondent Jim Acosta
CNN sues Trump, others for banning WH correspondent Jim Acosta
Written by
Ramya Patelkhana
Nov 13, 2018, 09:40 pm
3 min read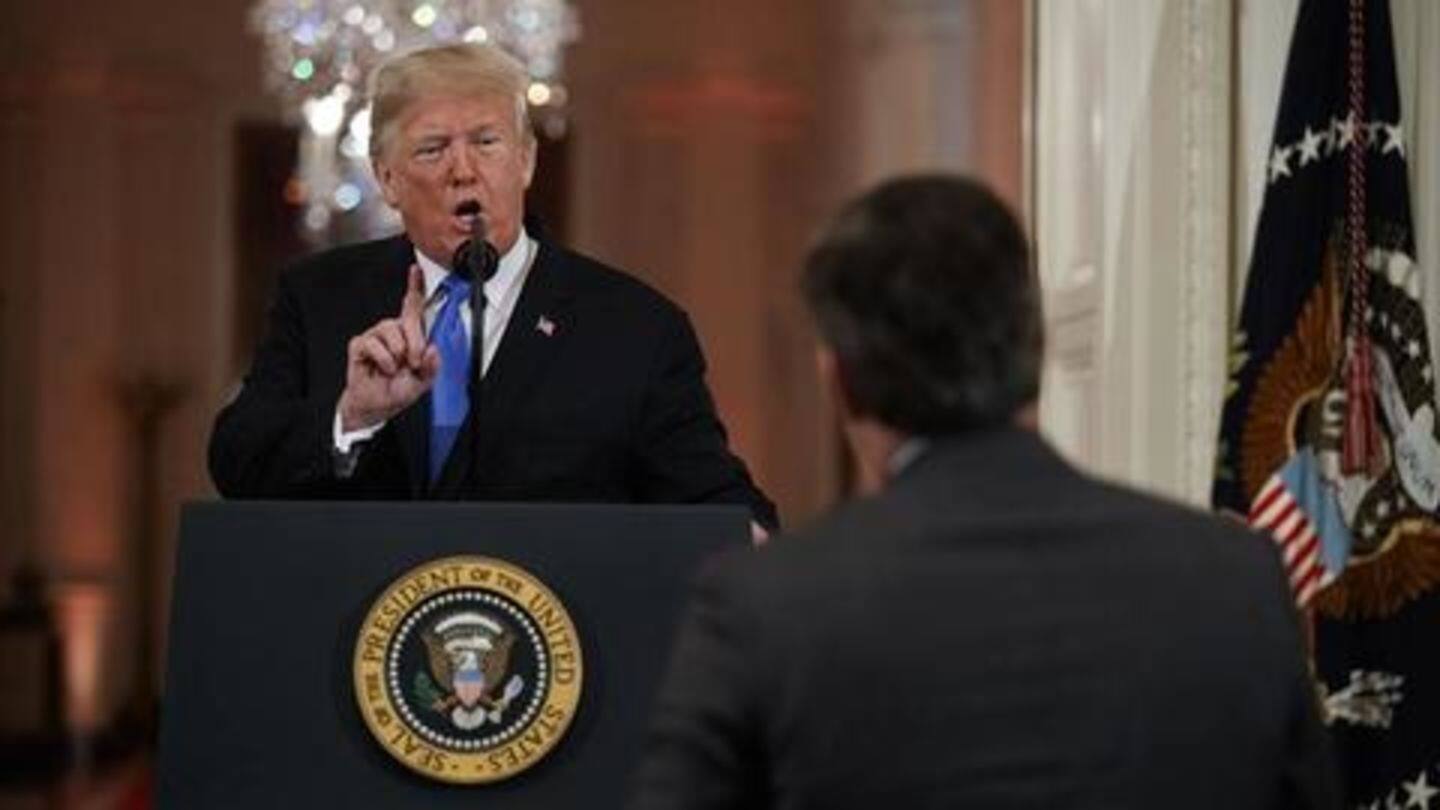 CNN is filing a lawsuit against US President Donald Trump and several White House officials over the ban on its Chief White House Correspondent Jim Acosta. The ban violates both CNN and Acosta's First and Fifth Amendment rights, the lawsuit alleged. The suit names Trump, John Kelly, Sarah Sanders, Bill Shine, Joseph Clancy, and the Secret Service officer who took away Acosta's press pass.
'This could have happened to anyone,' says CNN
"While the suit is specific to CNN and Acosta, this could have happened to anyone," CNN stated. "If left unchallenged, the actions of the White House would create a dangerous chilling effect for any journalist who covers our elected officials," it added. The leading global news network's suit seeks restoration of Acosta's access to the White House with immediate effect.
Six, including Trump, named for their role in suspending Acosta
The case is being filed in the US District Court in Washington, DC, a CNN spokesperson confirmed. CNN and Acosta are the plaintiffs. The six defendants include Trump, WH Chief of Staff John Kelly, Press Secretary Sarah Sanders, Deputy Chief of Staff for Communications Bill Shine, Secret Service Director Joseph Clancy, and a Secret Service officer who took Acosta's press pass last Wednesday.
In a letter to WH, CNN warned of possible lawsuit
After Acosta was denied access to the White House last Wednesday, Press Secretary Sanders defended the unprecedented move, claiming the Chief WH Correspondent for CNN "behaved inappropriately". However, CNN and several journalism advocacy groups rejected Sanders' claims, asserting Acosta's press pass must be reinstated. CNN formally wrote to the WH on Friday, requesting immediate restoration of his pass and also warned of a lawsuit.
CNN seeks ruling preventing WH from revoking Acosta's pass again
A statement by CNN said, "It (lawsuit) demands the return of the White House credentials of CNN's Chief White House correspondent, Jim Acosta. We have asked this court for an immediate restraining order requiring the pass be returned to Jim, and will seek permanent relief."
Officials accuse Acosta of 'placing hands' on female intern
White House officials had accused Acosta of "placing his hands" on a WH intern at a press conference when she tried to take away a microphone from him. Sanders had also shared a video of the incident on social media as evidence. Interestingly, on the WH's rationale, Trump himself said, "I don't hold him (Acosta) for that because it wasn't overly, you know, horrible."
What exactly happened during the press conference?
At the news conference, Acosta had gotten into a heated argument with Trump while questioning his views on the Central American migrants' caravan approaching the US border. A video-clip shows Trump saying, "That's enough!" after which the intern unsuccessfully tries to take Acosta's microphone. Trump later says, "CNN should be ashamed of itself having you (Acosta) working for them. You're a rude, terrible person."