Pakistan PM Imran Khan blames US for political crisis, backtracks
Pakistan PM Imran Khan blames US for political crisis, backtracks
Written by
Manzoor-ul-Hassan
Edited by
Ramya Patelkhana
Apr 01, 2022, 02:21 pm
4 min read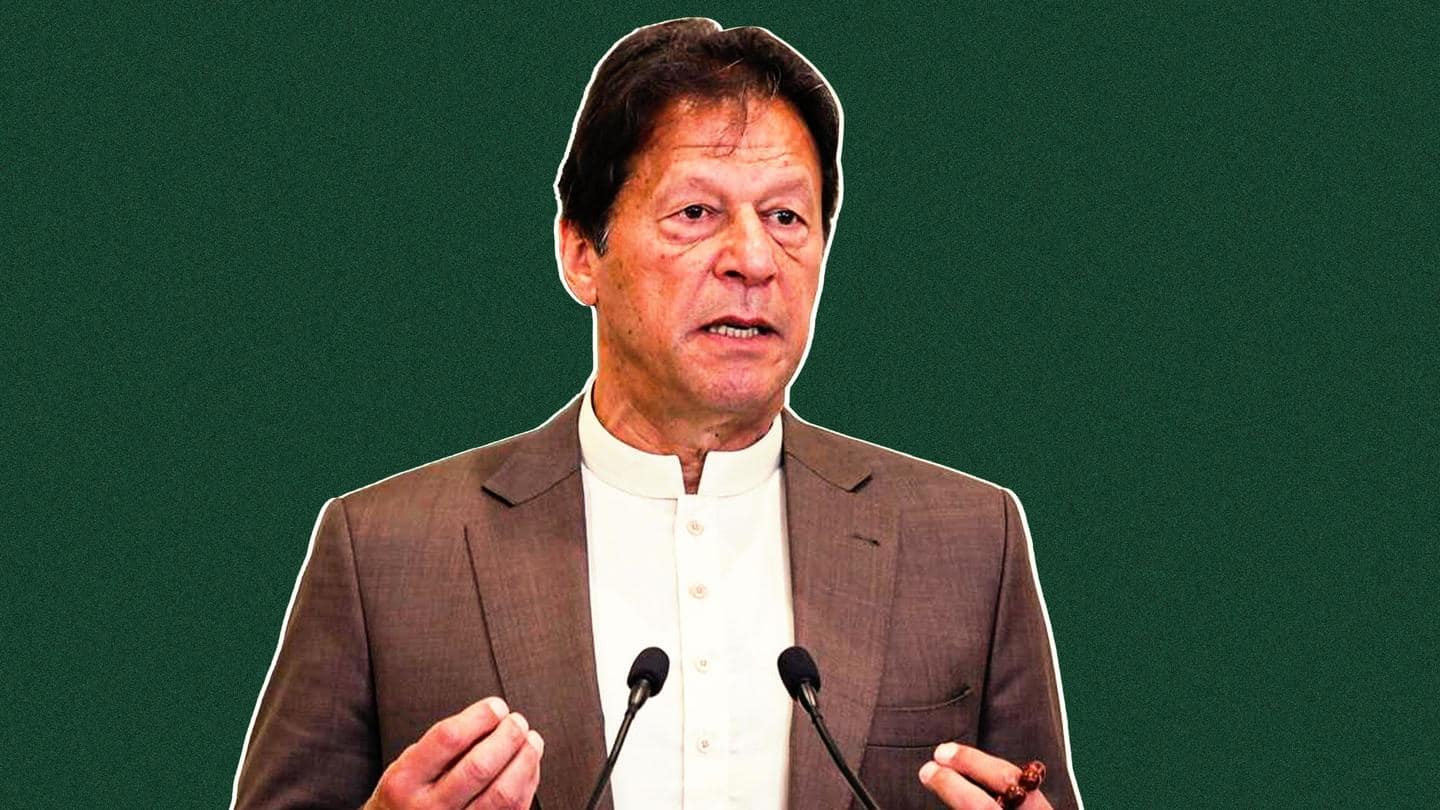 Prime Minister of Pakistan Imran Khan, during an address to the nation on Thursday, stated he will not resign from the top post. He further went on to accuse the US—in an apparent slip of the tongue—of plotting to destabilize his government and sending a "threatening memo." Notably, Khan was addressing the nation ahead of a no-confidence vote against him on April 3 (Sunday).
Why does this story matter?
Khan's address to the nation on Thursday assumes significance as it came at a time when his political fate hangs in uncertainty due to the changing equations of power and the rebellious attitude of his allies.
Khan, who is expected to face the no-confidence motion on Sunday, is most likely to be ousted as some of his allies have reportedly decided to switch sides.
Khan names US in slip of tongue
As mentioned before—in what seemed like a slip of the tongue during the national address—Khan blamed the US as the nation behind Pakistan's political crisis as well as the alleged conspiracy centered on a diplomatic cable provided by a Pakistani envoy. Earlier on Wednesday, Khan's Pakistan Tehreek-e-Insaf-led (PTI) government had claimed the alleged conspiracy was based on a cable obtained from a foreign embassy.
Here's what Khan said during Thursday address
"On March 8, or probably before that on March 7, we received a message from the US...no, not the US, what I mean to say is from some other foreign country," Khan said during the address, adding this message was against him and his country.
PM calls his opponents 'stooges'
During his speech, Khan also mentioned "three stooges"—Pakistan Muslim League-Nawaz president Shehbaz Sharif, Pakistan People's Party co-chairman Asif Ali Zardari, and Jamiat Ulema-e-Islam Maulana Fazlur Rehman—were working with "foreign powers" to topple his government. He stated, "Will foreign countries want such corrupt people in power in their states? They are ready to accept such corrupt politicians, but I am not acceptable to them."
Khan says another country issuing threats without reason
Khan further said that a Pakistani ambassador was allegedly informed by the host nation officials that if he remained the prime minister, Pakistan will suffer "difficulties." "I am telling my nation today that this is our status. We are a nation of 220 million and another country—and they are not giving any reason—[is issuing threats]," he added.
How did foreign conspiracy angle crop up?
Khan, 69, first talked about the alleged foreign conspiracy at a public rally in Islamabad on Sunday, showing a piece of paper and claiming it was evidence of an "international conspiracy" to destabilize his government. He had claimed the letter in his hand indicated that if the no-confidence vote was successful, Pakistan will be forgiven, but there will be repercussions if Khan's government survived.
Secret communication was from US diplomat: Report
As per reports, the internal communication (the aforementioned letter) was sent by Pakistan's former Ambassador to the United States Asad Majeed based on his meeting with the Assistant Secretary of State for South and Central Asian Affairs. However, the US had denied this, saying no US government agency or official had sent a letter to Pakistan on the current political situation in the country.
Why was no-confidence motion against Khan introduced?
To recall, the opposition parties had submitted a no-confidence motion on March 8 in the National Assembly, based on their mutual agenda and hatred to oust Khan while holding his Pakistan Tehreek-e-Insaaf government responsible for the country's ongoing economic crisis and spiraling inflation.
Khan needs 172 votes to survive no-confidence motion
Led by Khan, the ruling Pakistan Tehreek-e-Insaf party has 155 members in the 342-seat National Assembly. It needs the support of at least 172 lawmakers to remain in power. Meanwhile, the Opposition also needs 172 votes to remove Khan—a cricketer-turned-politician who had become Pakistan's prime minister in 2018 on the promise of creating a "Naya Pakistan" (new Pakistan)—from power.
Secret talks between PTI government and opposition?
Meanwhile, secret conversations were reportedly taking place between the Pakistan Tehreek-e-Insaf administration and the combined opposition on the matter of a no-confidence resolution against Khan, as per the news agency PTI. "Talks are focused on one point—the joint opposition withdraws the no-trust motion against Khan and in return, he dissolves the National Assembly calling for fresh elections," it had reported, quoting highly placed sources.