Modi govt has torn apart judiciary, Election Commission: Rahul Gandhi
Modi govt has torn apart judiciary, Election Commission: Rahul Gandhi
Written by
Ramya Patelkhana
Aug 26, 2018, 12:45 pm
3 min read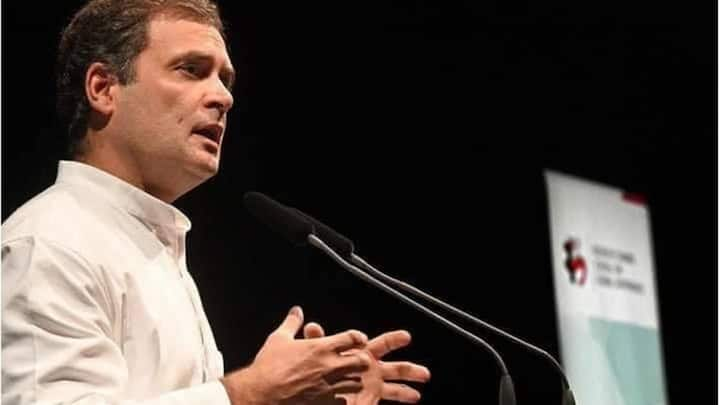 Congress President Rahul Gandhi has alleged that the judiciary and Election Commission were being "torn apart" under the BJP government and PM Narendra Modi was keeping mum on grave issues confronting the nation. Addressing the Indian Overseas Congress in London, the Congress chief said the Prime Minister insulted every Indian by saying that nothing had happened in the last 70 years. Here's more.
RaGa says Modi insulted every person of the country
"India shows the future to the world. People of India made this possible...the Congress helped them. If the Prime Minister says nothing had happened before he assumed office, he is not commenting on the Congress, he is insulting every person of the country," Gandhi said.
SC/ST Act has been destroyed under BJP-led govt: Rahul
Rahul alleged that at present, Dalits, farmers, tribal people, minorities, the poor in India are told they will not get anything, and "if they raise their voice, they are beaten up". "The SC/ST Prevention of Atrocities Act has been destroyed, and scholarships have been discontinued. Today in India, people are discriminated against on the basis of caste and religion," he added.
Rahul says marginalized are betrayed but people like Ambani benefit
Attacking the BJP-led government on the Rafale deal, Rahul said Hindustan Aeronautics Limited had been manufacturing aircraft for 50 years, but the contract was given to "someone who floated his company just 19 days before the deal". "Marginalized are betrayed, while people like Anil Ambani benefit. Only Ambani will get everything. This man has accrued a debt of Rs. 45,000 crore," he alleged.
Anil Ambani sends legal notices to Congress leaders
Gandhi has been attacking the BJP government for allegedly inking the deal at a much higher price than the one the previous UPA regime had negotiated to benefit "one businessman". Facing allegations of getting undue benefits from the multi-billion dollar Rafale deal, Anil Ambani-led Reliance Group has sent legal notices to several Congress leaders asking them to "cease and desist" from leveling such charges.
Congress has been misinformed, misdirected, and misled: Anil Ambani
Reliance Group denied the allegations relating to the Rafale deal under which France's Dassault is supplying the fighter jets and entered into a joint venture with an Anil Ambani-led group firm to meet its offset requirement. Ambani recently wrote to Gandhi on the deal saying his party has been "misinformed, misdirected and misled" by "malicious vested interests and corporate rivals" on the issue.
BJP didn't do anything when Nirav Modi ran away: Rahul
Gandhi said, "When the farmers of Karnataka and Telangana ask for loan waiver, PM Modi says this is not our policy. India's handful of richest businessmen have NPAs of Rs. 12.5 lakh crore, but the Prime Minister says nothing." He alleged that the Prime Minister kept quiet "when his own party's MLA raped a woman and when Nirav Modi ran away with people's money."
RaGa says farmers, youth, elderly people need help
"Institutions such as the Supreme Court, Election Commission, Reserve Bank of India, which are the walls of our country, are being torn apart now," Rahul Gandhi has alleged. "Our farmers need help. Our youth needs education, elderly people need health care. But, there is no discussion on the issues of farmers, education, and health care," the Congress chief said.