Super Typhoon Mangkhut could cause damages worth $120bn in Asia
Super Typhoon Mangkhut could cause damages worth $120bn in Asia
Written by
Shiladitya Ray
Sep 15, 2018, 04:46 pm
2 min read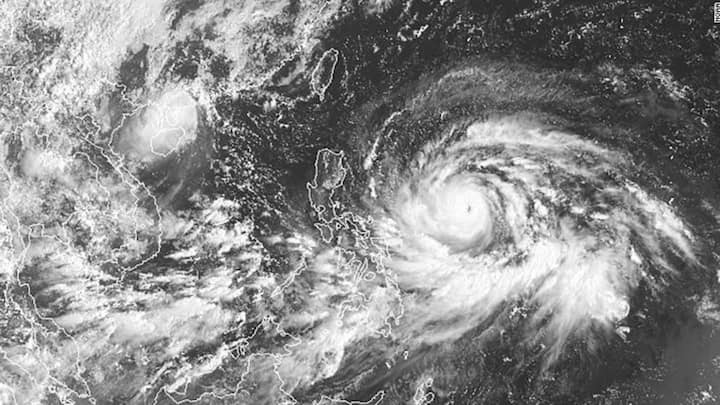 On Saturday, Super Typhoon Mangkhut ripped through the Philippines causing floods, triggering landslides, disrupting electricity and travel services. However, no casualties have been reported so far. Now, Mangkhut, which happens to be 2018's most powerful storm yet, is headed towards China's Guangdong coastline and Hong Kong. If it stays its course, Mangkhut could cause damages worth $120bn in China and Hong Kong. Here's more.
Typhoon Mangkhut has left the Philippines paralyzed in its wake
Early on Saturday morning, Mangkhut slammed into the Philippines' northeastern coast with 269kmph winds. The typhoon triggered landslides across the island nation, while gales shattered glass windows, and collapsed an airport roof in the Cagayan province. Government authorities are yet to get a bearing on the extent of damage as the worst-affected areas remain unreachable as of now. Earlier, 56,000 people had been evacuated.
Almost 500,000 people don't have electricity in the Philippines
Currently, authorities are releasing water from several dams, and the move is expected to lead to more floods in the Philippines, especially on the main Luzon island. Communication lines have been disrupted, rendering the government incapable of contacting far-flung areas that have also been hit by Mangkhut. 430,000 people in the capital and neighboring regions are without electricity, and 128 flights have been canceled.
Mangkhut could affect as many as 30 million people
With Mangkhut now lumbering towards China and Hong Kong, as many as 500 flights could be cancelled, disrupting air travel from Hong Kong up to Japan. Mangkhut, should it stay on course, is also set to affect as many as 30.5 million people in its path through Asia. However, there's a chance that Mangkhut might weaken after crossing through the Philippines.