Kabul: 2 killed in car bomb explosion claimed by Taliban
Kabul: 2 killed in car bomb explosion claimed by Taliban
Written by
Ramya Patelkhana
(PTI desk)
Mar 17, 2018, 04:48 pm
3 min read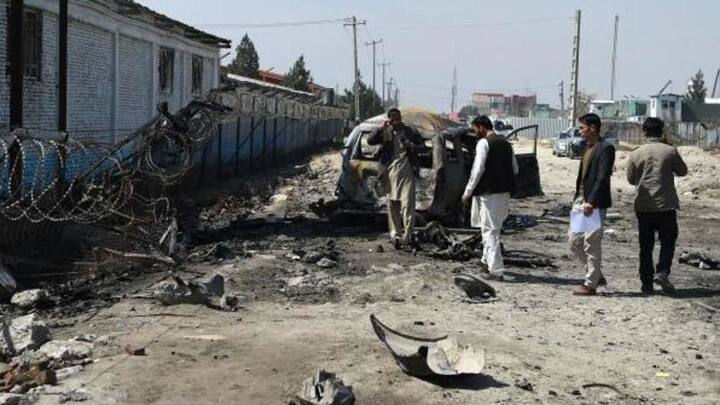 A car bomb explosion claimed by the Taliban in Kabul today killed at least two civilians, as the militants maintain pressure on the capital amid growing calls for peace talks. Several others were wounded in the morning rush-hour suicide blast in an industrial area of the city that the Afghan interior ministry said had intended to strike global security company G4S. Here's more.
Fourth suicide attack in Kabul in three weeks
This is the fourth suicide attack in the Afghan capital, Kabul, in three weeks and comes days after the top US General in Afghanistan said protecting the war-weary city was "our main effort". It also comes as the Taliban faces growing pressure to take up the Afghan President Ashraf Ghani's offer last month of peace talks to end the 16-year war.
Attack on first day of Afghanistan's working week: Interior Ministry
"Around 9:10am this morning a suicide car bomb exploded in Police District Nine of Kabul," Interior Ministry spokesman Najib Danish. Two civilians were killed, and three others were wounded in the attack, Danish said. The blast happened at a time when many people would've been driving to their offices. Health Ministry spokesman Wahid Majrooh said at least four people were wounded in the explosion.
Taliban claims responsibility for the attack; sends message to journalists
Deputy Interior Ministry spokesman Nasrat Rahimi said the suicide bomber was driving towards G4S but detonated "before reaching the target". In a WhatsApp message to journalists Taliban spokesman Zabihullah Mujahid said the bomber targeted a convoy of foreign troops, adding, "All occupiers were killed." Taliban routinely exaggerates the number of people killed in its attacks, while Afghan officials tend to understate the casualty toll.
Preventing further attacks challenging in poorly-mapped, extremely porous Kabul: Official
The latest attack comes after General John Nicholson, who leads US and NATO forces in Afghanistan, said protecting Kabul was a priority for foreign forces. "Kabul is our main effort right now, to harden Kabul, to protect the people of Kabul and the international community that are here because of the strategic impact that has and the importance to the campaign," Nicholson said.
Attacks carried out by Taliban and IS terrorists
The Taliban and Islamic State terrorists have been ramping up attacks in Kabul in the recent months, increasing pressure on the Afghan Government, which is frequently lambasted for its inability to protect civilians. The Taliban has been resurgent since the withdrawal of US-led NATO combat troops at the end of 2014, taking back territory and devastating Afghanistan's beleaguered security forces.
US data suggests Taliban has reasons to negotiate now
Meanwhile, in a surprise visit to Kabul on Tuesday, US Defense Secretary Jim Mattis said "elements" of the Taliban were open to peace talks with the Afghan government. But so far Taliban has given only a muted response to President Ghani's 28 February proposal made at an international conference in Kabul and has continued to launch deadly attacks across the country.