Research confirms women worry about sexual-harassment, (unsurprisingly) men don't
Research confirms women worry about sexual-harassment, (unsurprisingly) men don't
Oct 04, 2018, 04:39 pm
3 min read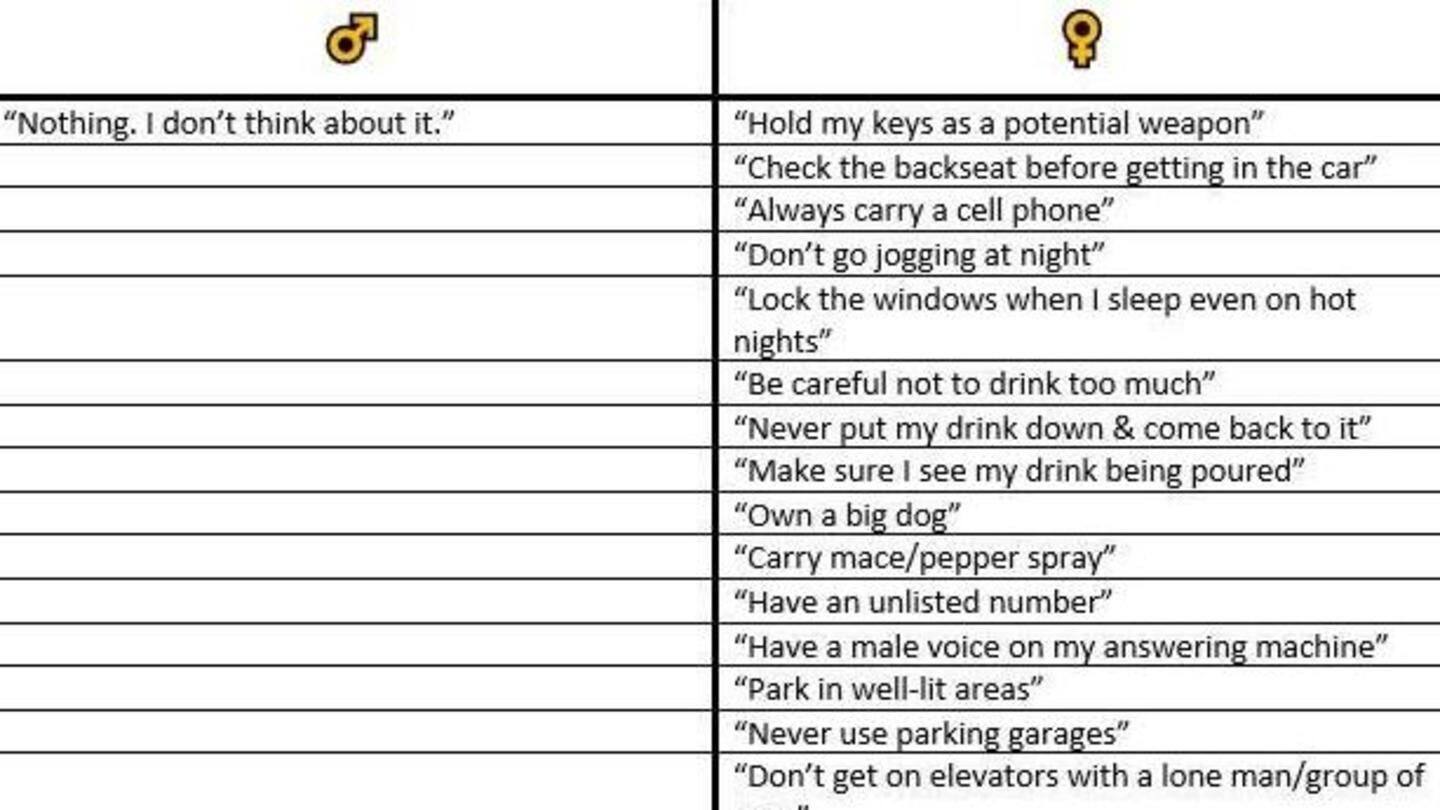 It's no surprise that most women across the world, at some point in their lives, have been victims of sexual harassment. But you know what society, it isn't a woman's fault. And an experiment proves it, yet again. A social researcher recently asked men and women what they did on daily-basis to avoid being 'sexually assaulted'. The variation in responses was deplorable, but not surprising.
Unsurprisingly, men don't think much about being sexually assaulted
Author Jennifer Wright took the result of researcher Jackson Katz's research to Twitter, which showed more than 25 different things women do to evade sexual assault. And men? Well, they don't think about it. Personally, this writer would add at least ten more things to the list. Even after taking various precautions properly, women are scared pretty much all the time. That's how it is.
It was a reality check, and it made thousands upset
It's not that women weren't familiar with the list. But the disappointing reminder left thousands utterly sad. Jennifer's tweet went viral in no time and many women related to the list. "I never realized how often I do all of these things until I read this," a netizen wrote. Some also shared their own ways of avoiding sexual assault. Better safe than sorry, right?
#MeToo helped victims but the road ahead is long
The worldwide #MeToo movement emerged as a platform for women around the world to share their ordeals of sexual harassment and let others know they're not alone. When influential women came out with their horrific experiences, not only did the movement break headlines but also gained the momentum it required. However, the battle has just started, and it's a long way to go.
Weinstein, Kavanaugh, Patekar and the list goes on
While sexual assault stories of Harvey Weinstein were still doing rounds, the US Supreme Court nominee Brett Kavanaugh was accused of sexual harassment. With Kavanaugh, stands Nana Patekar who wanted to shoot a lewd-song with Tanushree Dutta eight years ago. Now, do we need another list of how some men find different ways to sexually assault women? I think we do.
It was a wake-up call but it'll be forgotten too
Katz's research is just another wake-up call shedding light on the toxic population we live with. Yes, not all men are Kavanaugh or Weinstein but not all masturbation incidents in buses are accidents. Time and again, we say it's high time society paid heed to the issue, but after every such path-breaking movement, the cause gets lost somewhere, unfortunately.