US Supreme Court ends constitutional right to abortion
US Supreme Court ends constitutional right to abortion
Written by
Srishty Choudhury
Jun 24, 2022, 08:38 pm
3 min read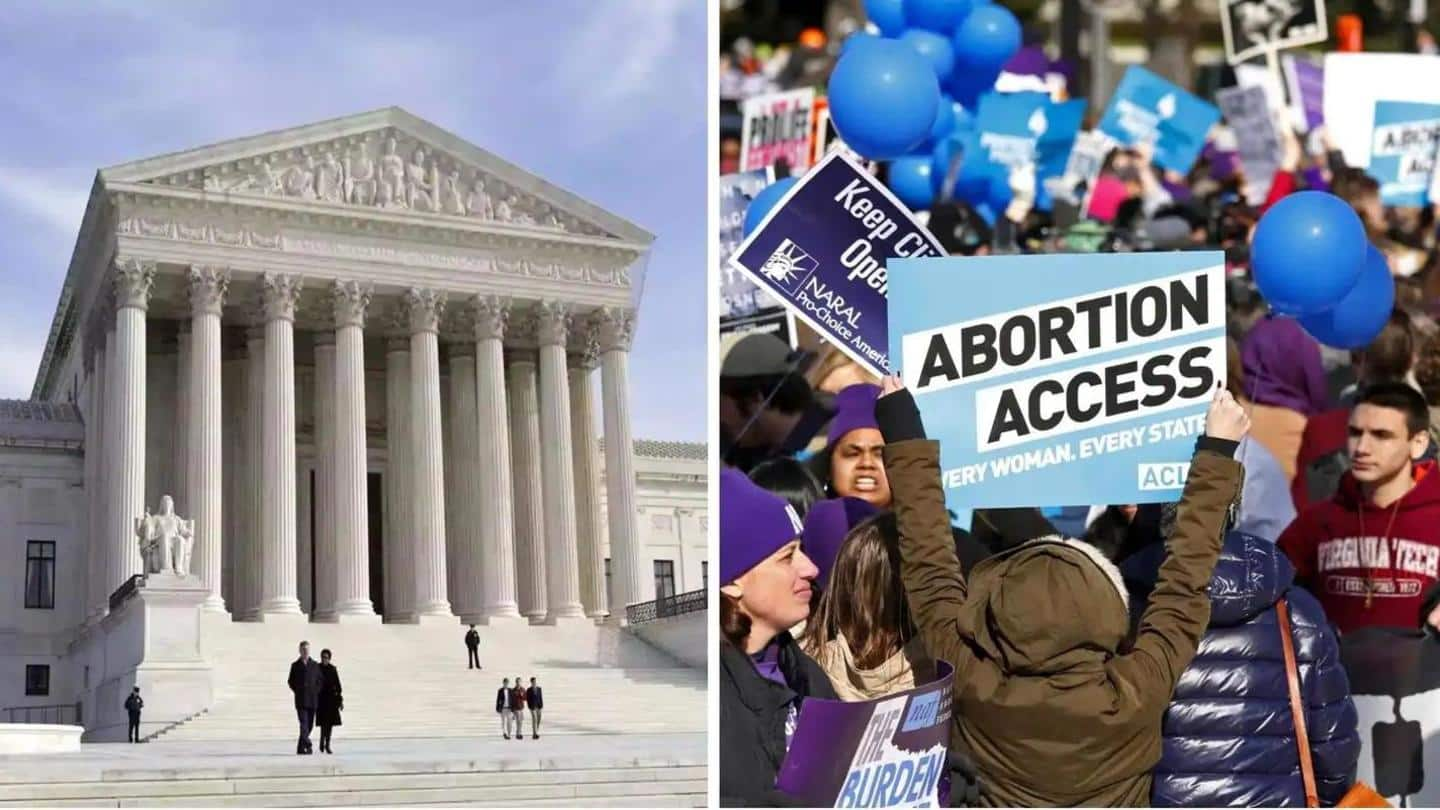 The US Supreme Court on Friday overturned the landmark 1973 Roe v. Wade ruling that had been in place for nearly 50 years and gave women constitutional and legal rights to an abortion. This means that the constitutional right to abortion has been ended by the court. The court, in a 6-3 ruling, upheld a Republican-backed Mississippi law that bans abortion after 15 weeks.
Why does this story matter?
Reproductive rights in the US were witnessing an increasing threat of late with several states seeking stricter restrictions, while others wanting a complete ban on abortions after six weeks.
Many women don't even know if they're pregnant before six weeks.
The ruling was made possible by the nomination of three conservative judges by former president Donald Trump, Neil Gorsuch, Kavanaugh, and Amy Coney Barrett.
Individual states can now permit or restrict abortion
The court said that individual states are now free to permit or restrict abortion. "The Constitution does not confer a right to abortion; Roe and Casey are overruled; and the authority to regulate abortion is returned to the people and their elected representatives," the court said. Justice Samuel Alito said, "Abortion presents a profound moral issue on which Americans hold sharply conflicting views."
Leaked draft in May mirrored SC's order
Notably, a leaked draft of a majority opinion from the Supreme Court striking down the abortion law was circulated a month ago. The draft was circulated inside the top court dominated by conservatives leading to demonstrations around the country. Security was also beefed up at the Supreme Court in downtown Washington. This is being seen as a momentous victory for Republicans and conservatives.
What was the 1973 Roe v. Wade judgment?
In the 1973 Roe v. Wade case, the US Supreme Court had ruled that access to abortion is a woman's constitutional right. Moreover, in Planned Parenthood v/s Casey (1992), the top court upheld the right to have an abortion that was established in Roe v. Wade ruling until the fetus is viable outside the womb, which is around 22 to 24 weeks of gestation.
Leaked document pertained to case challenging Mississippi's 2018 law
The leaked document pertained to a case called Dobbs vs Jackson Women's Health Organization that challenged Mississippi's 2018 law banning abortions after 15 weeks. Politico had quoted the "1st Draft" of the "Opinion of the Court" to state: "There is no constitutional right to abortion services and would allow individual states to more heavily regulate or outright ban the procedure."
Abortion: US states for and against the law
According to the pro-choice Guttmacher Institute, 26 states will most likely ban abortion now that the Roe v. Wade is overturned. Of those, 22 states have already total or near-total bans on the books. Texas and four other states—Florida, Indiana, Montana, and Nebraska—are likely to pass bans. Whereas, 16 states and the District of Columbia have protected access to abortion in state law.
Abortion data in US as per CDC
The US Centers for Disease Control and Prevention (CDC) said, 6,30,000 abortions were reported in the US in 2019. In 2010, the figure was 18% higher. The year 2019 also saw about 57% of women in their 20s getting abortions. The abortion rate among Black American women was the highest at 27 per 1,000 aged between 15 and 44 years.