Keeping COVID-19 deaths to 100,000 would be 'good job': Trump
Keeping COVID-19 deaths to 100,000 would be 'good job': Trump
Mar 30, 2020, 03:55 pm
3 min read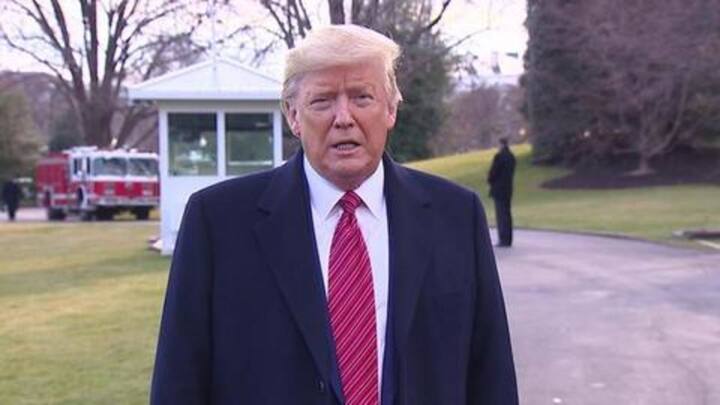 US President Donald Trump anticipates that peak coronavirus death rate in his country will hit in two weeks while he extended the voluntary nationwide lockdown till April 30. Trump was earlier looking at easing restrictions by Easter, which falls on April 12, but he finally listened to the medical experts. On Sunday, he also acknowledged that the death toll could reach 100,000 or more.
US has the maximum number of coronavirus infections
Last week, the US touched a grim benchmark by becoming the country nestling the maximum number of coronavirus infected patients, more than that of epicenter China. While 81,470 people have contracted the infection in the Asian country, the tally of the US stands at 142,178. Across the US, 2,484 have lost their lives, with the most number of deaths being reported from New York.
Trump's words show he paid attention to suggestions
Speaking to reporters at White House, Trump said that if his administration managed to keep the death toll under 100,000, it would qualify as a "very good job". "The modeling estimates that a peak in death rate is likely to hit in two weeks. Nothing would be worse than declaring victory before victory is won. That would be the greatest loss of all," he said.
As part of lockdown, elderly asked to stay home
The US President also noted that he was being "aspirational" with his earlier Easter deadline saying that experts asked him to not move fast. The initial lockdown was supposed to end on Monday, and now it has been extended. As per the guidelines, large gatherings are discouraged and people, especially the older ones, who have underlying health conditions have been asked to stay home.
Trump shifted approach after top expert predicted grim future
Further, Trump also expressed optimism that the country will be on its way to recovery by June 1. Dr. Anthony Fauci, the government's top infectious disease expert who is also a part of the coronavirus task force, welcomed the extension as a "wise and prudent" decision. He had earlier predicted that the COVID-19, the disease caused by the coronavirus, could kill nearly 200,000 Americans.
Fauci used current data to talk about number of deaths
"Looking at what we're seeing now, I would say between 100,000 and 200,000 ... deaths. I just don't think that we really need to make a projection, when it's such a moving target that you can so easily be wrong and mislead people," Fauci said.
Scenes from New York have rattled Trump
At the press meet, Trump also mentioned Queens, New York, where he grew up. "I've been watching that for the last week on television. Body bags all over, in hallways," he said about Elmhurst Hospital, adding that healthcare officials are overwhelmed with bodies. "This is essentially in my community, in Queens; Queens, New York. I've seen things that I've never seen before," he lamented.