US tops world in coronavirus cases, surpasses epicenter China
US tops world in coronavirus cases, surpasses epicenter China
Mar 27, 2020, 09:55 am
3 min read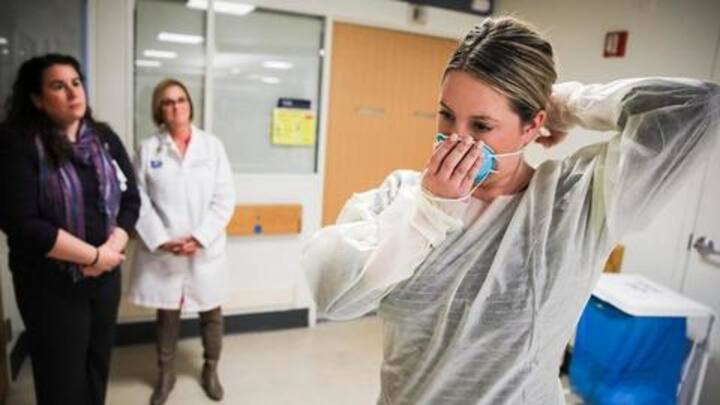 The fears of experts that the United States might become the next hotspot of COVID-19, a disease caused by a novel coronavirus, turned true on Thursday as the country now has the most number of infections, surpassing the epicenter China and European nation Italy, where the most number of people have died of the pandemic. US' infections stand at 85,489 with 1,297 deaths.
Over 500,000 have been infected, 24,000+ died around the world
The virus, whose outbreak happened in December in Wuhan (though some reports said the first case was detected in November), has infected 532,150 and taken the lives of 24,084. The disease has crippled healthcare systems globally, even those of developed countries like Italy and Spain. In these European nations, the death toll (8,215 and 4,365 respectively), has trumped China's death count.
About 40% of US citizens are under lockdown
Almost one-third of the global population is under lockdown, a strict measure that world leaders took to ensure people stay inside homes. In the US, about 40% are under restrictions. On the monumental crisis, President Donald Trump said, "Stay home. Just relax, stay home. We are waging war on this virus using every financial, scientific, medical, pharmaceutical and military resource."
You don't know the number from China: Trump
At a White House briefing, when asked about the grim benchmark that the US had touched, Trump said, "Number one, you don't know what the numbers are in China. We are testing tremendous numbers of people."
In New York, health workers are tired, system almost collapsed
In New York, where half of the US' deaths were reported, the health system is nearing collapse and workers exhausted. One nurse, who worked at a hospital in Long Island, said, "I haven't slept because my mind won't shut off. I cried in the bathroom on my break, as I peeled off the PPE from my sweaty self, mask indentations on my face."
At one hospital, a makeshift morgue has been made
A makeshift morgue, using tents and refrigerators, was created at New York Bellevue Hospital Center. "I cry for the ones who passed away. I cry because we intubated 5 patients within 10 min and I'm terrified. I cry for my co-workers," the nurse told CNN, adding that workers know it will get worse. It's anticipated that Detroit and Chicago could be the next hotspots.
Expert believes more testing initially would have warded off crisis
A lax approach made things worse for the world's third most populous nation. In February, Trump seemed satisfied with his Chinese counterpart Xi Jinping's handling of the matter. Back then, States should have been more aggressive. Virologist Angela Rasmussen at NY's Columbia University said, "This could have been stopped by implementing testing and surveillance much earlier — for example, when the first imported cases were identified."
Meanwhile, Pompeo said China poses risk to Americans' lives
Yesterday, US Secretary of State, Mike Pompeo, a known critic of China, blasted the nation for its "disinformation package". "The Chinese Communist Party (CCP) poses a substantial threat to our health and way of life, as the Wuhan virus outbreak clearly has demonstrated," he reportedly said He added now wasn't the time to blame, but focus on problem at hand — fighting COVID-19.
G20 countries will give $5 trillion to fight coronavirus
Meanwhile, leaders of G20 countries have decided to pump in $5 trillion into the global economy to fight the disease. "We are injecting over $5 trillion into the global economy, as part of targeted fiscal policy, economic measures, and guarantee schemes to counteract the social, economic and financial impacts of the pandemic," the leaders said in a joint statement after an emergency meeting.