OPPO Band Style Review: Should you buy it?
OPPO Band Style Review: Should you buy it?
Aug 16, 2021, 05:59 pm
9 min read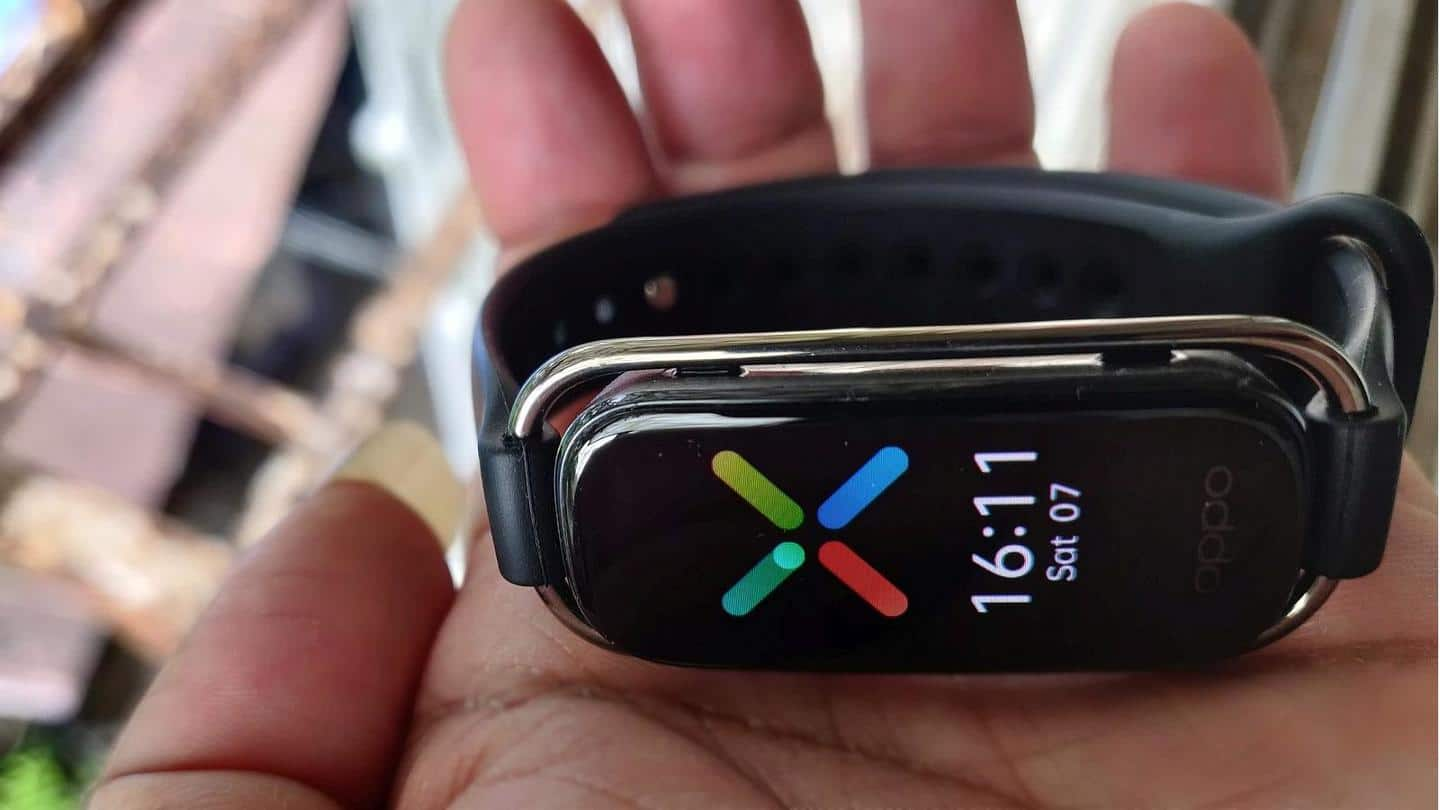 Not too long ago, fitness wearables were meant for professional athletes and sportspersons. Needless to say, they were quite expensive and beyond the reach of the masses. Fitbit did have a good range of products across budgets, but brands like Xiaomi and Huawei truly opened up the market by making fitness bands accessible to one and all. Even those who didn't care much about fitness started sporting one; well, the bands do show time as well. However, when fitness bands became inexpensive, they came at an undesirable cost - they offered rather limited functionalities. But like most things tech, they evolved quickly. OPPO Band Style is one such product, that checks most of the boxes - it is affordable, stylish and sports a bunch of interesting features. In fact, it would be just right for someone looking to buy their first fitness wearable. This product also has a bonus feature that is more than handy in current times -- a pulse oximeter. Time to take the band for a run! Here's our detailed review.
A hint of style, lots of comfort
The name pretty much describes what this product is about - a fitness band with a hint of style. While the design won't really wow the audience, the 'Style Strap' does make the OPPO Band Style look a little different from the competition. And its off-white variant, which the company prefers to call Vanilla, might stand out due to its champagne colored metal ring. The detachable fitness tracker sits inside a stainless steel ring, which, in turn, is attached to the TPU straps on either side. Unlike competing products, you get an extra strap in the bundle, which OPPO calls Sport Strap. It looks more generic though. But hey, it's pretty much free, so why complain? Other than the looks, another plus for the Style Strap is you don't have to remove the module for charging; the charging cradle can be attached from underneath, with the strap on. The band weighs just a shade over 10 grams (without straps) and can be worn round the clock without any discomfort or skin irritation. You will barely notice its presence. The SpO2 and heart rate sensors are located at the back, along with the charging pins. There are no physical buttons here, and the touchscreen display lets you access the menus and different functions of this gadget.
The OPPO Band Style has an elongated, rectangular 1.1-inch AMOLED display with a resolution of 126x294 pixels and a 2.5D glass on top. There is no mention of scratch protection and I don't think there's any. After a few weeks of usage, there was a tiny scratch on the screen despite the lack of any mishaps during the course of my testing. On the bright side, I barely noticed any fingerprints or smudges on the screen, and didn't need to wipe it frequently. The screen has five levels of brightness; it is perfectly legible indoors at 40%, and outdoors at 80% under bright sunlight. Flicking your wrist turns the screen on, and it is pretty responsive. This feature can be disabled during your sleep hours so that it doesn't glow in your face at night. A simple tap wakes the screen during that period. Additionally, it comes preloaded with five watch faces, and you can replace each of them with those of your choice from the companion app, but you cannot add anymore. The watch face library isn't the most extensive, but the number of faces has gone up close to four dozen now from a little over 12 at launch. You get a good mix of digital and analog faces, along with those showing daily fitness progress.
Simple user interface, uncomplicated companion app
The user interface of the OPPO Band Style is quite simple even for a novice. Swiping up or down on the screen shows different functions of the device, workout modes and settings. You need to tap to select and swipe right to go back to the previous screen. Swiping left or right on the home screen lets you cycle through the selected watch faces. I believe the developers missed a trick there. The side swipe on the home screen could have been better used as quick access to certain features of your choosing like daily activity progress, heart rate, oxygen reading etc., while using a long press to change watch faces. Notably, you need to install the HeyTap Health app on your smartphone and sync the band with it over Bluetooth. It is available on both Android and iOS. The app displays basic fitness information like steps count, number of active sessions, workout duration, calories burnt, SpO2 reading, sleep data etc., along with watch settings and watch faces. I wish there was a more in-depth breakdown of fitness activities, but given the target audience of this product, they probably wanted to keep things simple. The app also lets you decide what functions you want to see on your watch screen, and in what order, when you swipe up or down, which is a good option to have.
Accurate oximeter and reliable sleep tracking
The star feature of the OPPO Band Style - the SpO2 sensor- provides accurate readings that are comparable to a basic over-the-counter oximeter, but understandably not as fast. Also, you need to keep your hand steady for about half a minute to get an accurate reading. A word of caution here: This reading is meant to serve as a broad guideline and not replace dedicated medical equipment. Further, beyond on-demand readings, the SpO2 sensor can track your blood oxygen saturation while you are asleep too, if you enable the feature from the app. There are two modes of tracking: real time and at intervals. The former evidently consumes more battery than the latter. Given that this is an entry-level fitness product, there is a limitation on the technology. It manages to track your sleep oxygen levels only if you are a steady sleeper. You can try it a few times, but I would advise against enabling it all the time, and rather suggest that you save battery instead. Even if you do not enable the feature, sleep tracking on this band is quite accurate. It measures duration of light sleep, deep sleep and awake time. There is no REM sleep counter, but you get a sleep quality score based on the quality and quantity of sleep, among other things.
Limited but useful fitness modes for beginners
You get a dozen workout modes on the OPPO Band Style ranging from common fitness activities like walking, running, cycling, swimming to sports like cricket and badminton, and also yoga. Most fitness activities have indoor and outdoor tracking options. This band doesn't have built-in GPS, but when outdoors, you can use assisted GPS. For that, you need to carry your phone along (the one you sync the watch with) and it utilizes the GPS on your phone to track the distance covered during outdoor walks and runs. Without assisted GPS, the band uses its steps counter, which is fairly accurate and does not report false data. The device is 5ATM water resistant and can be worn to a swimming pool without worrying about water damage. The band also has a few more useful features like an assisted breathing mode which is like guided meditation to calm yourself down. You also get music controls here to manage the music playback on the phone from the watch screen without having to pull the phone out. Lastly, you get sedentary reminders if you are stationary for too long. Simple but effective way to get you off your, well, seat. A couple of things missing here are stress measurement based on heart rate variability and menstrual cycle tracking functionality for ladies that several fitness wearables offer. Beyond fitness, you can receive call alerts, messages and app notifications on the phone screen, but you cannot answer calls or send a reply. You can choose the apps whose notifications will be pushed to the band or simply turn off the feature.
Good battery life with a few settings turned off
Further, you get a tiny charging cradle with an attached USB cable. It can be clipped onto the bottom of the watch. The OPPP Band Style has a 100mAh battery that takes about an hour to charge fully, which is fairly quick. The company claims a battery life of 12 days for the band, which is a little ambitious unless you sparingly use the device. In reality, it lasts anything between seven to nine days of moderate usage, which is pretty decent for a fitness band. I managed to get over a week out of it with heart rate monitoring frequency set to two minutes, sleep tracking daily with sleep oxygen level monitoring turned on for just one night, four SpO2 readings in a day, very few notifications enabled (SMS and email) and 30 minutes of daily fitness activity over and above indoor walk without the use of assisted GPS. You can make it last for an additional day or two if you don't wear it to bed daily, don't enable sleep oxygen tracking and drop the heart rate frequency to five minutes.
Good value for money fitness accessory for beginners
The OPPO Band Style is priced at Rs. 2,799 in India with a one year warranty. That is not a bad price for the features it offers, and more importantly because the key sensors do their job well. The SpO2 and heart rate sensors are quite accurate, and so is the step counter. Unless you are a heavy user, you will need to charge this band just once a week, which is another positive. Simple UI and an affordable price tag makes this fitness band a good entry point for beginners looking to dip their toes in the fitness wearables pool. It faces competition from Xiaomi's Mi Band 5 that sells for a similar price and has a couple of extra features, but no SpO2 sensor. However, if you have a bit more to spare, fitness watches with additional features and larger screens aren't out of reach either. The Amazfit Bip U can be purchased under Rs. 4,000, and its Pro variant with GPS or the Realme Watch 2 Pro, also with GPS, for a thousand extra bucks. Choose one that suits you the best and get moving.
What works and what doesn't
A good fitness band with useful features and reliable performance
Good Stuff:
Easy to use even for a novice
Generally reliable performance
Bad Stuff:
Only basic fitness data available in the app
No stress measurement or menstrual tracking