Audio-Technica ATH-M20xBT headphone review: Studio sound but lacks new-age features
Audio-Technica ATH-M20xBT headphone review: Studio sound but lacks new-age features
Feb 27, 2023, 10:33 am
8 min read
Studio monitors or simply headphones that offer close to neutral sound signature is a niche category in India. And it's understandable because most people like thumping bass in their sound. Nothing wrong with that either, but studio monitors are exactly the opposite in a way. They don't strive to be bass-deficient, but produce sound the way it is recorded without boosting any specific frequencies; hence the name. While this pure sound concept comes across as theoretically awesome, it is not everybody's cup of tea. Think of it as authentic Chinese food; not everybody has a taste for it. But if you do like authentic Chinese food, then you have to visit one of the few outlets that serve it. Similarly, if you are looking for studio monitors or headphones with close to neutral sound, Audio-Technica is one of the brands to consider. The ATH-M20xBT looks to replicate the output of its popular wired variant, ATH-M20x on a wireless headphone. Let's see if it succeeds.
Plasticky build but lightweight and comfortable to wear for long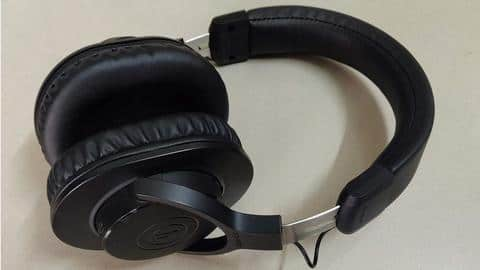 The ATH-M20xBT sports a typical Audio-Technica design and looks sharp in a smooth black matte finish. But its build quality certainly could have been better. The hard plastic shells feel too plasticky for our liking, and there's a question mark over its durability too in case one happens to drop it. But the bigger concern was an exposed wire over the earcups that passes through the headband. Most headphone brands conceal it, and that applies to headphones priced at a quarter of the M20xBT too. When it comes to comfort, things are quite good here. This headphone isn't too heavy and weighs a little over 200 grams. The earcups are well-padded and exert minimal pressure on the ears. The fit is not too tight, which is fine as these are not meant to be used while you sweat it out; it doesn't have any rated ingress protection. While the earcups provide comfort, they simply cannot keep the ambient noise at bay. There's another minor issue with the design. The earcups can turn just a little but not completely, and they cannot be folded, making the product space-consuming when you look to carry it around. The company doesn't bundle a carry pouch either; it wouldn't be unfair to expect one given its price tag. All the buttons and connectors can be found on the left ear cup. You get a 3.5mm aux input, a USB-C port, a status LED, and three physical buttons for playback controls and more. A USB charging cable and an aux cable are bundled.
Basic feature set, scant codec support, and good wireless range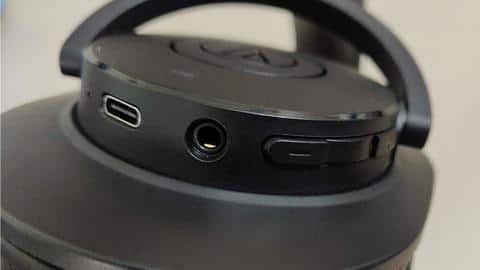 In terms of features, the ATH-M20xBT is quite basic. Yes, its price tag may suggest otherwise, but this is a simple pair of wireless headphones that only strives to deliver studio-quality sound and nothing else. It supports only SBC and AAC codecs over Bluetooth 5.0. We would have preferred a better codec like aptX or LDAC, and since the focus is on sound output, higher bandwidth would have certainly helped. There is no active noise cancellation (ANC) here, nor do you get a companion app to alter the sound profile or update its firmware. Each ear cup hosts a 40mm driver, and claims to support a broad frequency range between 5Hz and 32KHz. Audio-Technica has focused on another key aspect here, and that's battery backup. These headphones promise to deliver up to 60 hours of playtime; more on that a little later. The wireless range of these headphones gives no reason to complain. The connection stays strong up to the advertised 10 meters mark with a clear line of sight. Pairing this device with a phone or a tablet is also a standard process. Long press the middle button for a few seconds to get it in pairing mode, find it in the list of devices and pair it. This product can also be used as a wired headphone using an aux cable. As I mentioned earlier, you get three physical buttons on the left earcup that include the volume rockers and a multi-function button that can be used to play/pause the audio or as a power switch as well as a Bluetooth pairing button with a long press. Long pressing the volume up and down buttons lets you skip to next or previous tracks respectively.
Close to neutral sound signature but poor passive noise isolation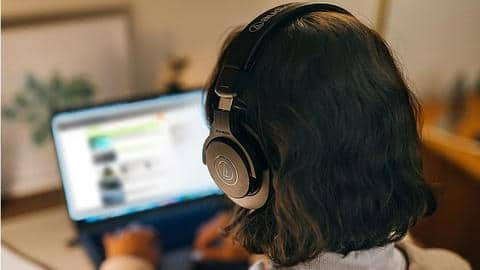 Before we move on to sound quality, a word on the passive noise isolation, which is quite poor here. The background noise is clearly audible even after wearing the headphones. Given that we do not get ANC here, the company should have gone the extra mile to provide a good seal around the ears, but alas! As for sound quality, the Audio-Technica ATH-M20xBT does deliver near-studio quality sound, or in other words, close to neutral sound output. That means no particular frequency range is boosted, and that includes the bass too. While that sounds exciting, such output is not to everybody's linking, especially the bassheads. Some may complain that the audio sounds flatter than usual or lacks thump, but that's the way such headphones are supposed to sound. Remember the authentic Chinese food analogy at the start of this article? Now you get it? We are generally accustomed to boosted bass in most audio products for the extra thump, and you won't get that here. Due to that some may find the output a bit too bright. The bass is minimal here though not deficient, and with a reasonable punch. With no extra bass eating into them, the midrange frequencies are reproduced very well. The vocals are clean and most instrument sounds can be heard with good clarity and separation. The highs have ample sparkle but sound a bit harsh, especially the S sounds. Without the extra bass, they tend to sound sibilant at times in certain tracks. The detail in the audio is quite good but the soundstage is not too broad. The ATH-M20xBT is better suited for listening to vocal or instrument-heavy tracks or even podcasts; not the best for EDM or Bollywood type of music. But if you are looking for wireless studio monitors, they serve the purpose. There were no latency issues when watching video content from various OTT platforms either.
Average call quality, excellent battery backup, and standby time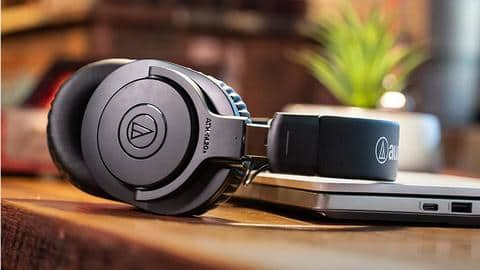 The call quality of the ATH-M20xBT is pretty decent indoors or in quieter areas. The people on the call were audible to each other with good clarity, though my voice seemed slightly on the softer side. In noisy environments, the microphone can't filter out all the ambient noise, and your voice clarity drops a bit for the other person. The person on the call did ask me to speak a bit louder than usual on more than one occasion. The battery life of the ATH-M20xBT is one of its biggest strengths. The company claims that the headphones can go on for up to 60 hours on a full charge. While we didn't get there, the results were quite impressive. At close to three hours of daily listening at 80% loudness (yes, you need to push the volume that high for standard loudness on this pair), the battery lasted for 15 days. That adds up to approximately 45 hours of battery backup, which is not bad at all even without ANC. One also needs to factor in that the testing happened over the course of a fortnight, and that hints at a good standby time too. With a similar usage pattern, you may need to charge this headphone only twice a month, which is great. This headphone takes close to four hours to charge fully using a standard USB-C charger. Fast charging is supported, but the figures are not as impressive. You can get close to three hours of playtime, after 10 minutes of charging when empty, which is handy when in a hurry.
Good studio monitor but hard to recommend
The Audio-Technica ATH-M20xBT wireless headphone can be purchased in India for Rs. 13,499 with a one-year warranty. Therein lies the biggest hurdle for this product. While this headphone was officially launched earlier this year in India, this has been around globally for almost a year. The key reason for its popularity in the west, other than its sound profile, is its affordability. It is available for $79 or less in the US and some other countries. The whole idea behind this product was to have an 'affordable' wireless studio monitor. A price tag of Rs. 13,499 beats the purpose, and doesn't have much to show for it in terms of modern features either. Between Rs. 8,000 to Rs. 9,000, it would still have been a reasonable buy for those looking for wireless studio monitors. At its current pricing, it is a hard sell and not something we would recommend. Wired headphones are still a device of preference for most people looking for studio monitors. If a wireless variant sells that expensive, we don't think many would be keen to switch. They would rather opt for its wired version (ATH-M20x) instead which can still be purchased for a third of the selling price of this wireless headphone.
Audio-Technica ATH-M20xBT wireless headphone review: At a glance
Review
The ATH-M20xBT is a niche product that strives to offer a near studio-quality output of its popular wired variant on wireless headphones but partially loses the plot due to its bloated price tag.
Good Stuff
Close to neutral sound signature
Lightweight and comfortable on the ears
Impressive battery backup
Can be used as wired headphones if it runs out of battery
Bad Stuff
Poor passive noise isolation
Light on features - No ANC or sound tweaks
No high-end codecs support
Feels plasticky; non-foldable design takes up more space