OnePlus Buds Pro 2 review: Quality earbuds under Rs. 12,000
OnePlus Buds Pro 2 review: Quality earbuds under Rs. 12,000
Feb 21, 2023, 09:46 am
10 min read
The OPPO Enco X2 has been sitting comfortably at the top of the midrange mountain since its release. It has hardly been challenged by anything that came before or after it in the Rs. 9,000 to Rs. 12,000 range or even a little higher. Finally, a challenger has emerged, and it seems to be equipped with similar tools on paper as the Enco X2. Be it the driver configuration or codec support at launch or active noise cancellation (ANC), things seem evenly matched. After a good year and a half, OnePlus has decided to unveil the successor to their flagship Buds Pro true wireless (TWS) earphones. The original Buds Pro didn't impress us much. Will the OnePlus Buds Pro 2 perform well enough to take on one of the most dominant players in the segment? Let's find out as we take a closer look at this clash of second-generation stars.
Pleasant design with pinch controls, sturdy build, comfortable to wear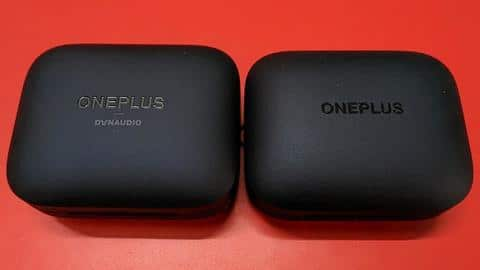 OnePlus hasn't bothered changing the design much. The Buds Pro 2 looks just like its predecessor, be it the buds or the charging case. The black variant has a smooth matte finish on the shells, while the stems are glossy and attract a few smudge marks. The buds are well-built and yet weigh 4.9g each. You get three pairs of silicone tips in the bundle with the preinstalled mid-sized tips offering good comfort and passive noise isolation. Choose the size that fits you best. The companion app also lets you choose the right ones. The earbuds fit nicely into the ears and are comfortable for prolonged use. While the in-ear fit seems to have improved a bit from the Buds Pro, it could have been slightly snugger. The fit is perfectly fine when seated or when strolling, but I had to adjust them a couple of times during workouts. The charging case is equally well-built, and is slightly larger than before but weighs a few grams less this time. It has the same matte finish as the buds with Dynaudio branding now. You get a tiny charge indicator LED at the front and a USB-C port at the back to charge its 520mAh battery. The case also supports Qi-certified wireless charging. The buds are IP55-rated dust and water resistant, while the case has IPX4 moisture resistance, which is good to see. The pressure-sensitive controls have been retained here and we prefer them over touch gestures. You need to pinch the stems gently instead of tapping on them to execute the assigned function. The OnePlus Buds Pro 2 supports single, double, triple pinch, and pinch-and-hold gestures. While the Buds Pro let you configure just the triple pinch gesture, here you can assign common playback functions for single, double, and triple pinch too. However, the volume control that's available on the Enco X2 is still not available on the OnePlus earbuds.
Dual drivers, customizable controls and sound, and more useful features 
I touched upon similarities with the Enco X2 at the start, and here's the big one. OnePlus has opted for a similar dual-driver setup in the Buds Pro 2 with a combination of an 11mm dynamic driver and a 6mm tweeter. There are four ANC modes here that now use the OPPO nomenclature - Mild, Moderate, Max, and Smart. The Max mode can reduce ambient noise up to 48dB, but honestly, there's hardly any noticeable difference in either of the modes. Smart mode automatically switches between the three modes depending on background noise. Wear detection sensors are present here to pause the audio when you remove a bud from the ear and resume when you put it back. The OnePlus Buds Pro 2 are Bluetooth 5.3 compliant and support SBC, AAC and LHDC 4.0 audio codecs. LHDC is still limited to a few devices, and support for Qualcomm's aptX or Sony's LDAC codecs would have been better due to their broader compatibility. Unlike its predecessor, you get multipoint support right out of the box to pair these earbuds with two devices simultaneously. You also get compliance with Google Spacial Audio for a better surround sound experience is compatible content. The Buds Pro 2 supports Dolby Head Tracking too, which feels like a gimmick at the moment. The Audio ID and Zen Mode Air features from the Buds Pro have been retained here. The former is now called Audio ID 2.0 or Golden sound. It creates a custom audio profile based on your sensitivity to different sounds determined using a listening test, which is a little different now. There is an improvement in the results here and it's certainly worth trying. Zen Mode Air helps you relax or sleep by playing one of the five white noises that you can store on the buds and play by pinching and holding a bud for three seconds.
Decent active noise cancellation but transparency mode needs improvement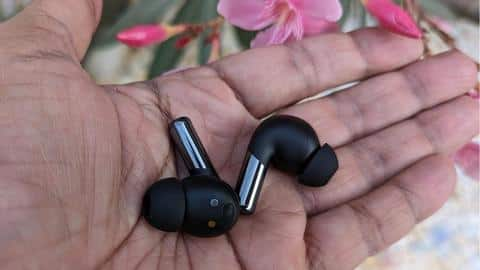 Pairing these earphones with a phone is pretty straightforward. The company states that if you pair them with a OnePlus 6 or a newer OnePlus phone, you don't need to install any app to access all the settings. But you may need to update the Wireless Earphones app from the Google Play Store on certain OnePlus phones. For all other Android and iOS devices, you need the HeyMelody app to configure them. The Bluetooth range is fine with the buds maintaining a strong connection at 10 meters with a clear line of sight. As I mentioned earlier, you get four ANC modes that are hard to distinguish. So it's best to use the Smart option and let the earbuds choose the right option depending on noise levels; it works well. The ANC performance is decent here. When enabled, it reduces several low frequency ambient sounds like fan or AC noise, and even certain traffic noises when outdoors. Though the ANC is not comparable to Sony earbuds that sport a higher price tag, it is at par with that of its prime competitor, the OPPO Enco X2. The Transparency mode needs a bit of work here. When enabled, it is meant to let ambient sounds through so that you are aware of your surroundings like when crossing the street, listening to announcements at airports, or to simply talking to someone without taking the buds off. But it seems to amplify the ambient sounds more than voices, and you need to strain your ear to listen to someone outdoors with the earbuds in your ear. With three microphones in each bud, one can expect better.
Enjoyable and lively sound output with several sound tweaks
The OnePlus Buds Pro 2 are amply loud at 50% volume, which is good, and that applies outdoors too. The default sound of these earbuds is noticeably bass-heavy, and not as balanced or nuanced as that of the Enco X2. Having said that, I would like to add that the bass is fairly tight and the output is enjoyable across various genres of music, and should appeal to a broad audience. The sound profile here continues to be V-shaped with boosted lows and highs. The extra bass does cause a bit of auditory masking in the lower half of the midrange spectrum, with certain sounds getting suppressed. It is more conspicuous in bass-heavy tracks, where even vocals feel slightly recessed. But thankfully the OnePlus Buds Pro 2 offers a lot of sound tweaks. One feature that was added to its predecessor later is available here from day one, and that's the 5-band equalizer, using which you can improve the midrange response. The highs are quite sharp, and tempered well without any sibilance. The overall detail in sound is more than decent but not as good as the Enco X2. Its decently broad soundstage is comparable though. The aforementioned Golden sound, when enabled, makes it seem a touch broader, and something worth a try. The companion app offers five sound presets, four of them tuned by Dynaudio and one by famous music composer, Hans Zimmer. Balanced and Bold are better, but I preferred creating my own using the equalizer. The buds are Dolby Atmos compliant, and shows or movies encoded in that format on OTT platforms are fun to watch. Even otherwise, these TWS earbuds work well in most video content with ample punch and good dialogue clarity. The latency can supposedly go as low as 54ms, and there was no noticeable lag between audio and video playback. That should be handy in gaming too.
Average call quality, good battery life with wireless charging support
The call quality has certainly improved in comparison to the OnePlus Buds Pro, though it is still not among the best in the segment. I was clearly audible to the person on the line but my voice sounded softer than usual, I was told. The wind noise suppression works well here, and far better than its predecessor, wherein one could hear a constant hiss in windy areas. That has been fixed now, and most of the ambient noise is also kept in check except for certain high frequency sounds that none of the earphones can suppress. OnePlus advertises battery backup figures of 25 hours and 39 hours for the buds and case combined, with and without ANC, respectively. Just the buds are pegged at six hours and nine hours in similar scenarios. However, those figures are calculated using AAC codecs. I used the superior LHDC codec throughout and managed to get five hours and a shade over seven hours with and without ANC with loudness around 50%. These numbers are better than what the OnePlus Buds Pro and OPPO Enco X2 can manage. The case can recharge the buds thrice more, taking the total battery backup between 21 to 30 hours, which is quite good. The OnePlus Buds Pro 2 supports quick charging too, and a mere 10 minutes of charge can keep the buds going for close to three hours with ANC off, and thrice of that with the case combined, which is impressive. The battery status of each bud and the charging case is visible in the companion apps.
A well-rounded pair of TWS earbuds for its asking price
The OnePlus Buds Pro 2 can be purchased in India for Rs. 11,999 with a one year warranty. That makes it Rs. 2,000 more expensive than the first Buds Pro's launch price. The difference in price between the two is easily justified thanks to improvements in sound quality, call quality and battery backup. You also get a lot more customizations on the Buds Pro 2, be it sound tweaks or more flexibility with controls. But the real contest was always going to be with the OPPO Enco X2, which sells for a thousand Rupees cheaper. When it comes to out-and-out sound quality, the Enco X2 is a clear winner thanks to its balanced and detailed output and support for LDAC codec. But due to the custom equalizer option, these OnePlus buds don't lag too far behind. Also, if you like a bit more bass in your sound, you may like the Buds Pro 2's punchy output a bit more. And it offers better battery backup too. Then there is the promise of LHDC 5.0 support in the near future along with a Neck Health feature for the right posture making the contest even closer. Choose one that suits your needs better.
OnePlus Buds Pro 2 review: At a glance
Review
The OnePlus Buds Pro 2 is a definite improvement over its predecessor on most counts, and though it cannot beat the OPPO Enco X2 in terms of pure sound quality, it does offer a few extras to present itself as a viable alternative.
Good Stuff
Enjoyable and lively sound quality with more customizations
Pleasant design, sturdy build, comfortable to wear
Good passive noise isolation, Smart ANC
LHDC 4.0 codec, Dolby Atmos and Google Spacial Audio support
Good battery backup with support for wireless charging
IP55 ingress protection for buds, IPX4 for charging case
Wear detection, multipoint support, pinch controls
Bad Stuff
Transparency mode needs improvement
aptX or LDAC codecs not supported
No volume control on the buds