Costar Mateband N300 review: Affordable Bluetooth earphones with good sound
Costar Mateband N300 review: Affordable Bluetooth earphones with good sound
Jan 31, 2023, 04:42 pm
7 min read
We have been reviewing a lot of upper midrange and high-end earphones lately. It is equally important to gauge what's going on at the other end of the spectrum as the majority of the users do not want to spend that kind of money on earphones. And honestly, you do find hidden gems under Rs. 1,000 if you look hard enough. So when Singapore-based Costar approached us for reviewing their budget wireless neckband, we thought of giving it a try. What we liked about the Costar Mateband N300, to begin with, was that it doesn't promise the moon and the stars at an attractive selling price. At the same time, the basics seemed well-covered, be it ingress protection, respectable battery backup, or USB-C charging. How good does a wireless neckband priced around Rs. 700 sound? That is the question that drove us to review this product, and it's time to give you the answer.
Good build quality and finish, comfortable and snug in-ear fit
The build quality of the Costar Mateband N300 is solid. Not only does it feel sturdy but the finish is good for the segment with no rough edges. The light blue shade is pleasant and a little different from what's commonly available. This wireless neckband is quite light with good weight distribution. The rubberized band sits comfortably on the neck without any skin irritation and merges into two modules that host the battery and controls. One of the modules has four buttons which we will talk about in the next section. You get three sizes of silicone ear-tips in the bundle including the medium-sized pair that's preinstalled. The earbuds sit well in the ears and cause no discomfort even after prolonged use. The soft fins help with a snug fit; you don't get extra fins in the bundle though. The passive noise isolation is average at best. This neckband has an IPX5 rating for splash resistance and can be worn during workouts or jogs.
Basic features, Bass Booster EQ, supports only SBC codec
The in-line remote is integrated into the right module and the four buttons have just the right key press; not too stiff, certainly not feeble. You get the volume rockers, a multi-functional button (MFB), and a Bass button. The MFB lets you play/pause the audio, and jump to the next or previous tracks with a single, double and triple click, respectively. It also acts as a power and Bluetooth pairing button and can be used to answer/end/reject calls. The Bass button lets you switch the Bass Booster EQ on and off. The back of the buds have magnetic tips, and while they do not act as an on/off switch when separated or stuck together, they do pause the audio when stuck together. A USB-C port for charging this neckband is also present and is covered with a flap, which protects it from dust and moisture. Each earbud is fitted with a 10mm dynamic driver with a composite Titanized diaphragm. This Costar neckband does not support dual pairing, which can be excused given its price tag. It is Bluetooth 5.0 compliant but supports only SBC codec. Support for AAC codec would have been nice. The neckband does boast of 50ms low latency for gaming. The claimed battery backup stands at a reasonable 24 hours of audio playback with support for fast charging, wherein 20 minutes of charging provides you with 10 hours of play time.
Clean and reasonably detailed sound output with Bass EQ disabled
Pairing this neckband with a smartphone is a standard process. You need to press the MFB for a few seconds to get it into pairing mode, find the neckband in the list of Bluetooth devices on the phone and pair them. The wireless range is as advertised with the neckband retaining a strong connection up to 10 meters with a clear line of sight, and half of that with a concrete wall in between. No issues with that. The Costar Mateband N300 supports two sound profiles - Normal and Bass Booster. The ideal output lies somewhere between the two. Let me elaborate. With the Bass EQ enabled, the output is extremely bass-heavy to a point that it distorts the audio and is overwhelming in bass-heavy tracks, probably even for bassheads. With the Bass EQ disabled, the bass is much tighter and the output is a lot cleaner and sharper. While I found the bass perfectly sufficient and punchy in Normal mode, a large demographic in this segment who happens to be the target audience of this product may disagree. Another reason for that being the highs sound a bit too pronounced when the bass is more controlled. The S sounds tend to sound harsh in certain tracks. Only if the Bass EQ provided just half the boost for the lows than it currently does, things would have been far better here. If you do not prefer extra bass, you may actually like the clean and crisp output of this Costar neckband. These earphones are sufficiently loud at 60% volume, with clear vocals and sharp highs. Though I cannot certify if the latency goes as low as the advertised 50ms, there was no noticeable lag between the audio and video when streaming videos from OTT platforms. The dialogue clarity is quite good too. We could have used a bit more thump in action sequences though.
Good battery backup, USB-C charging, decent call quality indoors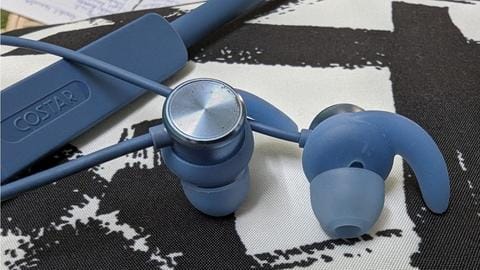 The call quality on the Costar Mateband N300 is decent with both parties clearly audible to each other when indoors. When outdoors, the environmental noise cancellation (ENC) works reasonably well too, and the person on the line could not hear much background noise. However, my voice sounded a little soft when outdoors, probably because of an aggressive ENC algorithm. To sum it up, the call quality is perfectly fine for a budget wireless neckband. The company promises 24 hours of battery backup for this wireless neckband. While it could not measure up to those expectations, it got close to 80% of that at 60% loudness. At about 3 hours of daily listening and very little calling, the Mateband N300 lasted for a little over 6 days. That translates into something between 18 to 20 hours of audio playback. Though it isn't anywhere close to record setting, it is perfectly acceptable for the segment. This neckband also supports fast charging. The company claims that 20 minutes of charging can give you about 10 hours of play time. Not a bad number that, but I did not get a chance to verify that claim. It takes less than an hour and a half to charge fully with a standard USB-C charger.
Surprisingly good audio output for the money you would spend
The Costar Mateband N300 sells for just Rs. 699 and at times even lower on Amazon India. That makes it one of the most inexpensive wireless neckbands we have tested that is worth buying if you are on a tight budget. Having said that, it is not a product for all. If you prefer better vocal clarity and sharpness in audio over bass, you will like this product. If you like a lot of bass, you won't. Ironically, it does have a Bass Booster option, but I don't think anybody will like the output with that enabled. Costar has managed to get a lot of things right with the N300, and has set up a good base for its successor, whenever the company chooses to launch one. All they need to do is temper the highs in normal mode, tone down the bass boost, push the battery backup a bit higher and they may have a great product on their hands. As for alternatives, we cannot think of anything better at this price point. If you are looking for something better, you will have to push the budget up by another Rs. 500 at least and opt for the Boat Rockerz 330 or Realme Buds Wireless 2 Neo.
Costar Mateband N300 Review at a glance
Review
An extremely affordable wireless neckband whose solitary fancy feature fails to fire at times, but gets the basics right, and more importantly, delivers a clean audio output.
Good Stuff
Crisp and loud sound output
Good build quality and finish
Magnetic ear tips serve as play/pause button
Good battery backup; USB-C charging port
Bad Stuff
Bass Booster EQ distorts the sound
Sounds a bit sibilant at times