Philips TAA4216BK wireless sports headphones review: A sturdy fitness companion
Philips TAA4216BK wireless sports headphones review: A sturdy fitness companion
May 09, 2022, 05:10 pm
7 min read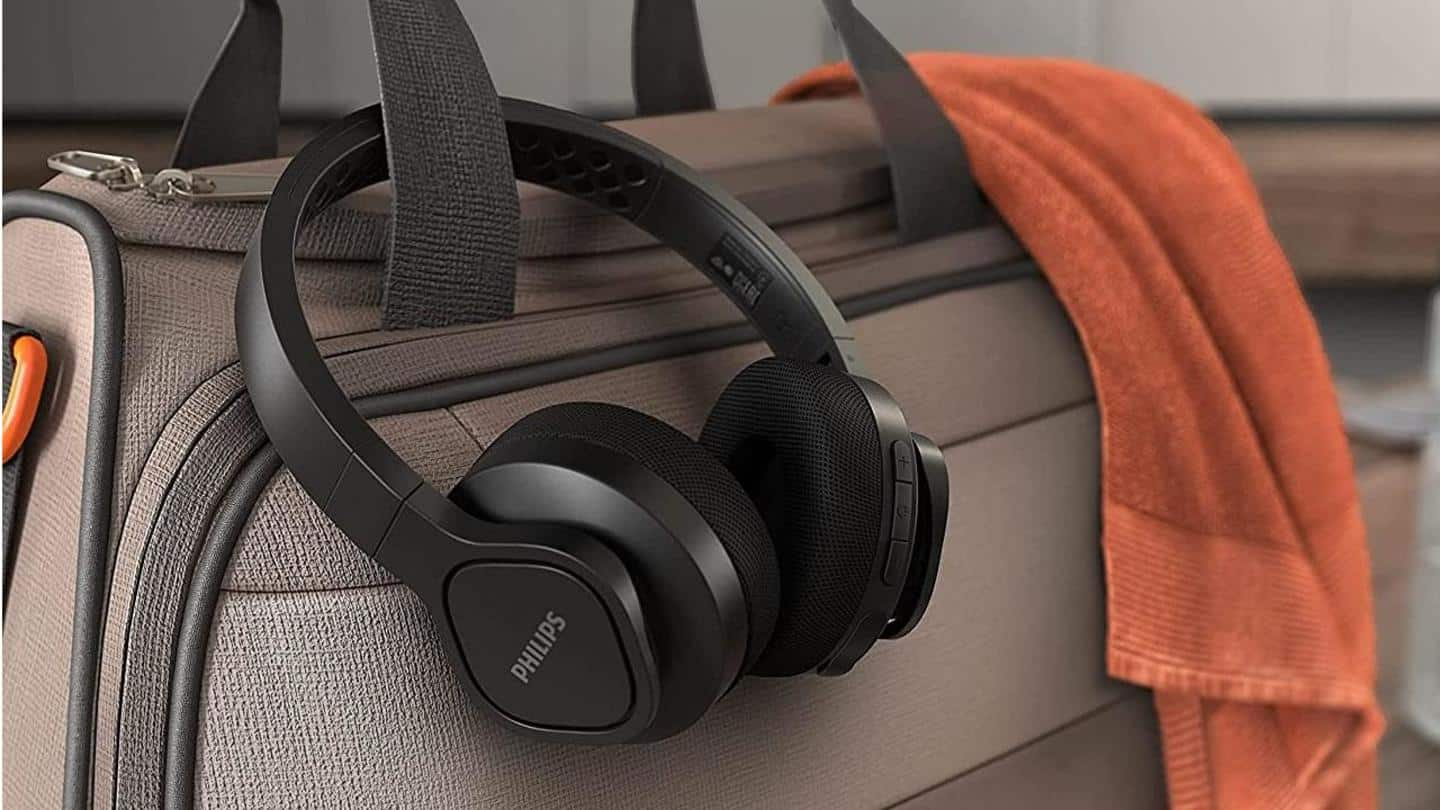 True wireless (TWS) earbuds have been attempting to sweep the audio wearables market over the past year or so. But you still have users who prefer good old on-the-ear headphones, and some don't mind putting those on even when working out or during a jog. If you are one of them, Philips has just the product that you may want to look at closely. The Philips TAA4216BK wireless sports headphones aim to cater to a crowd with an active lifestyle. This is not a run of the mill pair with boosted bass. The company has put some thought into the product design and needs of its target audience. Time to look at what it offers, how it performs and whether you should consider buying it.
Sturdy build with IP55 ingress protection and reassuring fit
The build quality of the Philips TAA4216BK is quite sturdy courtesy of good quality materials used, and yet weighs just 214g. It sports an even matte finish. The design, though not drastically different from anything we have seen before, is quite pleasant. The earcups are foldable which makes the product easier to carry around as it takes less space when you stuff it in your bag. I wish the company had bundled a pouch to place the headphones in. The headband has a rubber padding and the earcups are supposedly gel filled in addition to the usual cushion. They are washable too but I did not attempt it. The earcups aren't large enough to go entirely over the ears but sit on the ears comfortably. While they have a reassuring fit, the pressure on the ears is slightly more than ideal. But it is understandable given that one would wear these mainly during workouts. I felt a slight discomfort after wearing them for close to two hours, but I wouldn't term it as a painful experience. Anyway, it is always a good practice to take off your headphones or earphones every hour and let your ears breathe. Did I mention the Philips TAA4216BK has an IP55 rating for dust and fluid resistance? Not many in this category can boast of that, but it's a great option to have for sports headphones. All the buttons and input ports are present on the right earcup and the buttons have just the right key-press. There are just three buttons - a volume rocker along with a multifunctional button. An AUX input and a USB-C port are located under a rubber flap next to a microphone and an indicator LED. A USB charging cable and an AUX cable are bundled in the package.
Features and specifications
Fairly standard feature set, scant codec support
Other than the polished build and IP55 rating, the Philips TAA4216BK is a simple headphone with a basic feature set. It is Bluetooth 5.0 compliant with support for only SBC codec. There is no support for AAC either. No multipoint support (connecting to two devices simultaneously) or different sound profiles here. Yes, there is a microphone for calling. If the headphone runs out of juice or even otherwise, you can always plug in the aux cable and use it like a wired headphone. As I mentioned, the right earcup has three buttons. The multifunctional button is used to play/pause the audio or manage calls, and it also doubles up as a power button with a long press. It can also be used to pair this headphone with a source device. Long pressing the volume up and down keys lets you jump to the next and previous tracks respectively. Things work smoothly in this department. Each ear cup is fitted with a 40mm dynamic driver and packs a total of 350mAh battery that boasts of 35 hours of play time. More on that a little later. The wireless range is quite good with the headphones maintaining a stable connection over 10 meter with a clear line of sight between them and the source device. Pairing this device with a phone or a tablet is also a straightforward process. There is no companion app to configure this product or update its firmware. Brands like Realme and OnePlus have been spoiling us with app support for their audio wearables.
Decent sound but would have preferred a bit more detail
When you say sports headphones, one expects a bass heavy sound. The Philips TAA4216BK is not that. Having said that, the bass here is adequate and punchy but not excessive, which is a good thing, unless you are a bass-head. The output is loud enough at around 60-70% volume. The overall sound quality is pretty good when you are busy with your workouts, and not too focused on the finer nuances of the audio. It is fun for casual listening too as well as for watching web series and movies. There is no noticeable lag between the video and audio when watching stuff on Netflix or other OTT platforms. The dialogue clarity is good and you can feel the punch in action sequences. Coming back to music, the bass is tight and doesn't eat into the mid-range frequencies. The highs are sharp but could have been slightly better. The output is not very detailed though, and the instrument separation is average at best. The narrow soundstage makes the output feel centered and a bit crammed. A broader soundstage would have certainly made the overall output better. If you are more into pop, Bollywood or EDM, things will sound just fine for you. Instrument heavy tracks is where the cracks start to show for this headphone. Having said that, the sound quality is acceptable for a sports headphone.
Average call quality, excellent battery backup and standby time
The call quality is passable at best. It works fine indoors and people on either end of the call are audible to each other. In noisy outdoors, the clarity drops significantly, especially for the other person, as the microphone picks up a lot of ambient noise. To be fair, call quality has seldom been the forte of any on or over-the-ear headphones, and this Philips unit is no exception. The battery life is mighty impressive though. The company advertises 35 hours of battery backup on the TAA4216BK and it does get close. It lasted over 30 hours of playback with the volume level set between 60-70% during my test run. So if you use them for a couple of hours daily, you will need to charge this headphone only twice a month. What's even better is the standby time. This wasn't a planned test but I happened to switch on this headphone after over a fortnight of inactivity, and there was hardly any depletion of battery reserves. It simply continued from where I left it 15 days prior, which is great. The Philips TAA4216BK takes about two hours to charge fully using a standard USB-C charger. It also supports fast charging, wherein 15 minutes of charging can give you two hours of playback. Strangely, this estimate is quite conservative as the headphone lasted well over two hours after 15 minutes of charging.
Good sports headphones but not the best for audio purists
The Philips TAA4216BK wireless sports headphone is priced at Rs. 8,999 with a one year warranty, but can easily be purchased for as low as Rs. 4,695. Should you buy it? The answer purely depends on your needs. If you are looking for the best sounding wireless headphones under Rs. 5,000, this product won't even feature in the top 5. But those that do, do not offer an IP rating for fluid resistance. In other words, though certain competitors sound better, one cannot wear them while sweating it out. This Philips product on the other hand is made for that specific use case, and for those who do not prefer in-ear monitors. I cannot think of any other on or over-the-ear option in this budget that gives you that assurance. On top of that, you get excellent battery backup and standby time, fast charging support and more than decent sound quality. So if you are looking for a pair of headphones to accompany you on your workouts, the Philips TAA4216BK is not a bad option at all.
What works and what doesn't
Philips TAA4216BK: In a nutsell
Review:
This Philips headphone is a simple but unique product that offers IP55 ingress protection in this form factor in addition to excellent battery backup and decent sound output.
Good Stuff:
Excellent battery backup; over 30 hours
USB-C port; supports fast charging
IP55 dust and sweat resistance
Can be used as wired headphones if they run out of power
Bad Stuff:
Would have preferred a bit more detail in audio
Supports only SBC codec over Bluetooth