Sony LinkBuds WF-L900 earbuds review: It's a 'hole' new world
Sony LinkBuds WF-L900 earbuds review: It's a 'hole' new world
Oct 01, 2022, 03:11 pm
8 min read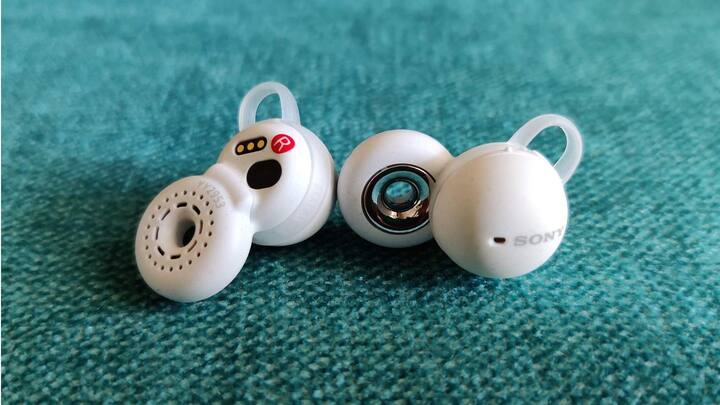 Not too long ago, we reviewed Sony's SRS-NB10 wireless neckband speaker, a first of its kind. The broad idea there was to stay connected with your work, entertainment and the world around you. The company has now brought a similar concept to TWS earbuds. Right from the design to engineering, the Sony LinkBuds WF-L900 strive to stand out from the crowd and deliver a different experience to the user. The first time I took the earbuds out of the case, I wasn't sure how exactly to put them in my ears. There were no silicone tips or protruding plastic shells that generally enter the ear canals. I actually had to refer to the product documentation to get it right. And then there was a sizable hole right at the center where the drivers are supposed to be. I couldn't help wondering what Sony was up to this time. But as I explored the product further, things started to make sense. Read on to know more if you are intrigued.
Mint with a hole? No, wait! These are actual earphones
The Sony LinkBuds design is unusual and eye-catching, and unlike any other earphones we have tested before. If anything, it reminds me of a popular mint/mouth-freshener. While most earbuds these days are meant to cut you off from the world around you, the 'Open Ring' design here is about staying connected with your surroundings and the people around you, even while wearing these buds. Hence the buds sit outside your ear canals, and there's a hole right at the center of the earpiece to let the ambient sounds and voices through. These 8-shaped earbuds have a snug fit and don't cause any discomfort once you figure out how to wear them right. A soft silicone loop helps in maintaining a secure fit while exerting minimal pressure on your earlobe. Sony provides five pairs of loops in the bundle for different sized ears. Post that, the buds stay in place even during jogs and workout, and do not pop out accidentally. The build quality of the case and buds feels quite sturdy. You get white and gray color options in the LinkBuds (we got the former) and they both look and feel good in a smooth matte finish. The compact charging case has the same finish, and Sony states that it is made out of recycled plastic materials. At the front, you get a charge indicator LED and a button to open the case, while at the back, one can find a USB-C charging port along with a pairing/reset button. When putting the buds back in the case, you need to push them a little harder to lock them in place and for the charging to start.
Average feature set, but Wide Area Tap is something special
One striking feature about the Sony LinkBuds (other than the design of course) is something called Wide Area Tap. Unlike most TWS buds that support touch gestures where you have to tap in the touch enabled zones, the LinkBuds turn most of your ear into a touch zone. You can simply tap on your ear or just below it to register the gesture. These earbuds support two gestures - double tap and triple tap, which can be reconfigured through Sony's Headphones Connect app. While the app lets you assign functions for double and triple tap, you cannot choose an individual function for each gesture. The options are available in sets of two. For example, if you choose the Playback Controls set for the left earbud, Play/Pause function is assigned to double tap and Next track to triple tap; you can't change that. Similarly, you can choose from Select Song, Volume control and a few more options for the right earbud. Given that you can choose only one set for each ear, you get access to limited functions on the buds, and the rest need to be accessed from the source device. The buds have wear detection sensors to pause the audio when you remove a bud from the ear, and resume when you put it back on. You do not get active noise cancellation (ANC) here and the codec support is limited to AAC and SBC. Strangely, these Bluetooth 5.2 earbuds do not support Sony's own LDAC codec. The Sony LinkBuds are IPX4 rated sweat resistant and can be worn during workouts without worrying about sweat damage. The wireless range is good, and the buds maintain a strong connection easily up to 10 meters with no obstruction between the listener and the source device, and over half of that with a concrete wall in between.
Good sound clarity, fairly broad soundstage, but lacks a thump
The purpose of the LinkBuds is to let you be aware of your surroundings and have conversations with people around you without taking the buds out of the ears. It is a very specific use case but a valid one. The counter argument would be to use Transparency mode in earphones that support it, and there are many who do for a fraction of the cost of this product. Also, there are people who do not like the in-ear option, and the LinkBuds are suitable for them too. Now let's move on to the sound quality. To begin with, the open ring design comes with a drawback. You do not get any passive noise isolation that you generally do with in-ear monitors. As a result, the bass feels insufficient. And I am not speaking on behalf of the bassheads either. The sub-bass is quite weak and you can sense the lack of thump in several tracks and action sequences, especially outdoors. In the quieter confines of your home or office, things are manageable. Each earbud is fitted with a specially designed 12mm ring driver, and while the LinkBuds are low on bass due to the design, they reproduce other frequencies quite well. A special mention for the mids, that sound crisp and clean with excellent vocal clarity and distinct instrument sounds. The highs are quite sharp and well tempered too without sounding sibilant. The detail in audio is quite impressive and the soundstage is fairly broad, providing a pleasant experience when using the LinkBuds indoors. In terms of loudness, the buds give little reason to complain. They are generally loud enough at 50 to 60% volume. There are no latency issues either when watching videos, with no noticeable lag between the video and audio when streaming content from OTT platforms. While it does miss out on the extra thump in certain scenes, the dialogue clarity is very good.
Average battery backup, supports fast charging, good call quality
We were quite pleased with the call quality of these earbuds. The people on call were perfectly audible to each other irrespective of whether I was indoor or outdoor. The ambient noise and wind noise suppression algorithms work well, and I don't remember callers complaining about the background chatter or any other noise. Sony claims that they have taken special efforts to achieve this by using artificial intelligence and machine learning on half a billion voice samples in different environments. While the call quality is impressive, the battery backup is not. It isn't terrible, but we had a reason to expect better given that there are no battery draining features like ANC here. The company hasn't gone overboard with the battery claims. Sony promises about 5.5 hours of play time for the earbuds and 17.5 hours with the case. In our test setup at 60% loudness, the earbuds lasted close to 4 hours and 40 minutes, and the charging case could recharge them twice more, taking the overall battery backup close to 14 hours. These days 20 hours is a good figure for buds and case combined when not using ANC. The case takes approximately two hours to charge fully with a standard USB-C charger. The Sony LinkBuds support fast charging, and 10 minutes of charge can give you close to an hour and a half of play time on this product, which is pretty decent. The companion app gives you a notification when the battery level of the charging case drops below 30%.
A unique product that addresses a different use case
The Sony LinkBuds WF-L900 TWS earphones are available for purchase at Rs. 14,990 with a one year warranty. Now who should buy this and who shouldn't? Forget about the design philosophy and purpose of this product, if you love thumping bass, simply walk away. If you are looking for the best sounding earphones with great battery backup and high-end codec support, the LinkBuds are not for you either. You may be better served by another Sony product, assuming you are looking for a premium pair of TWS buds. We are talking about the Sony WF-1000XM4 TWS earbuds, which we believe are the best in terms of sound quality and ANC under Rs. 20,000. So who should buy the LinkBuds? If you aren't comfortable with earphones entering your ear canals, or you prefer vocal clarity and instrument separation over thumping bass, and more importantly like to to stay aware of your surroundings, the Sony LinkBuds WF-L900 are worth a try. The unique design and Wide Area Tap add to the cool quotient.
Sony LinkBuds WF-L900 earphones review: At a glance
Review:
The LinkBuds are quite unique in more ways than one, and while they open up multiple design possibilities, they will appeal to only a small niche at the moment.
Good Stuff:
Eye-catching design, good build quality
Impressive vocal clarity, broad soundstage
Wide Area Tap for controls
Bad Stuff:
Bass reproduction is weak
No aptX or LDAC codec support