Sony WI-C100 review: Wireless neckband that gets the basics right
Sony WI-C100 review: Wireless neckband that gets the basics right
Aug 19, 2022, 01:50 pm
8 min read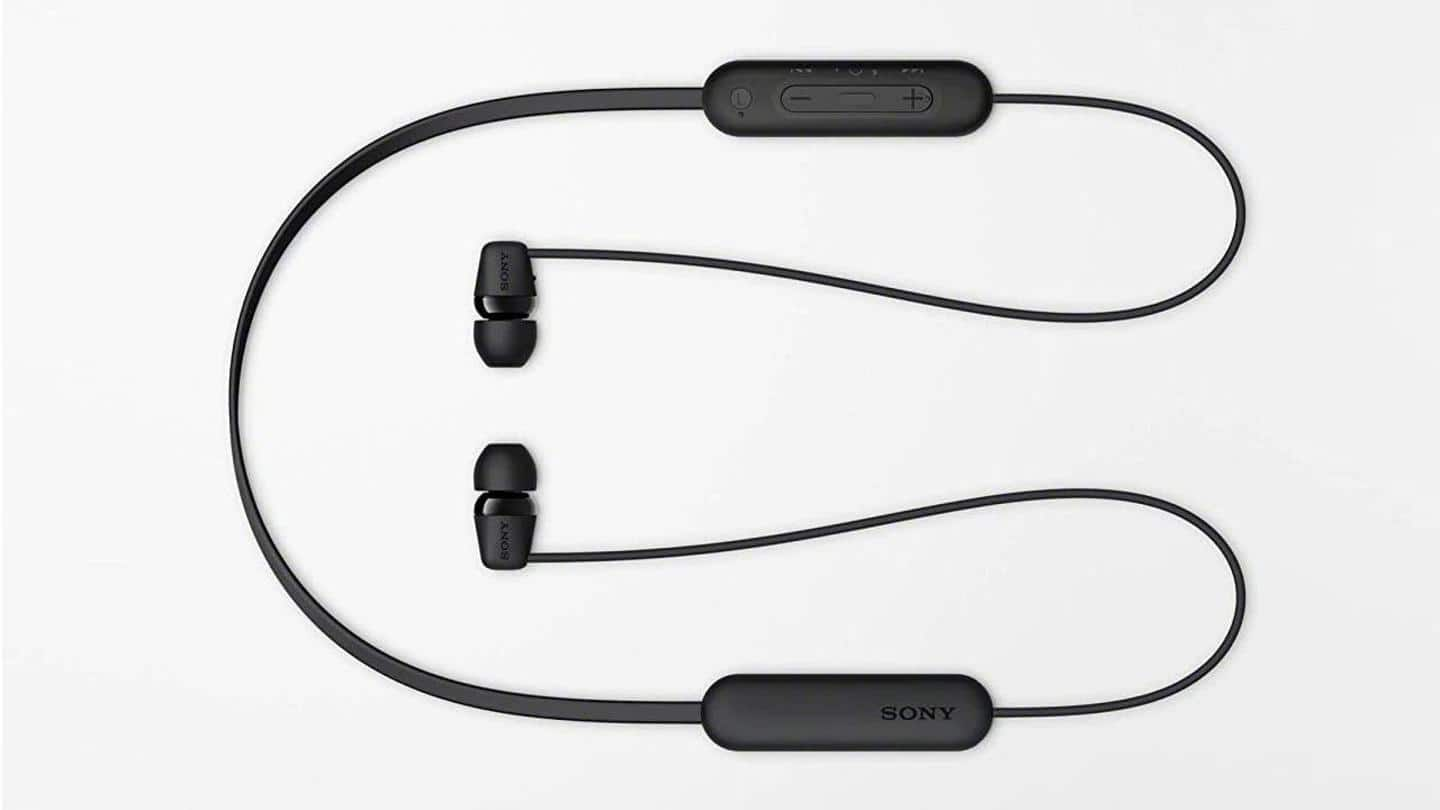 Sony needs no introduction. It is synonymous with premium electronics products in India and generally operates in the upper mid-range to high-end segment. The budget wireless earphones category in India has been booming with bulk of the sales numbers coming from products priced under Rs. 2,000. If you divide the segment further, brands like Boat and Realme have a stranglehold in the sub-Rs. 1,500 range, while the likes of OnePlus have been doing well in the upper half. Now, Sony has decided to field their candidate in the entry-level segment and disrupt the field. In the past, we have seen premium brands struggle to get their composition right when trying to create a budget offering. Will the Sony WI-C100 wireless neckband strike the right balance between features and performance and give the incumbents a run for their money? Let's find out.
Questionable build quality, but extremely lightweight and comfortable to use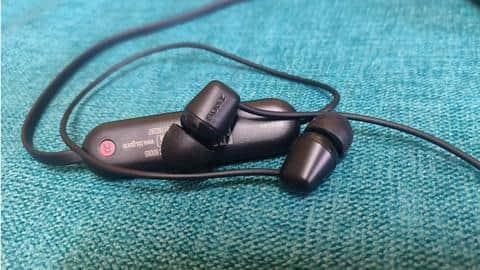 The Sony WI-C100 sports a minimalist design that doesn't even have a prominent neckband like most in the category. You get a flat cable connecting the two plastic pods that host the battery and controls for this product. A USB-C port for charging this neckband is also present on one of the pods. It is covered by a plastic flap to protect it from dust and moisture. The build quality isn't very reassuring, especially of the thin wires that connect the earbuds to the pods. The product feels distinctly plasticky, though not cheap. The smooth matte finish adds a bit of finesse. You get four color variants to choose from; we got the black one for review. The first thing you will notice about the C100 is how light the product is. It weighs around 20 grams, and you barely feel its presence. It is very easy to carry it around. You can simply stuff it in your pocket when not in use. And it may be better to do that than to leave it hanging around your neck. Unlike most wireless neckbands, the earbuds here do not have magnetic tips to hold them together when not in use. And there's always this worry at the back of the mind that they may slip and fall, especially when traveling. The earbuds sit comfortably in the ear and the right sized silicone tips provide decent passive noise isolation. There is no active noise cancellation (ANC) here, so it's important to choose the right sized tips for a good in-ear seal.
Basic features, but the companion app does offer sound tweaks
This Bluetooth 5.0 wireless neckband supports SBC and AAC codecs, which is standard for this segment. No issues with that, but several products in this category are compliant with the more recent Bluetooth 5.2 standard. Each earbud hosts a 9mm dynamic driver to handle a frequency range between 20Hz to 20KHz. While Sony hasn't bothered with fancy features like ANC and multi-point connect, you do get a companion app to explore this product further. You will need to install the Sony Headphone app and sync the WI-C100 with it. Given that this is an entry-level product, don't expect a plethora of options like in the case of some of their more premium products. You do get different sound presets to choose from and a 5-band equalizer to create a couple of custom sound profiles, which is pretty neat. This neckband has an IPX4 rating for moisture resistance, and can handle a bit of sweat during jogs or workouts. The Sony WI-C100 has three buttons - a multifunctional button and a volume rocker. The former can be used as a power button or to get the neckband into pairing mode or simply to play/pause the audio. The volume up/down buttons can also be used to jump to the next or previous track with a long press. While jumping to the next track is not an issue, going to the previous track is a task. Keeping the volume down button pressed for a couple of seconds takes you to the start of the same track, and it keeps doing the same unless you press and hold it again within milliseconds. If you run out of patience, simply use the phone to do it.
Sound quality, connectivity
The sound quality is impressive with a balanced output
Wireless range of the Sony WI-C100 is standard with the neckband retaining a strong connection up to 10 meters with a clear line of sight; no complaints. There was no noticeable lag between audio and video when consuming content on OTT platforms, which is good. The app gives you options like DSEE sound enhancement and setup for 360 degrees audio. You can give that a shot but keep your expectations in check. Moving on to the sound quality, I was quite pleased with the output; bassheads may disagree. In a category full of products with V-shaped sound and extra bass, the C100's output has a very good balance. It isn't exactly neutral, but certainly not V-shaped. It sounds energetic and there is a good balance between the three major frequency ranges. The bass is just right and tight, and doesn't overshadow the mids. If you prefer an abundance of bass, this is not a product for you. The mid-range frequencies have a good presence with ample clarity in the vocals. The instrument separation could have been better, but we are talking about an entry-level product here. The highs are perfectly sharp without being sibilant. The soundstage isn't very broad though and that causes the sound to feel centered in certain tracks. In quiet areas, the earphones are generally loud enough at 60% volume, but you need to push it closer to 75% in a noisy ambiance. While I liked the sound output of this Sony neckband, it may not please everyone. That's where the companion app comes in handy. As I mentioned earlier, it offers a handful of audio presets for you to try, including Bass Boost if you feel the need for extra bass. If you are the meticulous kind, you can use the 5-band equalizer to create a couple of personal sound profiles.
Decent call quality, very good battery backup, and slow charging
The C100's call quality is acceptable. The microphone does pick up a lot of ambient noise when outdoors, but your voice is still clearly heard. When indoors, both parties on the call are perfectly audible to each other. If you hear the person complain about your voice clarity, pulling the left pod (the one with the microphone) a little closer to your mouth often does the trick. Battery backup is another impressive aspect of this neckband. Sony states a battery backup of 25 hours for the C100, and it's close enough. During the test process, with three hours of daily usage at 70% loudness, the neckband lasted a little over a week, thus adding up to approximately 23 hours of music playback and watching videos. No complaints! Just don't trust the battery reading blindly. The battery figure stayed at 100% for a couple of days and then suddenly dropped to 70%, and then to 50% two days later. While the battery backup is satisfactory, the charging times are a bit too slow for my liking. The C100 takes close to three hours to charge fully with a standard USB-C charger. There is a mention of fast charging, wherein 10 minutes of charge gives you an hour of play time. Not sure I can call this fast given that some of its competitors offer over 15 hours of play time after 10 minutes of charging. Sony needs to pull up their socks in this department.
Not a product-for-all but a very good budget option
The Sony WI-C100 is available for purchase at an introductory price of Rs. 1,699 with a one year warranty. Even after the 'introductory' period, I hope Sony keeps it under Rs. 2,000 where the C100 can afford some breathing space. For that price you get a lightweight and pocketable wireless neckband with a balanced sound for those who do not like excess bass. Let's not forget good battery backup and more sound tweaks through the Sony Headphone app. As for competition in the sub-Rs. 2,000 price bracket, the C100 would probably face the biggest challenge from the OnePlus Bullets Wireless Z2 that also offers good audio quality, but with more bass that a large demographic in this segment likes. The battery backup is comparable, but its fast charging capabilities are miles ahead where a 10-minute charge can yield almost 18 hours of play time. Having said that, both products will give you your money's worth, just make sure you buy one that suits your taste in sound more than anything else.
Sony WI-C100 review: At a glance
Review:
Sony's entry-level wireless neckband does not raise the bar in the sub-Rs. 2,000 segment, but has enough going for it to compete hard.
Good stuff:
Balanced and energetic sound output
Companion app provides more sound profiles
Lightweight and pocketable
Above average call quality
Bad stuff:
Jumping to previous track is an ordeal
No magnetic tips to hold the buds together when not in use
Not very reassuring build quality