LG Tone Free FP9 review: Impressive sound, truly unique features
Speakers
LG Tone Free FP9 review: Impressive sound, truly unique features
July 24, 2022 | 10:34 am
8 min read
We have reviewed a wide variety of wireless audio products from their inception. From wireless headphones, we moved to smaller, lighter neckbands and then to true wireless (TWS) earbuds. We have witnessed the sound quality of TWS buds improve drastically year after year, and the same is true for their battery life. Then came configurable touch controls and active noise cancellation (ANC) on those tiny buds, and the evolution continued. If we look back and reflect on things, the earbuds are the ones that have continuously evolved, while the case has pretty much remained a glorified carry pouch with a battery. LG plans to change that with the launch of the Tone Free FP9 TWS earbuds. While the buds strive to deliver refined sound output, the case has a couple of new tricks up its sleeve wherein it looks to provide a new layer of hygiene and also turn some of your older audio devices wireless. Sounds interesting?
Polished design, good build quality, comfortable in-ear fit
We got the Pearl White variant of the LG Tone Free FP9 for review which has a smooth matte finish with a hint of luster. The build and finish leave no room for complaint. The buds have short stems and angled ear-tips. The silicone gel tips sit comfortably in the ear and cause no discomfort even after prolonged use. They provide decent passive noise isolation with the right sized eartips (you get three pairs in the bundle). The top of the stems are touch enabled and you can configure the touch gestures to access all the key features of the buds. The perfectly circular case is compact, but I wouldn't term it pocketable given its one inch thickness. It hosts a 390mAh battery to charge the buds and a couple more tricks which I will talk about shortly. It glows blue for a couple of seconds when you open it, and that does look cool. You get a power level indicator LED along with one for UVnano cleansing at the front of the case. A tiny slider to enable transmitter mode is located on the side and a USB-C charging port sits at the back of the case. The earbuds have an IPX4 rating for splash resistance. So you can wear them to the gym or for a jog without a worry, but don't drop them in a puddle. While you can pair these buds directly without installing the companion app, you would be losing out on half the fun. The LG Tone Free app adds an extra dimension to the product and provides several customization options for these buds, right from the controls to sound output.
Loaded with features, supported by an impressive companion app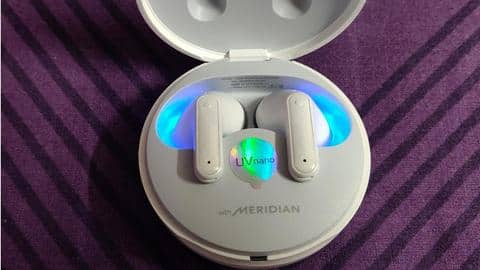 Each earbud is fitted with an 8mm dynamic driver, three microphones for calling and noise cancellation, and wear detection sensors. The touch is responsive and you get a beep for each tap. The LG Tone Free app lets you assign play/pause, previous/next tracks or voice assistant functions to single-tap, double-tap or triple-tap gestures, along with, wait for it, volume up and down too. My perpetual displeasure with most earbuds has been addressed here. Touch and hold gesture lets you switch between Noise Canceling and Ambient Sound (transparency) modes, and you cannot change that. Strangely, you can go to Normal mode (ANC off) only through the app. I guess that was an oversight and hope LG fixes that in an upcoming firmware update. Leaving ANC on all the time doesn't impact the sound quality but it certainly drains the battery faster. The LG Tone Free FP9 is Bluetooth 5.2 compliant, but codec support is limited to just AAC and SBC. Given that this is a premium product, it is only fair to expect support for better codecs like aptX, LDAC or LHDC. Another thing missing here is support for wireless charging. In lieu of those, you do get something very interesting. It has UVnano tech that supposedly kills 99.9% bacteria on the speaker mesh of the earbuds using UV light. When you charge the case with the earbuds inside and lid closed, it cleans the buds in five minutes. The charging case can also be used as a Bluetooth transmitter. Using the bundled USB-C to Aux cable, you can plug the charging case into any audio device like a non-smart TV or a stereo player or even an old MP3 player and use the earbuds to listen to the audio. That is a seriously cool feature to have to make your older gadgets useful again.
Detailed sound output but average ANC
For starters, the wireless range of these LG buds is perfectly fine with a strong connection at 10 meters with a clear line of sight. There were no latency issues either when watching content on OTT apps with no lag between the video and audio. The ANC here is nothing special though for a premium product. It does cut off certain ambient sounds but the noise cancellation is nowhere in the league of a Sony WF-1000XM4 which is one of its competitors. The Ambient Sound mode here is good and doesn't feel robotic. It lets you be aware of your surroundings when necessary or talk to someone without removing the buds from the ears. The app offers you two Ambient Sound modes - Listening and Conversation, that either boost background sounds or improve voice clarity, respectively. As for loudness, you need to push the volume upwards of 70% for normal loudness even when indoors, and beyond 80% outdoors. The sound doesn't distort even at high volume. Moving on to sound quality, while the output isn't perfectly neutral, it feels rich and detailed. The LG Tone Free FP9 has been tuned by the popular British HiFi audio brand, Meridian Audio. The lows here are slightly boosted, but the bass is fairly tight and punchy. It doesn't mask the mids, and as a result there's ample clarity in the vocals and as well as instrument sounds. The highs are well tempered and with just the right amount of sharpness without being sibilant. The soundstage is surprisingly broad for TWS buds and the sound has a nice immersive feel. The imaging is equally impressive. The overall sound output is detailed and thoroughly enjoyable unless you are a basshead. You can tweak the sound further from the companion app courtesy of five sound presets and two additional custom equalizers. We found Natural, Immersive and Bass Boost presets to be the best of the lot.
Good call quality, overall battery backup could have been better
The LG Tone Free FP9 has a bunch of microphones for calling as well as background noise suppression, and they work well to deliver good call clarity. People on the line were clearly audible to each other even when outdoors. The wind noise as well as other ambient sounds like that of traffic were kept in check perfectly well with a good focus on voice clarity. You also get something called Whispering mode, which can be used when you don't want to disturb others around you or you don't want them to eavesdrop. Once enabled from the app, you can hold the right earbud closer to your mouth and whisper into it and be heard with fair clarity by the person on the line. That's another interesting feature LG has provided with this product. The battery life here is a mixed bag. Official figures stand at 24 hours with ANC off and up to 15 hours with ANC on for the buds and case combined. With ANC on, the buds lasted a little over five and a half hours at 75% loudness and the case could provide another 7.5 hours, thus taking the overall battery backup to 14 hours. It is close to the claimed number but nothing great given that the competition has gone past 20 hours with ANC on already. Now 5.5 hours for the buds with ANC is not bad at all. Ironically, it gets the relatively easier part wrong with the case not providing enough additional recharges. This product also supports quick charging, wherein five minutes of charging the case with the buds inside gives you about an hour of playtime; useful but not flattering. The buds and the case can be charged fully in under two hours with a standard charger. The companion app provides you with the battery status of the earbuds as well as the case.
Expensive but unique in many ways, and performs well
The LG Tone Free FP9 is available for purchase for Rs. 16,990 with a one year warranty. Yes, it does sell for a premium but it is arguably the most feature-rich pair of TWS earphones we have come across. Features like UVnano cleansing for an extra level of hygiene or the case acting as a Bluetooth transmitter to make your old audio players relevant again make this device special, but its sound quality is equally impressive with ample detail, good balance and broad soundstage. In terms of out and out sound quality and ANC, this LG product may not beat the Sony WF-1000XM4 which sells in the same price bracket, but the extra features make it a very good alternative. If features like UVnano or transmitter mode do not appeal to you, then the Sony is easily the best option under Rs. 20,000. If you do not wish to spend as much and yet want comparable sound quality and ANC, the OPPO Enco X for Rs. 9,990 is something you should look at closely.
LG Tone Free FP9 review: At a glance
Review:
The LG Tone Free FP9 brings to the table some never before seen features like UV cleansing and wireless transmitter mode along with a good sound quality and an able companion app.
Pros:
Innovative features like UV cleansing and Wireless transmitter
Feature-rich companion app
Comfortable to wear for long hours
Volume control on the earbuds
Cons:
ANC could have been better
Doesn't support high-end codecs
Share this timeline