Jeff Bezos and MacKenzie reach divorce settlement, costliest in history
Jeff Bezos and MacKenzie reach divorce settlement, costliest in history
Apr 05, 2019, 12:21 pm
3 min read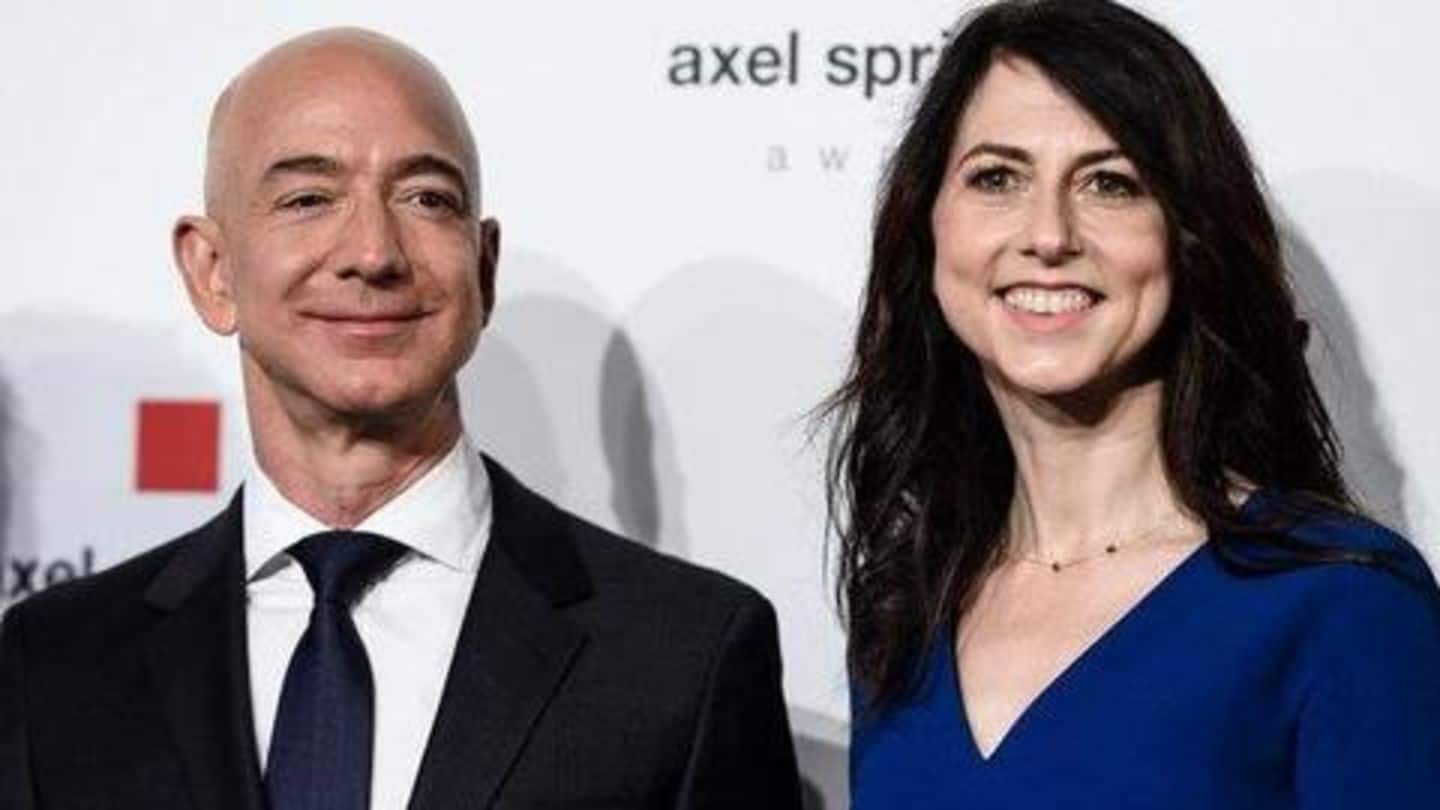 Jeff and MacKenzie Bezos revealed terms of their divorce settlement on Thursday, months after the power couple announced their split. MacKenzie will retain 25% of the couple's stock in Amazon, the company Jeff founded in 1994. This means MacKenzie will have a 4% stake in Amazon. She tweeted she would give up her interests in Washington Post and Blue Origin, a space-flight company.
MacKenzie's 4% stake in Amazon is worth $36 billion at current market prices. This makes her the fourth richest woman in the world. L'Oréal cosmetics heiress Françoise Bettencourt Meyers tops this list with a net worth of $45.6 billion. If MacKenzie decides to sell her shares, the buyer will have to sign an agreement with Jeff to give him the voting rights.
MacKenzie handed over voting rights to Jeff
Jeff will continue to be the world's richest man
The divorce won't affect Jeff's monetary stature as he will still remain the world's richest man. 55-year-old Jeff holds a 12% stake in Amazon, which is valued at $107 billion. WaPo and Blue Origin add another $4 billion to Jeff's net worth. He also holds the sole voting rights on shares. Reportedly, the divorce may be finalized in another 90 days.
Jeff writes a heartfelt note
Jeff and MacKenzie reached biggest divorce deal in history
With this settlement, Jeff and MacKenzie have signed the costliest divorce ever. The "record" was earlier held by oil industry magnate Harold Hamm. After a two-year long trial, Hamm was ordered to pay $972 million of his then-estimated $16.1 billion fortune to his wife Sue Ann Arnall in 2014. In 2015, Sue wanted to reopen the case but Oklahoma Supreme Court rejected her plea.
Jeff and MacKenzie parted ways after 25 years
Fortunately, Jeff and MacKenzie split amicably. The couple got married in 1993 while working at DE Shaw, a New York-based hedge fund. Soon they moved to Seattle where Jeff started Amazon. MacKenzie is a novelist who constantly supported Jeff when controversies hit. Announcing their split, the couple wrote, "If we had known we would separate after 25 years, we would do it all again."
Jeff's rumored affair became a topic of discussion
Despite the non-ugly agreement, Jeff and MacKenzie's divorce became scandalous. It was reported that Jeff had an illicit affair with former news anchor, Lauren Sanchez. The report was published by National Enquirer, run by President Donald Trump's aide David Pecker. The publication threatened to publish "intimate" photos of Jeff and Lauren, and the billionaire shot back by releasing details of their conversation.